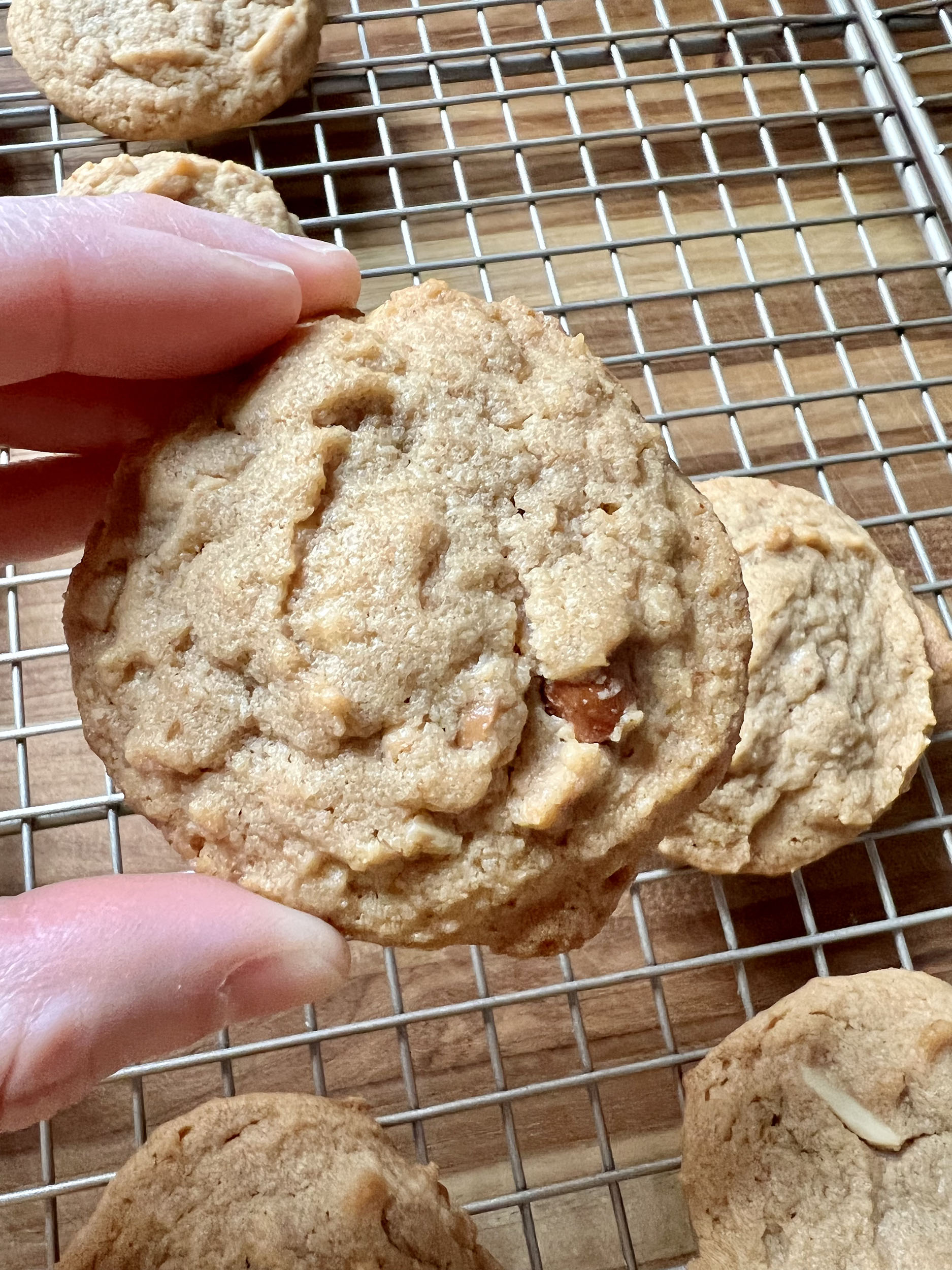 Print Recipe
Easy Fudgy Peanut Butter Cookies
Natural peanut butter gives these cookies a rich and true peanut flavor. Toss in some whole roasted peanuts and you have one helluva cookie!
Ingredients
1/2 cup All-Purpose Flour

1/2 tsp. Baking Powder

3/4 tsp. Fine Sea Salt

1/2 cup Unsalted Butter, softened

1/2 cup Granulated Sugar

1/2 cup Packed Brown Sugar

1 cup Natural Salted Peanut Butter, at room temperature

1 Large Egg

2 tsp. Pure Vanilla Extract

1/2 cup Lightly Salted Roasted Peanuts (optional)

12 Hershey Kisses (optional)
Instructions
1
Preheat oven to 350 degrees and line two sheet trays with parchment paper.
2
Add the sugars and butter to the mixing bowl. Mash and cream the butter and sugars together until smooth and creamy.
3
Then add the peanut butter admix until smooth.
4
When the peanut butter is fully incorporated into the sugar and butter mixture, add the egg and the vanilla. Mix until fully incorporated.
5
In a separate small bowl, whisk together the salt, baking powder and flour.
6
Then add the dry ingredient mix to the wet mixture all at once, then gently fold the dry mix into the wet mix. Gently fold until there are no more dry bits.
7
Now add the whole roasted peanuts to the batter, gently fold them in until they are evenly mixed into the batter.
8
Use a small (1.5 tbsp.) cookie scoop, or measuring spoon to scoop the cookie batter onto the lined sheet trays. Space them out evenly to get 12 cookies per sheet for a total of 24 cookies.
9
Don't flatten them out, leave them as little cookie batter balls. You can do one tray first and pop it in the oven and do the second tray while the first one bakes.
10
Bake the first tray of cookies for 10-11 minutes. They will flatten out and get only slightly golden, so don't over-bake them!
11
For the second tray place a Hershey Kiss in the center of each dough ball, if desired.
12
Bake the second tray for 10-11 minutes.
13
Cook the sheet trays on wire racks.
Notes
A Note on the Natural Peanut Butter: You can use chunky or smooth, just be sure it's a natural peanut butter containing only roasted peanuts and salt. My favorite brands are Trader Joe's or Santa Cruz Organic. With natural nut butters, you want them to be at room temperature and stir them well before using to fully emulsify the natural peanut oil that has often separated from the nut butter.