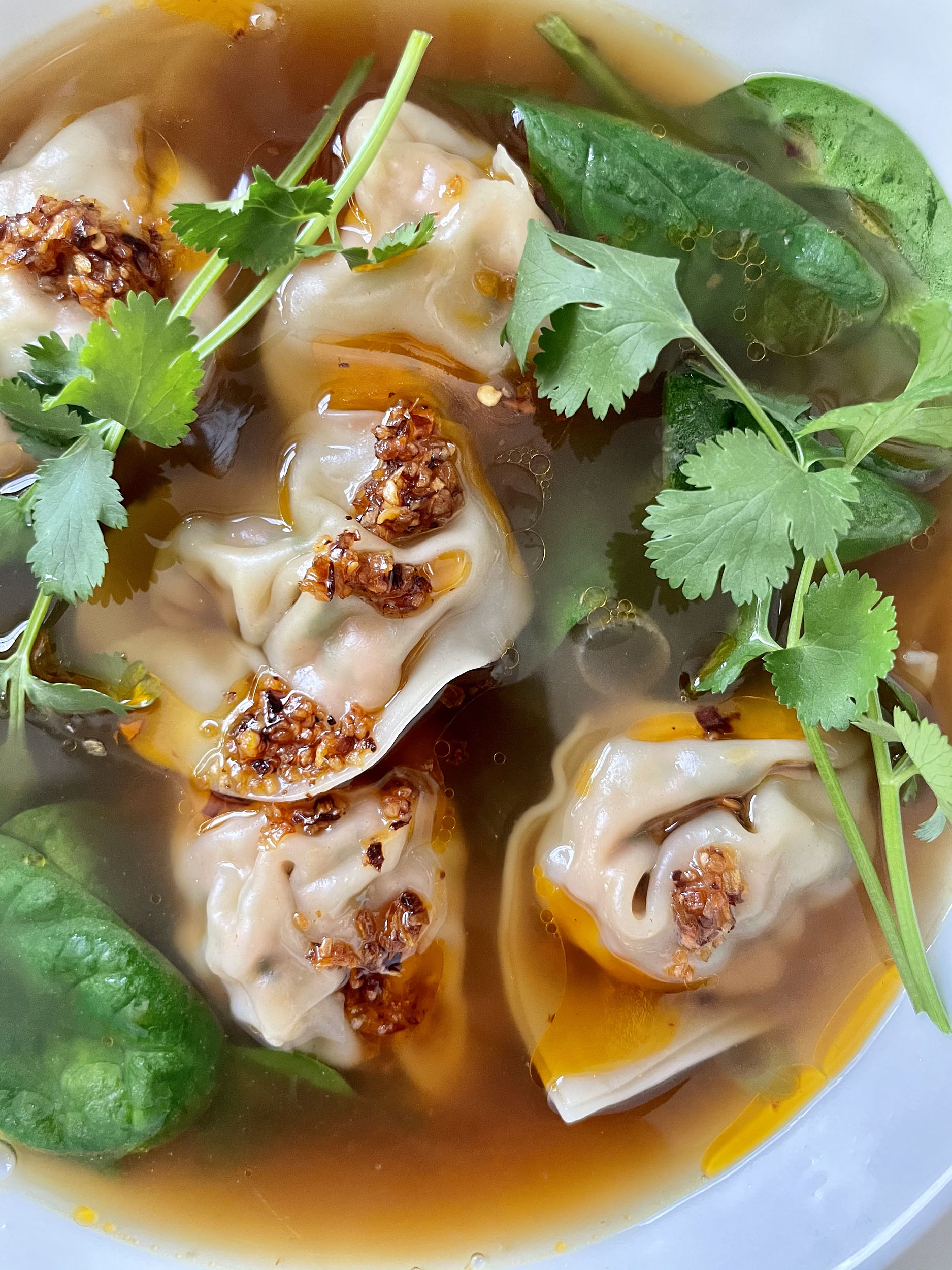 Print Recipe
Easy Homemade Wonton Soup
Homemade wontons take time, but they're so worth the effort. With ground pork, ginger, garlic, cilantro, green onions, this filling is fragrant, rich and super flavorful. The broth comes together in minutes; it compliments the wontons with ginger and scallions, but lets the wontons be the star of the show.
Ingredients
Wonton Filling

1/2 medium head Napa Cabbage (about 1 pound)

1 tbsp. Kosher Salt

1 lb. Ground Pork

1 bunch Green Onions, thinly sliced (about 1 cup)

1 bunch Cilantro, minced (about 3/4 cup)

3 tbsp. Soy Sauce

3 tbsp. Fresh Ginger, grated on a microplane or finely minced (~2-inch piece)

2 tbsp. Sesame Oil

2 large Eggs, beaten

1 (12-ounce) package Square Wonton Wrappers

Soup Broth

8 cups Chicken Broth

1 tbsp. Fresh Ginger, grated

2 tbsp. Soy Sauce

1 tsp. Sesame Oil

2 Green Onions, thinly sliced

Handfuls of Fresh Raw Baby Spinach, if desired

Sprigs of Cilantro, Chile Crunch or Chili Oil, and more green onions for topping, if desired
Instructions
1
In a large bowl, salt the sliced cabbage, massage and let sit for 10 minutes.
2
Place cabbage in a thin dish towel or cheesecloth and squeeze to drain off as much liquid as possible.
3
Mix all ingredients in a large bowl with your hands.
4
Prep your wonton making station with wonton wrappers, filling, a small bowl of water to dampen the wonton dough edges, a small bowl of flour to dust the bottoms of the folded wontons and a sheet tray lined with parchment to place the folded wontons.
5
Take a wonton wrapper and position it like a diamond and place a scant tablespoon of filling in the center.
6
Then wet your finger and trace a line of water along the top triangle of the wonton wrapper.
7
Fold up the bottom corner of the wonton wrapper over the filling and press the wrapper edges together.
8
Then, dampen the two long corners with a little water and fold them together, press to seal. Dip the underside of the wonton in a little flour and lay on the sheet tray. Repeat until all wonton wrappers are filled and folded.
9
Add chicken broth, ginger, soy sauce, sesame oil and green onions to a large stock pot or Dutch oven. Bring to a boil and reduce heat to simmer for 10 minutes.
10
Add desired number of wontons to the broth and simmer for 4-6 minutes, until the filling is cooked through.
11
If using spinach, add a handful of fresh raw spinach to each bowl before ladling broth and wontons.
12
Top with cilantro, more scallions and Chile Crunch, if desired.
Notes
Freeze leftover filling in a Ziplock Freezer bag. Freeze leftover, uncooked wontons in a single layer on a tray for 2 hours, then transfer to a Ziplock bag for longer term freeer storage.