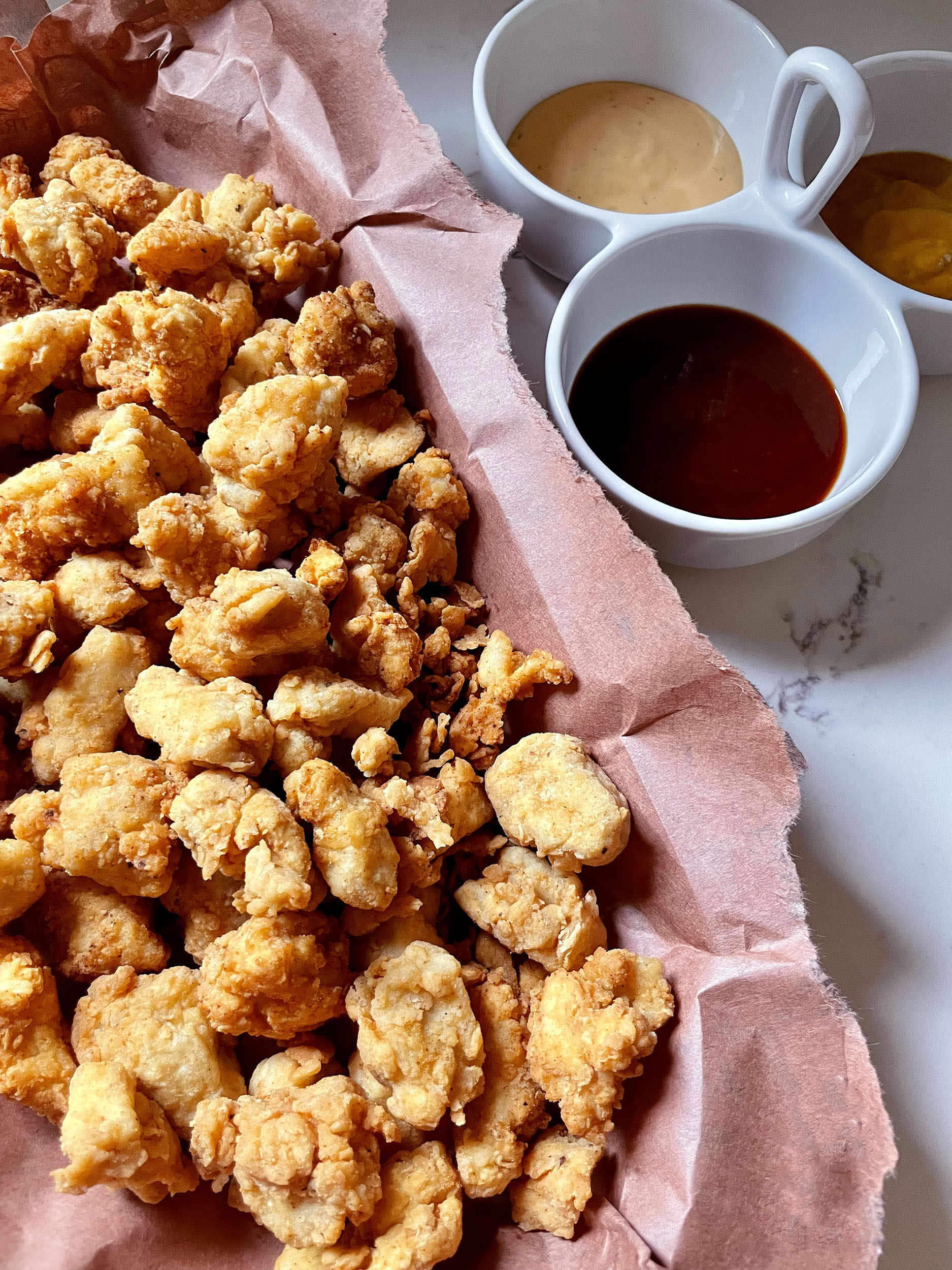 Print Recipe
Popcorn Chicken
Flavorful breading that crisps up to a satisfying crunch; tender, juicy chicken breast, these fried chicken bites will not disappoint.
Ingredients
1.5 lbs. Boneless, Skinless Chicken Breasts, trimmed

2 3/4 cups All-Purpose Flour

1/2 cup Cornstarch

1.5 tbsp. Granulated Garlic

1.5 tbsp. Sugar

1 tbsp. Baking Powder

6 tsp. Kosher Salt, divided

1 tsp. Black Pepper

2 tsp. Onion Powder

1 tsp. Cayenne Pepper

1/2 cup Water

2 Large Eggs, lightly beaten

1.5 quarts Peanut or Vegetable oil, for frying
Instructions
1
Start off by placing the chicken breasts on a plate, in the freezer for about 40 minutes.
2
Whisk the flour, corn starch, baking powder, 4 teaspoons Kosher salt, pepper, onion powder, granulated garlic, cayenne pepper and sugar in a large mixing bowl.
3
Then pour in 1/2 cup of water. Stir the water into the flour mixture with your hands, creating little clumps of the breading. Set the bowl of breading aside.
4
Cut the chicken breasts into 1/2-inch pieces.
5
In a separate medium-sized bowl, lightly beat two eggs.
6
Toss the chicken pieces with the beaten eggs and sprinkle with remaining 2 teaspoons of Kosher salt. Mix the chicken, eggs and salt to evenly distribute the salt.
7
Take about half of the chicken pieces out of the egg mixture and add to the breading mixture. Toss the chicken pieces in the breading with both hands, squeezing the clumps of breading onto the chicken pieces. Transfer the chicken pieces, one by one, to a large sheet tray. Then repeat with the remaining chicken pieces. Be sure you've fished out all the chicken pieces, then discard whatever breading is left in the bowl.
8
Pour 1.5 quarts of vegetable oil into a Dutch oven or heavy bottom pot. You want the oil to be about 1-inch deep. Heat the oil over medium-high heat. Set up a thermometer to monitor the temperature of the oil. Line a second sheet tray with three layers of paper towels and set it on the right side of the pot of oil. When the oil temp reaches 400 degrees, we're ready to fry.
9
Working in batches, use a spider skimmer to transfer half of the chicken pieces (several pieces at a time) to the hot oil. Immediately stir the chicken pieces so they don't stick together. When you have about half of the chicken pieces in the oil, stir occasionally to avoid sticking and let fry for about 2-3 minutes, until the chicken pieces are golden brown. Transfer fried Popcorn Chicken to the paper towel-lined sheet tray. Let the oil come back up to 400 degrees and repeat with the rest of the chicken.