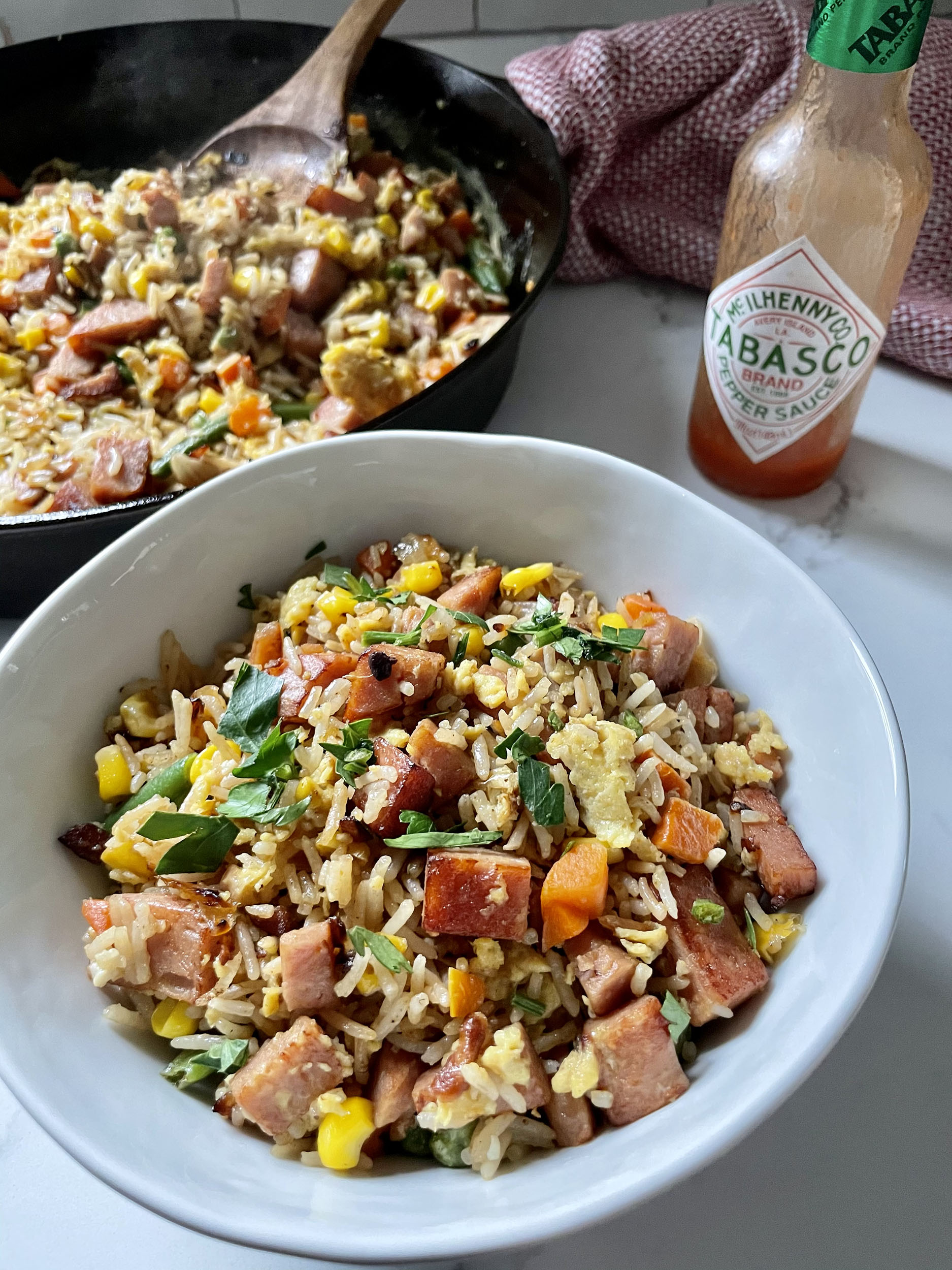 Print Recipe
Spam Fried Rice
Spam, Spam, Spam! Fried Spam with plenty of veggies and crispy fried rice. This is an easy, economical dish that is filling and delicious.
Ingredients
1 tbsp. Grapeseed Oil (canola or olive oil)

2 oz. Spam, diced

1/2 cup Onion, diced

2 tsp. Garlic, minced

1 tsp. Ginger, grated or minced

1 16-oz. bag Frozen Vegetables

3 cups Cooked Rice

2 tbsp. Soy Sauce

1 dash Red Boat Fish Sauce

2 dashes Sesame Oil

2 Large Eggs, beaten

Tabasco or Sriracha, optional

Cilantro, optional garnish
Instructions
1
Sauté the onions in the oil, over medium heat until the onions are translucent. About 2 minutes.
2
Add the diced Spam, add a little more oil if necessary. Sauté the Spam and onions until the spam gets some nice browning and crispy edges, about 5 minutes.
3
Then add the garlic and the ginger, cook for about 2 more minutes.
4
Add the frozen veggies and stir well to combine. Cook for about 2 minutes.
5
Add the rice and stir well to combine it with the veggies and Spam.
6
Then add the soy sauce, a dash of fish sauce and a couple dashes of sesame oil. Keep stirring and cooking for about 3 minutes.
7
Reduce the heat to medium-low. Then, push everything to one side of the pan and slowly, while stirring, pour in the beaten eggs. Some of the egg will run into the mixture and that's totally fine. Just keep stirring the eggs to scramble them, about 2-3 minutes.
8
Once the eggs are mostly cooked and scrambled, stir them into the fried rice mixture.
9
Serve and top with cilantro and hot sauce.