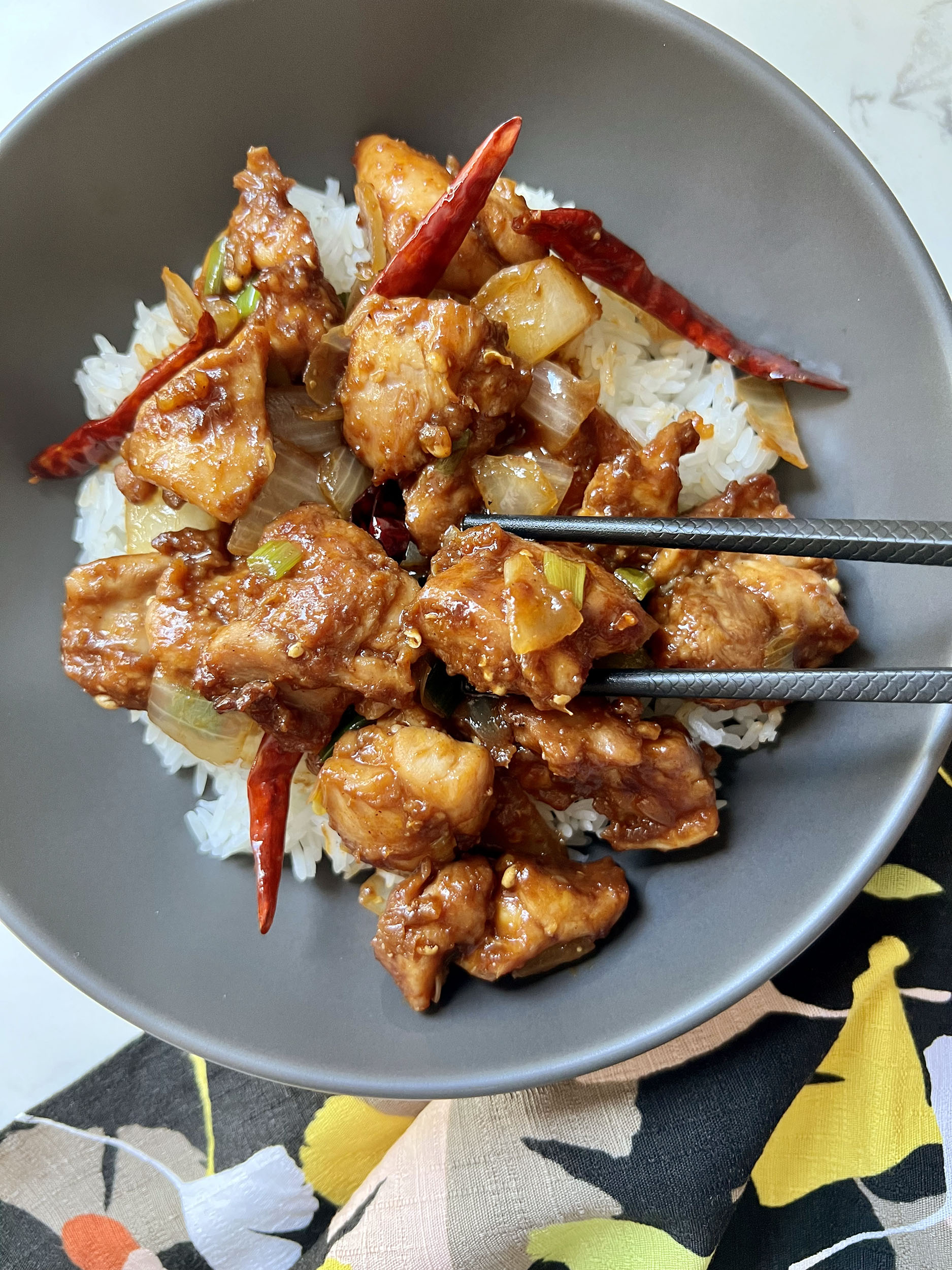 Print Recipe
Easy Sichuan Chicken
Tingly Sichuan peppercorns mingle with whole dried chiles to give a spicy floral flavor to this Easy Sichuan Chicken.
Ingredients
Sichuan Chicken Marinade

6-8 boneless chicken thighs, cut into roughly 1-inch pieces

1 tbsp. Dark Soy Sauce

1 tbsp. Light Soy Sauce

1 tbsp. Chinese Cooking Wine

1/4 tsp. White Pepper

2 tbsp. Cornstarch

Sichuan Chicken

7 tbsp. (1 tbsp. less than 1/2 cup) Vegetable or Peanut Oil, for frying the chicken

1 tbsp. Vegetable or Peanut Oil, for sautéing the aromatics and chiles

1 tbsp. Toasted Sesame Oil, for sautéing the aromatics and chiles

1 Onion, cut into 1/2-inch chunks

10-15 Whole Dried Red Chiles

2 tsp. Sichuan Peppercorns, coarse ground

3 Cloves Garlic, minced

2 tsp. Fresh Ginger, grated or minced

4-5 Scallions, cut into 1/2-inch pieces

2 tbsp. Light Soy Sauce

1 tbsp. Chinese Cooking Wine

1 tbsp. Gochujang Paste, or Chili Bean Paste

1 tbsp. Sugar
Instructions
1
Toss the chicken in a medium bowl with the dark and light soy sauce, cooking wine, cornstarch, and white pepper. Toss well to coat the chicken and dissolve the cornstarch. Cover and set aside for 30 minutes. If you need or want to let it marinate for longer, put the chicken in the fridge until you're ready to cook it.
2
Set up your shallow fry station with 7 tablespoons of vegetable or peanut oil in a Dutch oven to avoid too much splatter. Then set a wire rack in a sheet tray to catch the cooked chicken and let the excess oil drip off. Heat the oil over medium-high heat.
3
When the oil is hot and shimmery, add the chicken several pieces at a time to the hot oil. Let the chicken cook for about 3 minutes before stirring the chicken in the oil. Then just let the chicken cook until done. The chicken pieces are done when they are firm and opaque. About 6-8 minutes total cooking time. Use a spider skimmer to transfer the chicken out of the pot.
4
In a separate pan or wok, heat 1 tablespoon of vegetable oil and 1 tablespoon of toasted sesame oil over high heat. Add the onions and the whole dried chiles. Sauté until the onions are soft and slightly transparent.
5
Then add the ground Sichuan peppercorns. Stir and sauté for about 30 seconds, until fragrant. The fragrance will be floral. Then add the ginger and garlic, stir and sauté for about 30 seconds. Add the green onions, the cooking wine and the soy sauce. Stir the mixture to combine and coat everything in the sauce.
6
Then add the cooked chicken to the pan and stir to fully combine the chicken with the sauce, onions, and chile mixture.
7
Remove from heat and serve with steamed rice.