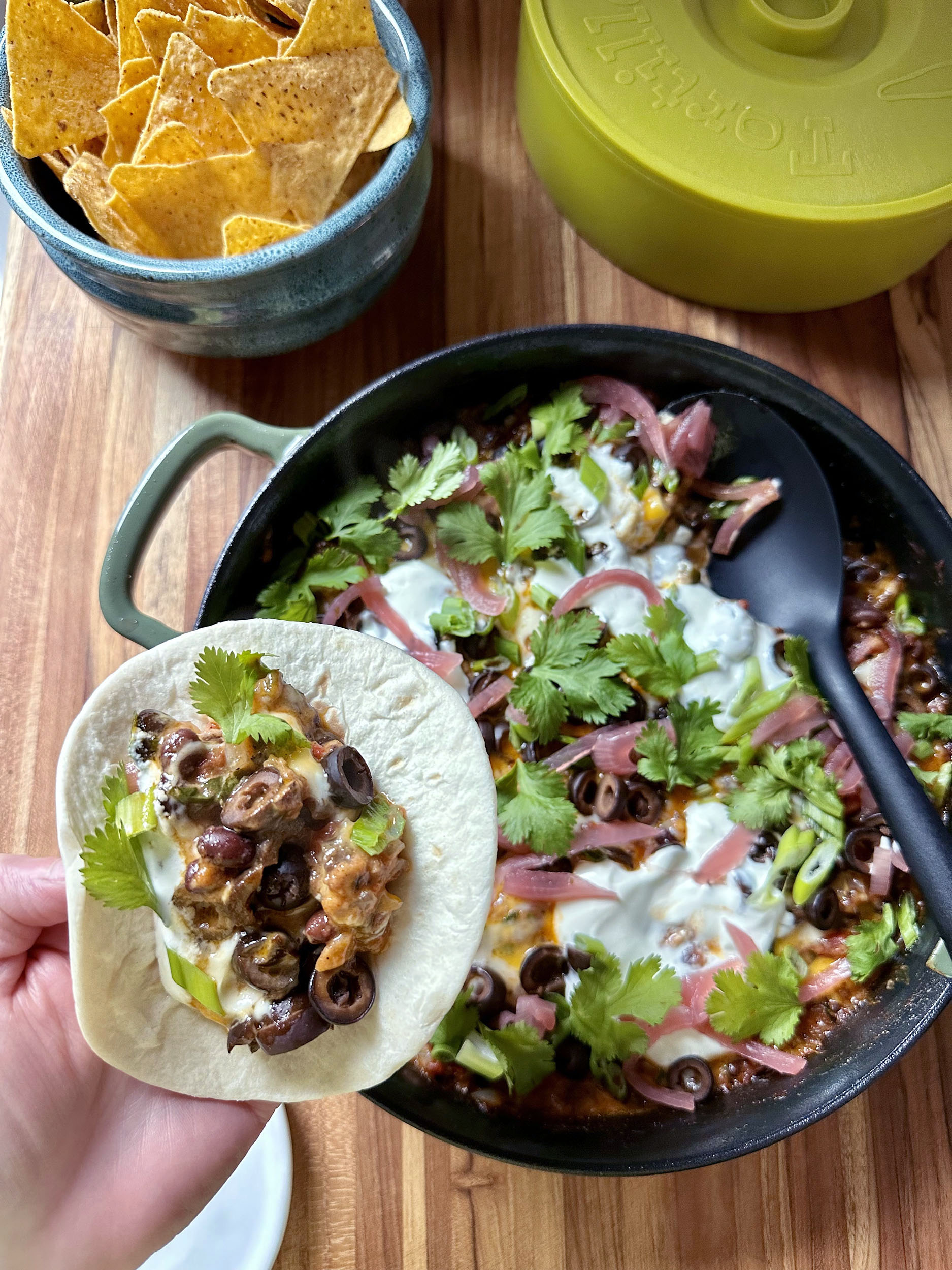 Print Recipe
Easy Skillet Taco Dip
Easy Skillet Taco Dip with carnitas-inspired flank steak, black beans and fire roasted tomatoes, topped with cheese, cilantro, and sour cream
Ingredients
1 lb. Beef Flank Steak (or Ground Beef)

1 tbsp. Olive Oil

1 tsp. Kosher Salt, plus more to taste

Fresh Cracked Black Pepper

2 tsp. Ground Cumin

2 tsp. Dried Oregano

1 Onion, diced

1 Jalapeño, diced (seeds removed or included)

4 cloves Garlic, minced

2-4 tbsp. Fresh Orange Juice

1 15 oz. Can Black Beans, drained and rinsed

1 15 oz. Can Fire Roasted Diced Tomatoes

1/4 cup Chopped Fresh Cilantro

3/4 cup Grated Cheddar Cheese

3/4 cup Grated Pepper Jack Cheese

1/4 cup Sliced Black Olives

Topping Options

Sour Cream

Fresh Cilantro Leaves

Pickled or Fresh Onion Slices

Pickled or Fresh Jalapeño Slices
Instructions
1
First, Preheat the oven to 400 degrees F.
2
Slice the flank steak with the grain into 3-inch chunks. Then slice each 3-inch chunk against the grain into 1/8 to 1/4-inch strips.
3
Toss the steak strips into a bowl and drizzle on the olive oil. Sprinkle good pinch of kosher salt, fresh cracked black pepper, ground cumin and oregano. Grate the zest of one orange over the beef and then toss the beef in the oil and seasoning, set aside.
4
Heat an oven safe skillet over medium-high heat for a few minutes, then add the seasoned beef. As soon as the beef is sizzling, add the diced onion. Stir occasionally until the onion begins to soften. If you're using ground beef, brown the beef until it's nearly cooked through before adding the onions.
5
Once the onions start to soften, add the diced jalapeño and the minced garlic. Stir to combine and cook for about 1-2 minutes. Then add the orange juice.
6
Let that orange juice come to a fast simmer. Then add the drained black beans and the fire roasted diced tomatoes. Stir to combine and let the mixture simmer until the liquid has mostly cooked off. Taste the mix for seasoning and add more kosher salt as needed.
7
When the moisture has mostly cooked off, add chopped cilantro stir to incorporate the cilantro. Then stir in about half of the cheddar and pepper jack cheese.
8
Once half the cheeses are mixed in, top the Skillet Taco mixture with the remaining cheese and the sliced black olives.
9
Place the skillet in the preheated oven and bake until all the cheese on top is melted and the Easy Skillet Taco Dip is bubbling around the edges. While the skillet is baking, you can warm corn or flour tortillas and put out a bowl of tortilla chips.
10
When the Easy Skillet Taco Dip comes out of the oven, You can add a few swipes of sour cream to the top. Along with any other toppings you like. I have pickled onions, scallions and more fresh cilantro leaves.
Notes
If you're subbing ground beef, put the ground beef in a bowl and season as outlined for steak, tossing the ground beef in the seasoning. Like making meatballs, be careful not to over mix the ground beef.