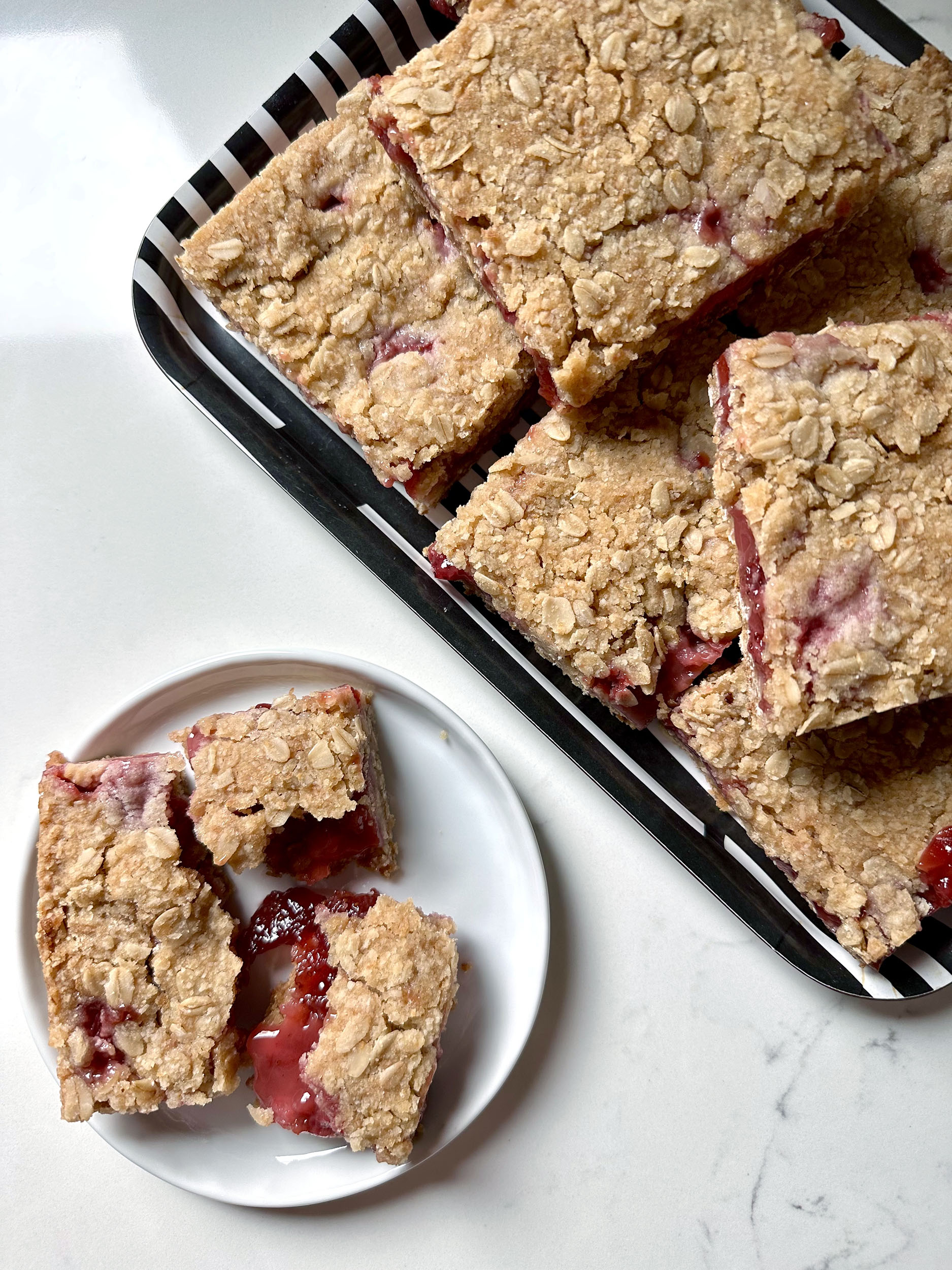 Print Recipe
Easy Strawberry Oat Bars
Easy Strawberry Oat Bars come together quickly and are totally customizable - use your favorite berries or fruit for a great seasonal sweet.
Ingredients
Strawberry Filling

1 16-oz. Jar Strawberry Preserves

2 tbsp. All Purpose Flour

2 cups Chopped Strawberries

Juice of 1 Lemon

Oat Crumble Crust

1 cup Salted Butter, cut into cubes

1.5 cups All Purpose Flour

1 cup Brown Sugar

1 tsp. Baking Powder

1 tsp. Kosher Salt

1.5 cups Oats
Instructions
1
Start by preheating the oven to 350 degrees F. Line a 9 x 13-inch baking pan with parchment and set aside.
2
In a medium bowl, combine the preserves, 2 tablespoons of flour, lemon juice and chopped berries. Mix well to incorporate the flour and lemon juice. Set aside.
3
In a food processor combine the flour, brown sugar, baking powder, lemon zest, kosher salt and butter. Pulse until the mixture is a sandy consistency. Transfer the flour mixture to a large bowl and stir in the oats.
Assembling the Easy Strawberry Oat Bars
4
Pour half of the oat and flour mixture into the prepared baking pan. Use a meat pounder or a thick jar or glass to firmly press the mixture evenly into the pan. Top the pressed crust mixture with the berry and preserves mixture. Use a a flat silicone spatula to smooth the berry mixture into an even layer.
5
Top the strawberry layer with the remaining flour and oat mixture. Spread evenly across the top of the fruit. Lightly press the flour and oat mixture.
6
Bake the Easy Strawberry Oat Bars for 35-45 minutes, until golden brown.
7
Let the Easy Strawberry Oat Bars cool in the baking pan set on a wire rack. The bars will firm up as they cool. When completely cool, slide the bars out of the baking pan and cut into squares.