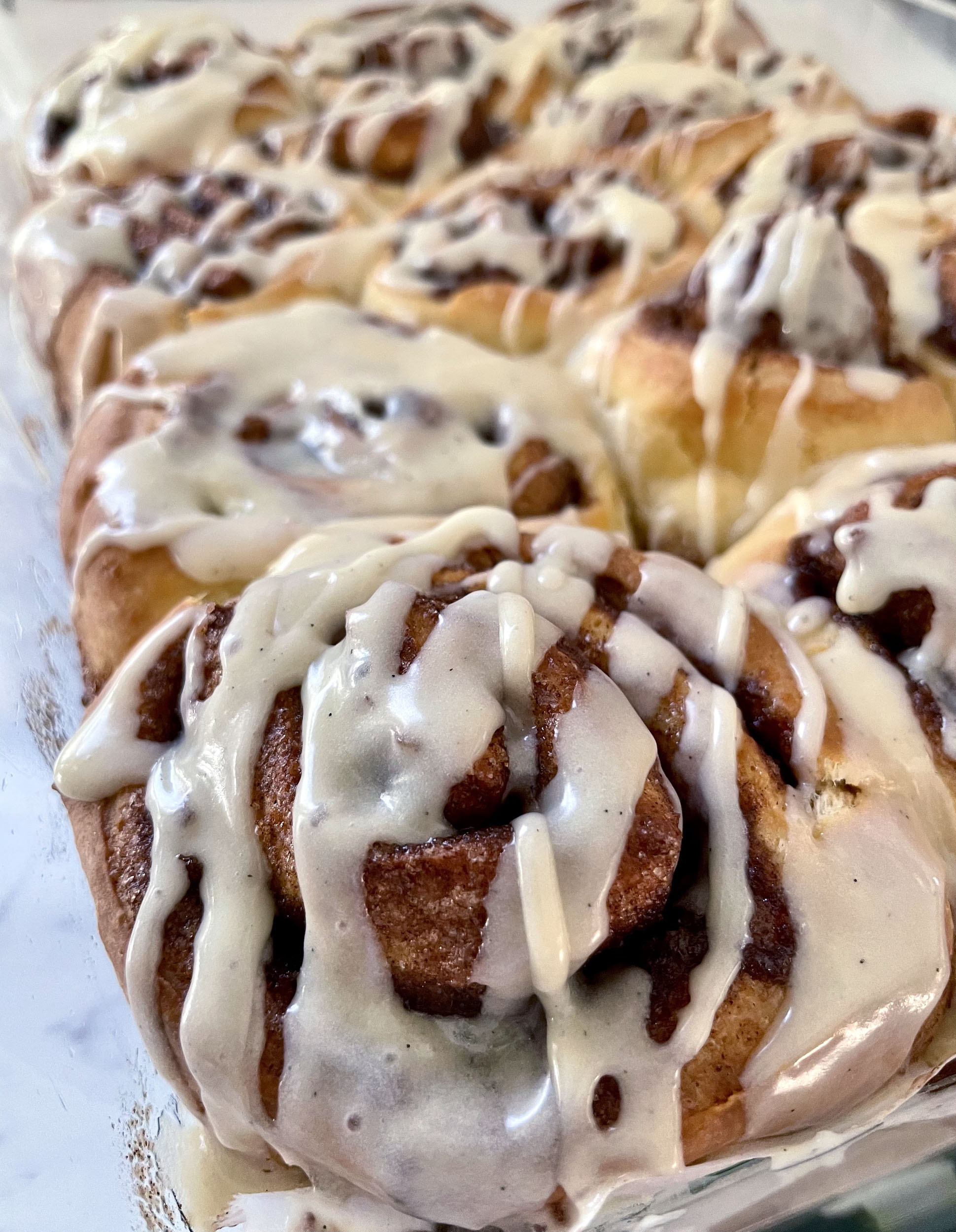 Print Recipe
Eggnog Cinnamon Rolls
These Cinnamon Rolls are not too sweet. With a light eggnog flavor, they are so festive and perfect for Christmas morning!
Ingredients
3.5 - 4 cups all-purpose flour plus more for dusting

1 packet Rapid Rise Yeast

2 tbsp. Brown Sugar

1/4 tsp. Kosher Salt

3/4 cup Eggnog, warmed

3 large Eggs

1 tsp. Vanilla extract or Vanilla Bean Paste

1/2 cup Salted Butter, melted

Filling

3/4 cup Brown Sugar

2 tbsp. Ground Cinnamon

1/2 cup Salted Butter, at room temperature

Frosting

1/4 cup Eggnog, warmed

2 tsp. Vanilla Extract, or Vanilla Bean Paste

1.5 cups Powdered Sugar
Instructions
1
In a stand mixer with a dough hook attachment, mix together the sugar, 3.5 cups of flour and the rapid rising yeast. Then add the eggnog, eggs, butter, salt and vanilla. Mix until the dough forms into a smooth, slightly sticky dough ball. If the dough is too sticky, add more flour, one tablespoon at a time until the dough is more smooth than sticky.
2
Cover the bowl with plastic wrap and let proof for 1 hour, or until doubled in size.
3
Meanwhile, in a medium bowl, mix the cinnamon and brown sugar for the filling. Let the butter come to room temperature.
4
Line the bottom of a 9"x13" baking dish with parchment paper.
5
Turn the dough out on a lightly floured surface and punch it down. Then roll it out to a 10" x 16" rectangle.
6
Spread the room temperature butter over the surface of the dough. Sprinkle the cinnamon sugar mixture over the butter.
7
Starting with the long side closest to you, tightly roll the dough, pinching the ends closed as you roll.
8
With a sharp knife, make 12-15 slices and place the slices in the baking dish.
9
Cover the baking dish with plastic wrap and let proof for 20-30 minutes. Preheat oven to 350 degrees.
10
Make the frosting by mixing the eggnog and the vanilla, then stir in the powdered sugar. Stir to a smooth consistency.
11
Bake the rolls for 25-30 minutes until golden brown.
12
Immediately drizzle the frosting over the cinnamon rolls.
Notes
If you are using Active Dry Yeast as opposed to Rapid Rise Yeast, mix the yeast with the eggnog and sugar and let sit for 5-10 minutes, until the yeast is bubbly and foamy. Then mix in the flour and proceed with the dough recipe as listed.