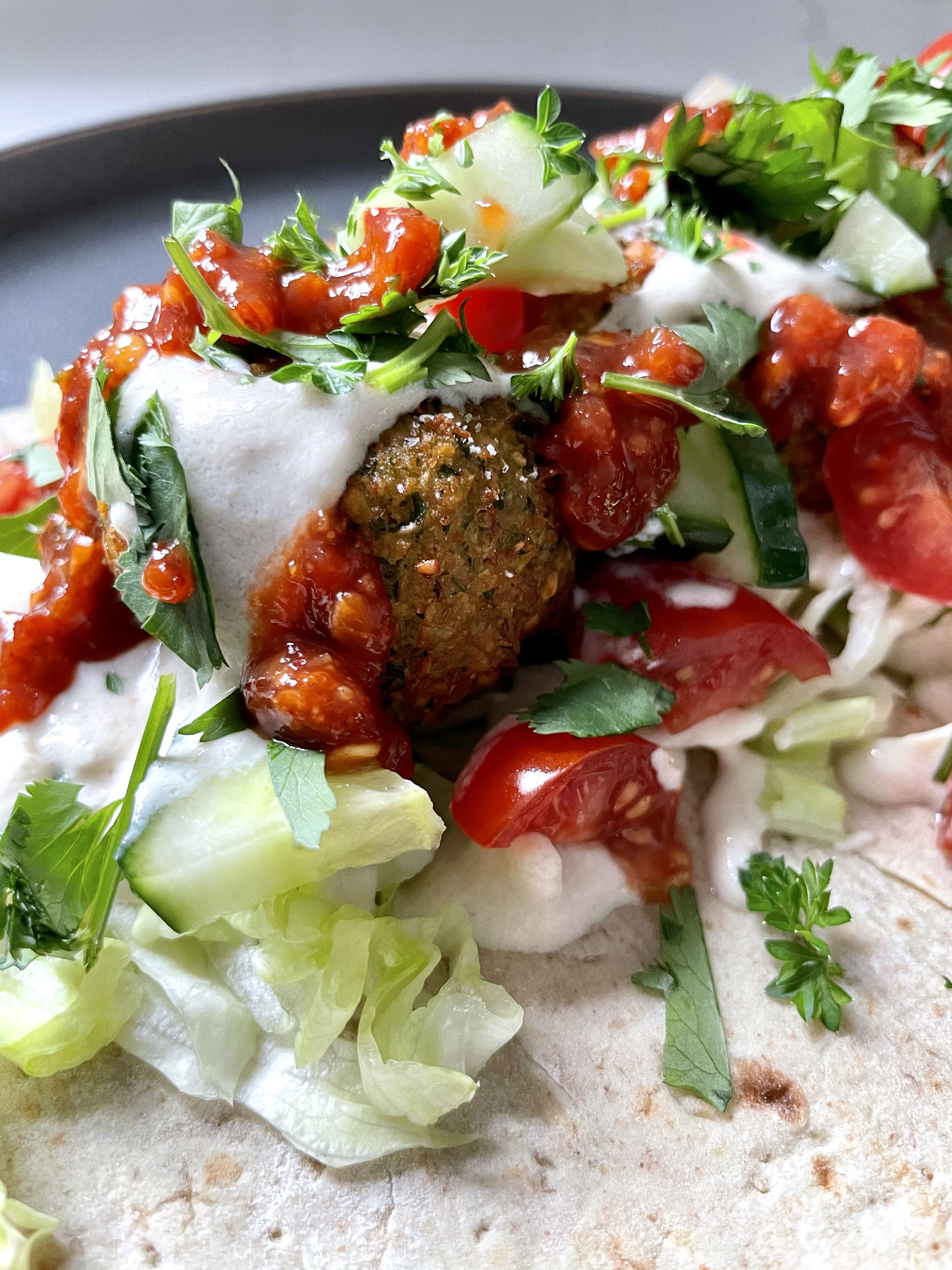 Print Recipe
Falafel with Tahini Yogurt Sauce
Gorgeous, colorful, fresh and flavorful! These falafel are crunchy and light, with fluffy interiors. Restaurant-worthy falafel right in your own kitchen!
Ingredients
Falafel

8 oz. Dried Chickpeas, picked over and rinsed

¾ cup Fresh Cilantro Leaves and Stems

¾ cup Fresh Parsley Leaves

½ Onion, chopped fine

2 Garlic cloves, minced

1½ tsp. Ground Coriander

1 tsp. Ground Cumin

2 tsp. Kosher Salt

¼ tsp. Cayenne Pepper

¼ cup All-Purpose Flour

2 tsp. Baking Powder

2 quarts Vegetable oil, for frying

Tahini Sauce

⅓ cup Tahini

⅓ cup Plain Greek Yogurt

¼ cup Lemon Juice (2 lemons)

¼ cup Water

Kosher Salt, to taste

Flat Bread, Shredded Iceberg, Sliced Cucumbers, Sliced Tomato, Chopped Fresh Herbs, Hot Sauce, for serving
Instructions
1
Place chickpeas in large container and cover with water by 2 to 3 inches. Soak at room temperature for at least 8 hours or up to 24 hours. Drain well.
2
Whisk tahini, yogurt, and lemon juice in medium bowl until smooth. Whisk in water to thin sauce as desired. Season with salt to taste; set aside. (Sauce can be refrigerated for up to 4 days. Let come to room temperature and stir to combine before serving.)
3
Process cilantro, parsley, onion, garlic, coriander, cumin, salt, and cayenne in food processor for 5 seconds. Scrape down sides of bowl. Continue to process until mixture resembles pesto, about 5 seconds longer.
4
Add chickpeas and pulse 6 times. Scrape down sides of bowl. Continue to pulse until chickpeas are coarsely chopped and resemble sesame seeds, about 6 more pulses. Transfer mixture to large bowl and set aside.
5
Whisk flour and ⅓ cup water in bowl until no lumps remain. Microwave, whisking every 5 seconds, until mixture thickens to stiff, smooth, pudding-like consistency that forms mound when dropped from end of whisk into bowl, 15-60 seconds.
6
Stir baking powder into flour paste.
7
Add flour paste to chickpea mixture and, using rubber spatula, mix until fully incorporated.
8
Use a heaping 2 tablespoons to measure 18-20 falafel balls. Gently roll into golf ball–size spheres, transferring spheres to parchment paper–lined rimmed baking sheet once formed. (Formed falafel can be refrigerated for up to 2 hours.)
9
Heat oil in large Dutch oven over medium-high heat to 325 degrees.
10
Add 5-8 falafel and fry, stirring occasionally, until deep brown, about 5 minutes.
11
Adjust burner, if necessary, to maintain oil temperature of 325 degrees.
12
Using slotted spoon or wire skimmer, transfer falafel to a wire rack in a sheet tray and sprinkle with Kosher salt.
13
Return oil to 325 degrees and repeat with remaining falafel. Serve immediately with tahini sauce.