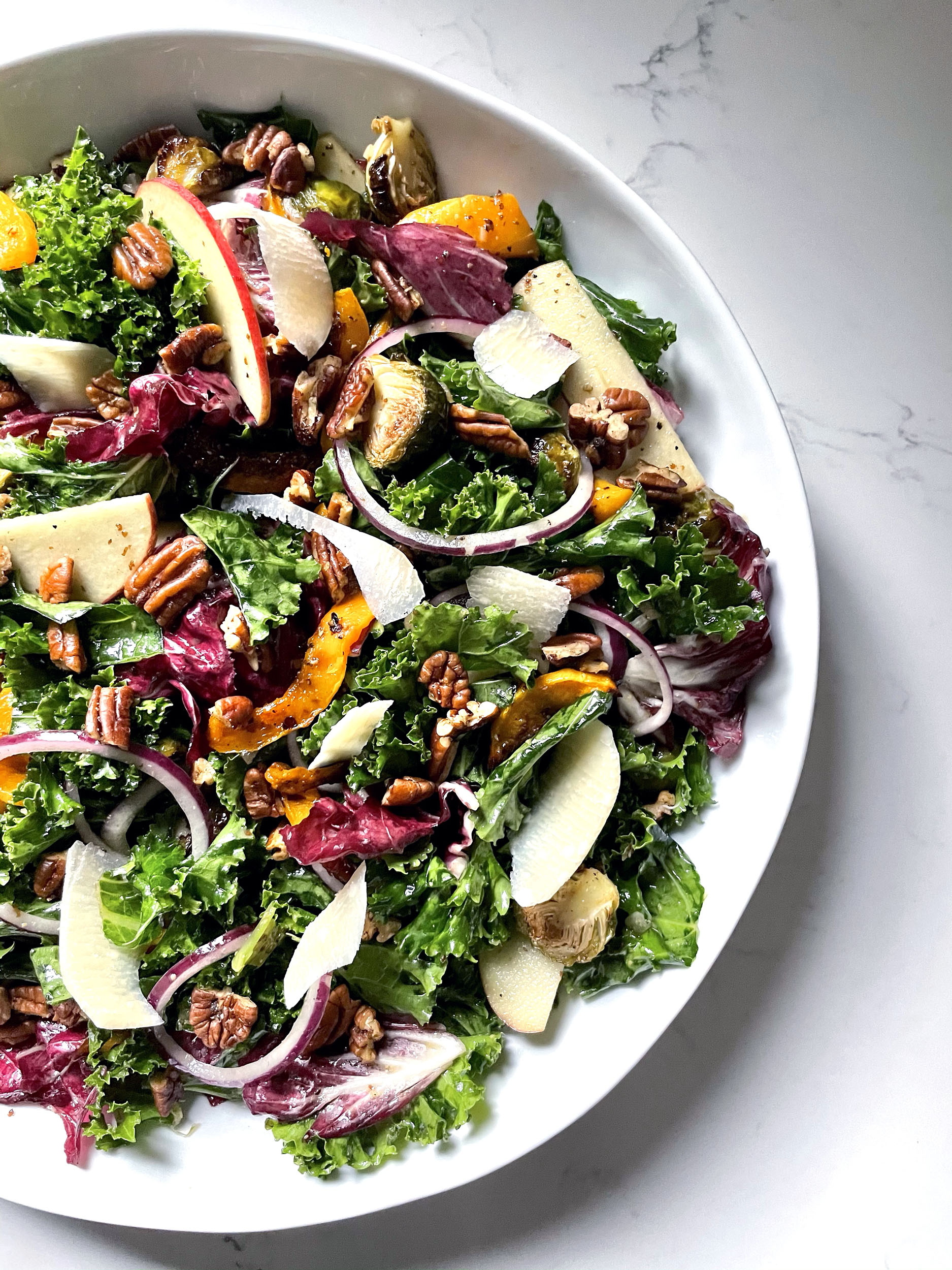 Print Recipe
Fall Harvest Salad
A hearty salad full of color, perfect for your Thanksgiving table. Kale, radicchio, apples and onions are beautifully paired with roasted butternut squash and Brussels sprouts, coated in a warm citrus dressing.
Ingredients
Salad

1 Medium Butternut Squash, peeled and sliced

15-20 Brussels Sprouts, halved

2-3 tbsp. Olive Oil

Kosher Salt and Pepper to taste

1 tsp. Red Pepper Flakes

1 Head Radicchio, leaves torn into pieces

1 Bunch Kale, stems removed and torn into pieces

1 Gala Apple, thinly sliced wedges

1/2 -1 Medium Red Onion, thinly sliced

1 cup Toasted Pecans, broken into pieces

Parmesan, shaved (optional)

Dressing

1/4 cup Fresh Orange Juice

1 Small Shallot, minced

1 tbsp. Apple Cider Vinegar

1 tbsp. Pure Maple Syrup

1 tbsp. Dijon Mustard

1.5 tsp. Kosher Salt

1/2 tsp. Black Pepper

1/3 cup Olive Oil

Pecans

1 tbsp. Unsalted Butter

Pinch of Kosher Salt

1 tsp. Black Pepper

1 tsp. Sugar

1/8 tsp. Cayenne Pepper
Instructions
1
Preheat oven to 450 degrees.
2
Remove outer leaves of Brussels sprouts and trim bottoms, cut in half.
3
Peel Butternut squash and slice into even pieces.
4
Place sprouts and squash in a large bowl and toss to combine with olive oil, salt, pepper and red pepper flakes.
5
Spread in a single layer on a sheet tray and bake for 20 minutes, or until golden.
6
Wash kale and tear leaves from stems, tearing leaves into bite-sized pieces. Place in a large bowl and set aside
7
Wash radicchio and tear leaves into bite-sized pieces. Set aside separately from the kale.
8
Thinly slice red onion into rings. Set aside.
9
Break up pecans by hand so they have irregular edges and shapes. Over medium low heat, melt butter in a skillet and add the pecans. Add salt, black pepper, sugar, and cayenne pepper. Stir pecans in the melted butter until golden and fragrant, about 3-5 minutes. Remove pecans from skillet and set on a paper-towel-lined plate. Set aside.
10
Pour all ingredients except for the olive oil in a skillet on medium heat. Whisk to combine and bring to a simmer. Once simmering, whisk in olive oil and keep whisking, let simmer for one minute. Remove from heat and pour dressing into a heat proof measuring cup.
11
Pour 1/3 hot dressing over kale and massage until kale is tender and slightly wilted.
12
Add radicchio and toss by hand to combine.
13
Add apple and onion slices, pour another 1/3 of the dressing and toss by hand to combine.
14
Add roasted veggies and add last 1/3 of the dressing. Gently hand mix to combine.
15
Just before serving, add pecans and shaved parmesan.