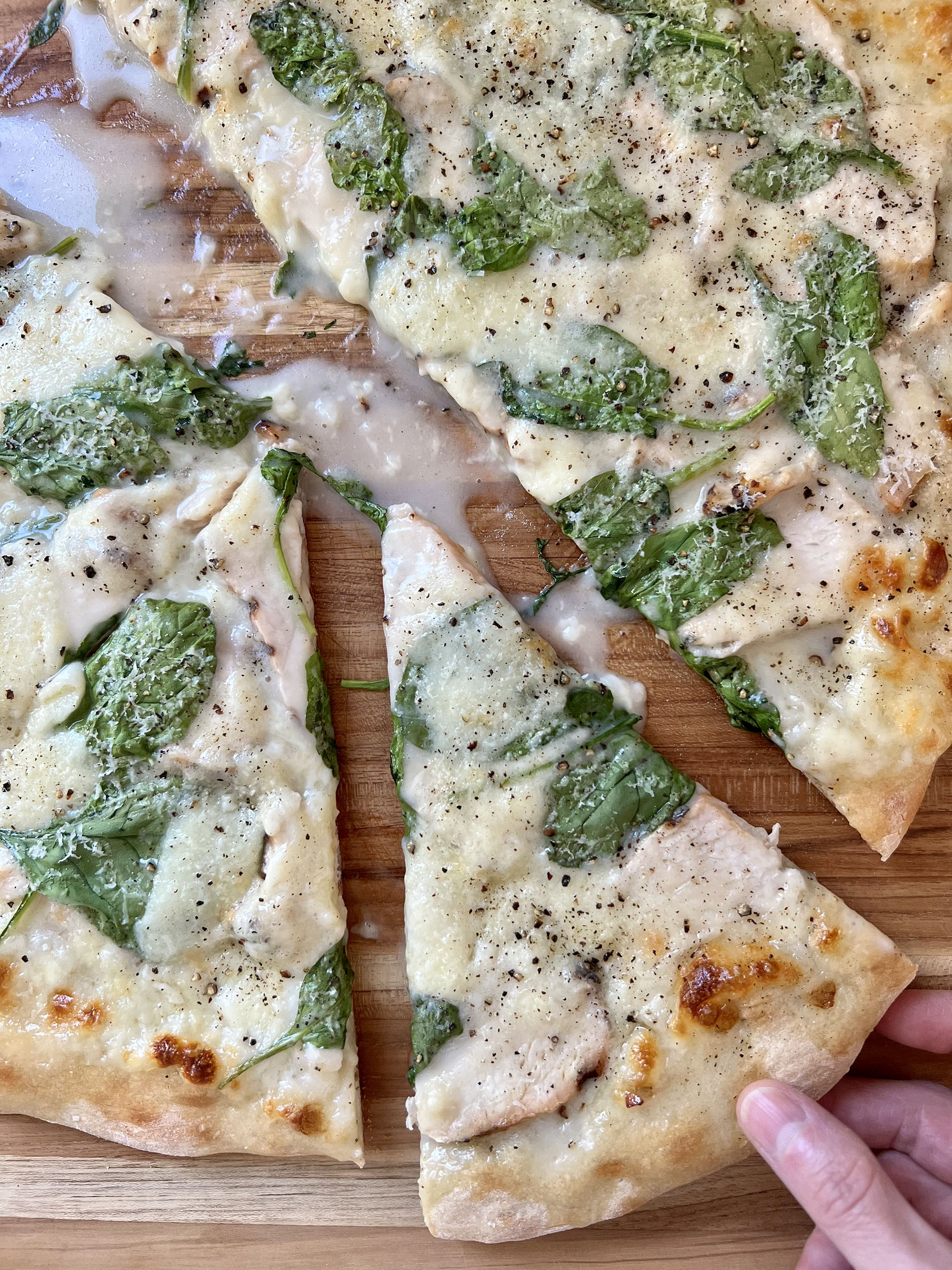 Print Recipe
Florentine Pizza
Chicken Florentine gets it turn on a pizza with this Florentine Pizza. White wine cream sauce with chicken breast and fresh spinach.
Ingredients
1 Prepared Pizza Dough

1 cup Low-Moisture Mozzarella Cheese, divided

1 cup Thinly Sliced Cooked Chicken Breast

1/4 cup White Wine Cream Sauce

1 cup Fresh Raw Spinach

Fresh Grated Parmesan, for garnish

Fresh Cracked Black Pepper, for garnish

White Wine Cream Sauce

4 tbsp. Butter

6 tbsp. All-Purpose Flour

1/2 cup Dry White Wine

2.5 cups Chicken Broth

3 Cloves Garlic, minced

1 tsp. Finely Chopped Fresh Parsley

1 tsp. Finely Chopped Fresh Rosemary

1 tsp. Finely Chopped Fresh Thyme

1/4 cup Heavy Cream

Kosher Salt and Freshly Ground Black Pepper, to taste
Instructions
1
Begin by melting the butter in a large skillet or saucepan over medium-low heat. Whisk in the flour to make a roux. Let the flour get a little toasty, about 1 minute of stirring then add the white wine. Whisk continuously to dissolve any lumps, bring to a simmer. Add the chicken broth or stock and bring the mixture up to a simmer.
2
Stir the fresh minced herbs into the sauce and continue to simmer until the mixture has thickened some. Then add the cream and continue to simmer for another few minutes.
3
When the sauce has thickened to a gravy-like consistency, remove from heat. Taste the sauce and add Kosher Salt and Freshly Ground Black Pepper, to taste.
4
Preheat the oven to 450 degrees F. with a pizza stone or steel for about 45 minutes to 1 hour.
5
Roll, stretch or toss your dough into a 12 to 14-inch round and lay on a lightly floured pizza peel.
6
Top the dough with 3/4 of the mozzarella cheese.
7
Layer the sliced chicken breast on top of the cheese.
8
Drizzle about 1/4 of the white wine cream sauce over the chicken.
9
Top the sauce with a couple handfuls of fresh raw spinach and top the spinach with remaining mozzarella.
10
Bake for 10-15 minutes, until the crust is puffy and golden and the cheese is melted and browning in spots.
11
Transfer the pizza to a cutting board and let sit 5 minutes.
12
Top with Parmesan and black pepper. Slice and serve.