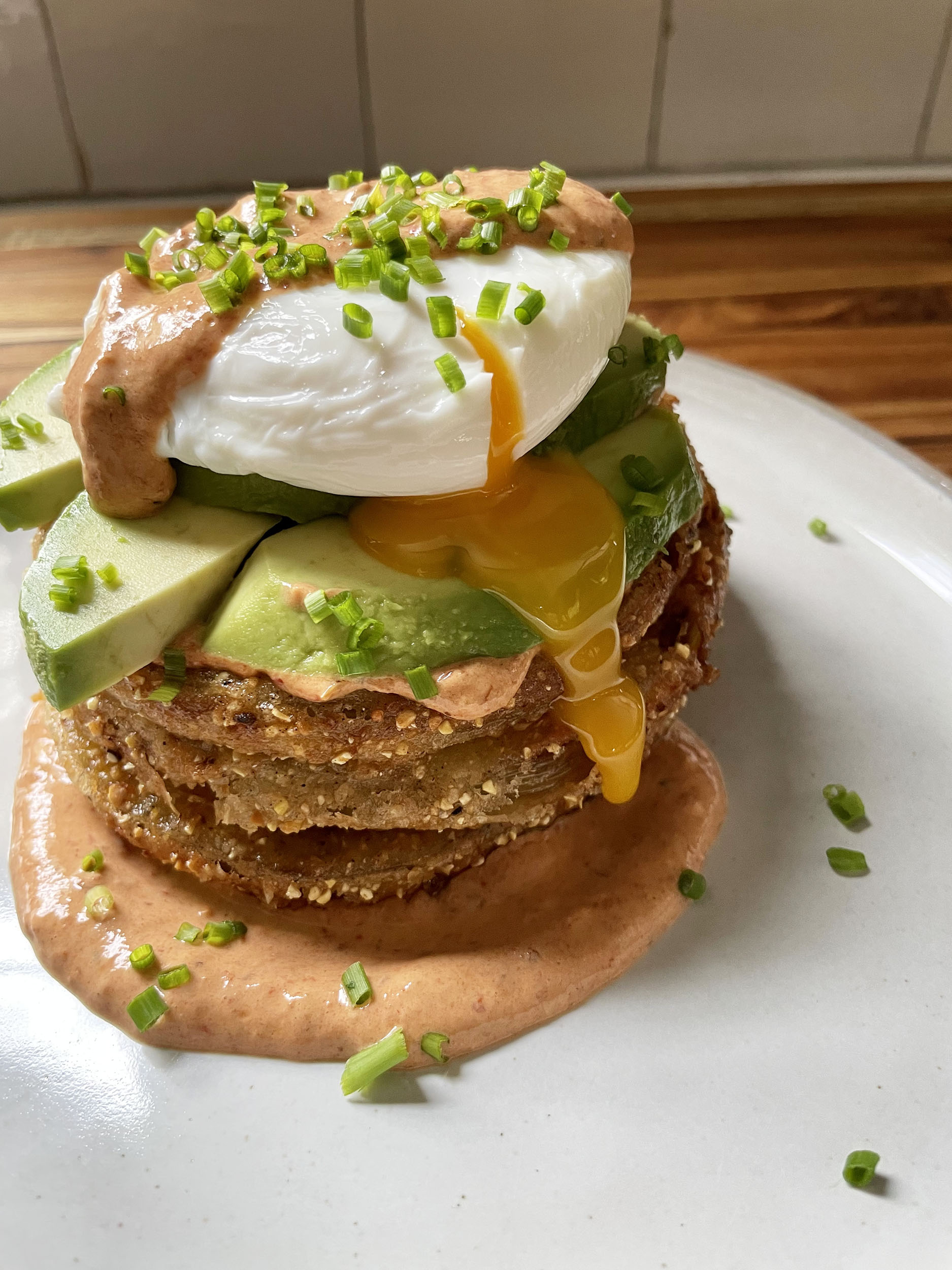 Print Recipe
Fried Green Tomato Benedict with Chipotle Crema
A new take on Eggs Benedict with Fried Green Tomatoes instead of bread, and Chipotle Crema instead of Hollandaise. With Avocado and chives.
Ingredients
Fried Green Tomatoes

1.5 - 2 lbs. Green Tomatoes, cored and sliced 1/4-inch thick

2/3 cup cornmeal

1/3 cup all-purpose flour

3 tsp. Kosher Salt

1/2 tsp. Pepper

1/8 tsp. Cayenne Pepper

2/3 cup Buttermilk

1 large Egg

2 cups Peanut or Vegetable oil

Chipotle Crema

2-3 Chipotle Peppers (rough chopped) with at least 1 tablespoon Adobo Sauce

1/4 cup Crema Mexicana

1/4 cup Sour Cream

Juice of one Lime

Fried Green Tomato Benedict

Poached Eggs (one egg per serving)

Finely chopped Chives
Instructions
1
First, spread the green tomato slices out flat on a rimmed baking sheet lined with two layers of paper towels. Let them sit for about 20 minutes.
2
Meanwhile, in a blender, blend the sour cream, crema, lime and the chipotle peppers with adobo sauce. Transfer to a dish and set aside.
3
Preheat oven to 350 degrees.
4
In a shallow dish or pie plate, whisk together the flour, salt, corn meal, pepper and cayenne until well combined.
5
In a separate dish or pie plate, whisk together the buttermilk and the egg until emulsified.
6
Pat the tops of the tomato slices dry then, dredge each slice in the buttermilk mixture and then the flour mixture, shaking off the excess. Place each breaded tomato on a clean rimmed baking sheet. Repeat with the rest of the tomato slices.
7
Heat 2 cups of vegetable oil in a large skillet or braiser until the temp reached 350 degrees.
8
Line a rimmed sheet tray with two wire cooling racks and set next to skillet.
9
Gently lay slices of breaded tomato in the hot oil, being careful to release the tomato away from you to avoid splashing hot oil on yourself. Fry tomato slices in batches of four, for about 4 minutes on each side. Keep an eye on the oil temp and adjust burner to keep at 350 degrees.
10
Transfer fried tomatoes to the wire racks and repeat until all tomatoes are fried.
11
Transfer the tomatoes on the wire rack-lined sheet tray to the oven to stay warm while you poach the eggs.
12
To plate the dish, smear a dollop of chipotle crema on a plate; then place a stack of 2-3 fried tomatoes just off center of the chipotle crema.
13
Smear another dollop of crema on the top tomato and lay 3-4 slices of avocado on top of the crema, being sure to leave a flat surface for the egg.
14
Place a poached egg on top of the avocado and place another dollop of crema on the egg. Top with chopped chives.