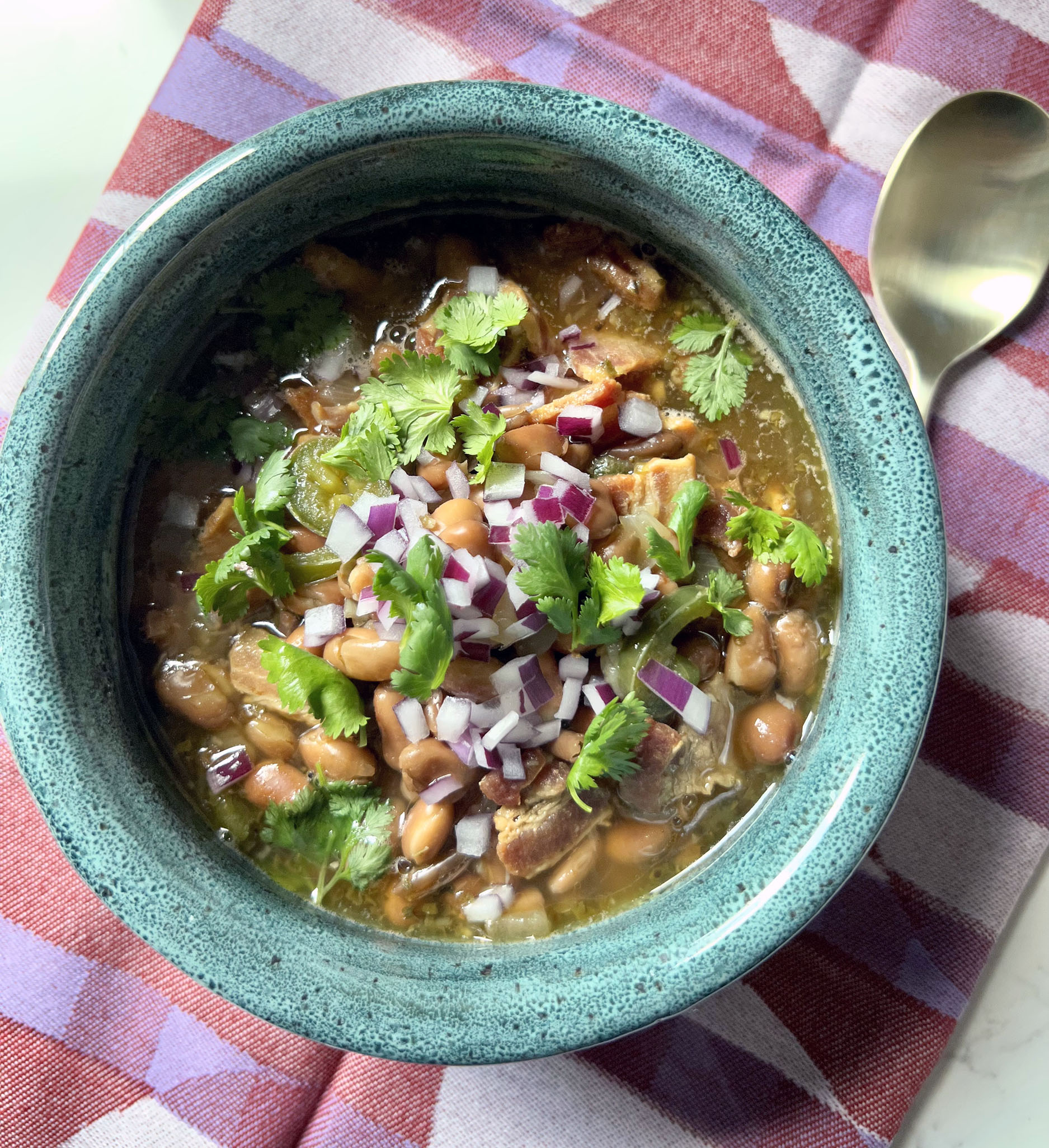 Print Recipe
Frijoles Charros
Frijoles Charros (Cowboy Beans) are brothy, meaty, savory, a little spicy and satisfying. Weeknight friendly, ready in about 30 minutes.
Ingredients
1 lb. Bacon, slices cut into 1/2-inch pieces

1/2 Onion, diced

1 Jalapeño, sliced into rounds

2 tsp. Kosher Salt

3 Cloves Garlic, pressed or minced

1 tsp. Ground Cumin

3 cans Low Sodium Pinto Beans, drained and rinsed

1 tsp. Dried Oregano

4 cups Low Sodium Chicken Broth

Garnish

Lime Juice

Diced Onion

Fresh Cilantro
Instructions
1
Get a Dutch oven or large pot and over medium heat, cook the bacon pieces, stirring occasionally until browned and evenly cooked through. Take care not to overcook the bacon; Don't let it get super crispy, then cut the heat under the bacon.
2
Use a slotted spoon to transfer the cooked bacon out of the Dutch oven to a paper towel-lined plate. Pour off all but about 1-2 tablespoons of the bacon fat. Turn the heat back up under the Dutch oven to medium heat and add the diced onions and the sliced jalapeños to the remaining bacon fat. Add 2 teaspoons kosher salt. Stir the onions and sauté until softened.
3
Once the onions have softened, add the garlic and cumin. Stir to combine and toast the seasoning with the aromatics until fragrant, about 30 seconds. Then add the beans and the oregano. Stir the beans and oregano into the aromatic mixture.
4
Add the bacon back to the pot and add the chicken broth.
5
Stir the Charro Beans and bring up to a simmer. When simmering, reduce heat to maintain a simmer and cover. Simmer covered for 7 minutes. After 7 minutes, uncover and continue simmering for 3-5 minutes. Cut the heat and taste the Frijoles Charros. Add kosher salt if needed. Then ladle individual servings into bowls and give each serving a squeeze of lime juice. Top the servings with a diced onion and fresh cilantro leaves.