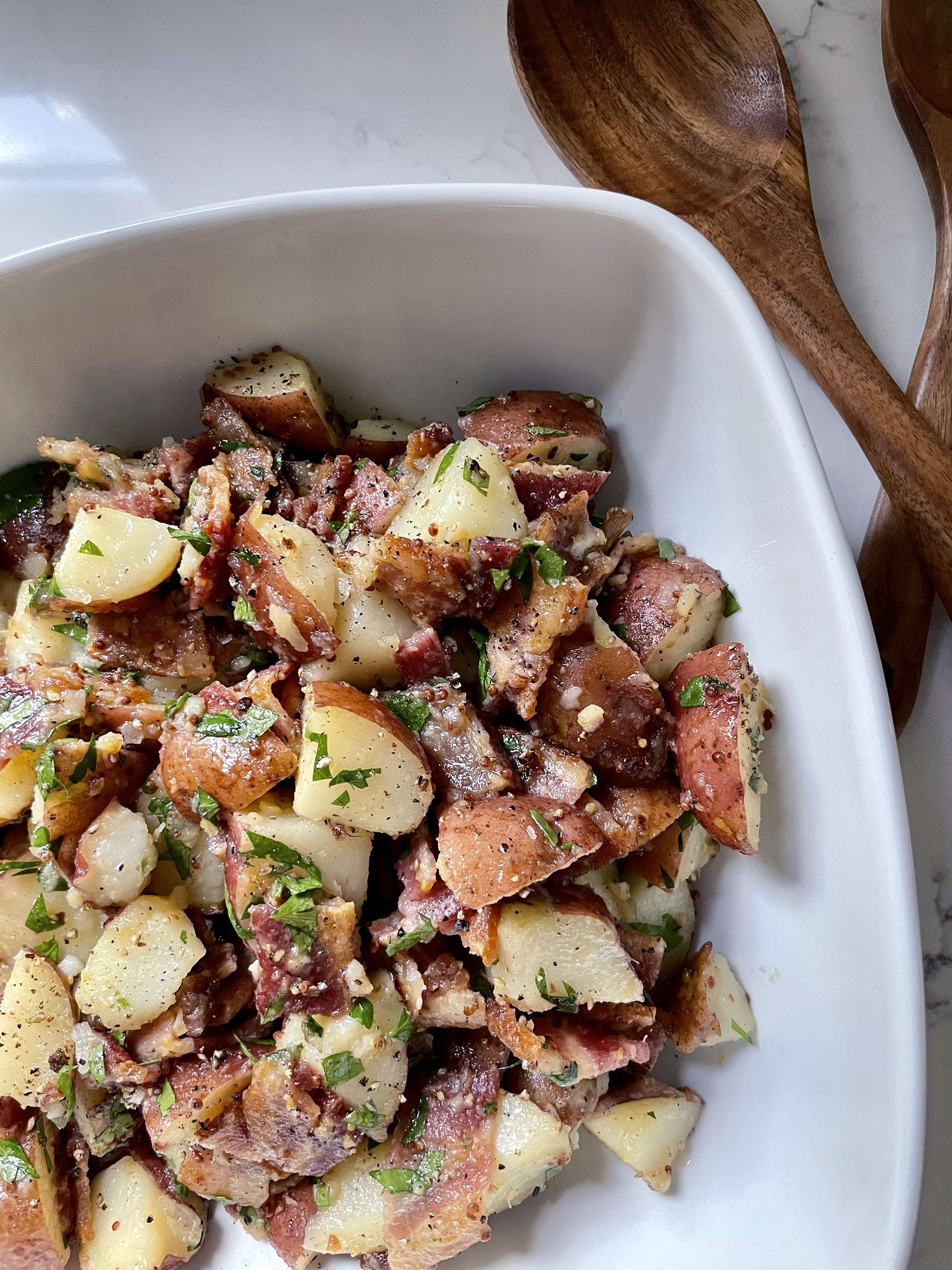 Print Recipe
German Potato Salad
This potato salad is perfect for a potluck or a picnic; serve it warm or at room temperature – it's bacon-y, mustard-y deliciousness.
Ingredients
2 lbs. Small Red Potatoes, quartered

2 pinches Kosher Salt

1 Package Bacon

1/3 cup Apple Cider Vinegar

3 tbsp. Sugar

1 tbsp. Whole Grain Mustard If you don't have a whole grain mustard, you can just use more dijon.

1/2 tbsp. Dijon Mustard

1 tsp. Kosher Salt

1 tbsp. Garlic, minced

Fresh Cracked Black Pepper, to taste

1/2 cup Fresh Parsley, chopped
Instructions
1
Preheat oven to 350 degrees.
2
Place a single layer of bacon on a wire rack set inside a rimmed baking sheet.
3
Bake bacon for about 15 minutes, until cooked through but not too crispy.
4
Remove from oven and let bacon cool for about 5 minutes, then chop bacon strips into 1-inch pieces and set aside.
5
Pour bacon fat from sheet tray into a jar or bowl and set aside.
6
Add quartered potatoes to a dutch oven filled with cold water. Add a couple pinches of kosher salt and bring to a boil over medium-high heat.
7
When potatoes are fork tender, about 15-20 minutes, drain potatoes and return empty Dutch oven to stovetop.
8
Add the collected bacon fat to the empty Dutch oven. Over medium heat, add the vinegar, sugar, mustard and 1 teaspoon Kosher salt. Whisk to combine and bring to a simmer.
9
Add chopped bacon and minced garlic, stir to combine and cook for one minute. Turn off the heat.
10
Add the cooked potatoes and gently stir to coat the potatoes in the dressing and bacon. Add fresh cracked black pepper to taste and stir to combine.
11
Add the chopped fresh parsley and stir gently to combine. Transfer to a serving bowl and serve warm, at room temp, or cover and refrigerate for later service.
12
If serving after refrigeration, let it the salad come up to room temperature before serving.