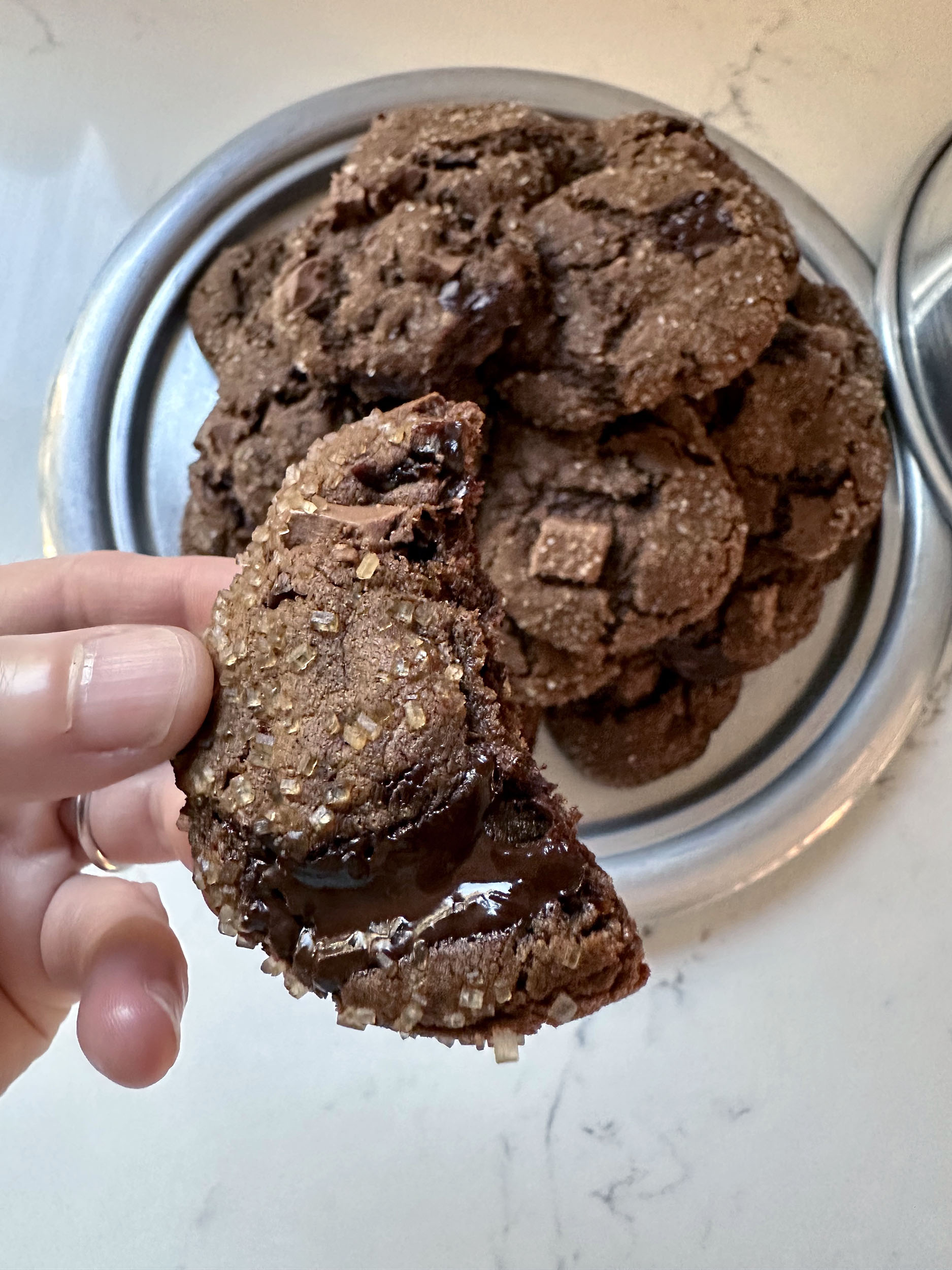 Print Recipe
Ginger Chocolate Cherry Cookies
Ginger Chocolate Cherry Cookies, studded with melty chocolate chunks and chewy dried cherries. Each bite is a super satisfying experience.
Ingredients
1/4-1/2 cup Turbinado Sugar

3/4 cup Granulated Sugar

6 tbsp. Unsalted Butter, melted and warm

2 tbsp. Grapeseed Oil, or other neutral oil

2 tbsp. Dutch-Process Cocoa Powder

2.25 tsp. Ground Ginger

1 tsp. Ground Cinnamon

1/2 tsp. Grated Nutmeg

1/4 tsp. Ground Cloves

3/4 tsp. Fine Sea Salt

1/4 cup Unsulfured Molasses

1 Large Egg

1¾ cups All-Purpose Flour

1¾ tsp. Baking Soda

1 cup Roughly Chopped Milk Chocolate Bar, or any combination of dark and milk chocolate equaling 1 cup

1/2 cup Dried Cherries or Cranberries, roughly chopped
Instructions
1
Arrange the oven racks to sit on the top third and bottom third of the oven and preheat the oven to 325 degrees F. Line two large rimmed sheet trays with parchment paper. Measure out 1/4-1/2 cup of turbinado sugar and pour the sugar into a small wide bowl and set aside for later.
2
In a large bowl, whisk together the white sugar, cocoa powder, ginger, nutmeg, cinnamon, ground clove, fine sea salt, grapeseed oil, and melted butter.
3
Add the egg and the molasses and whisk until smooth.
4
Then add the flour and the baking soda. Use a silicone or wooden spatula to incorporate the flour and baking soda until only a few white streaks of flour remain.
5
Then add the chopped dried cherries and the chopped chocolate bars. Mix again to incorporate the cherries and chocolate.
6
Use a 1.5 tablespoon cookie scoop and portion a heaping amount of the cookie dough. Place the portions on the prepared sheet trays. You should get 24 total cookie balls, 12 per sheet tray. Gently form the portions into balls and then roll the cookie balls in the turbinado sugar.
7
Place both sheet trays in the preheated oven and set a timer for 7-8 minutes. At the end of 7-8 minutes rotate the trays, top to bottom, back to front and bake for another 8-9 minutes. The cookies should have a crackly top, be crisp around the edges and very soft in the center. let the cookies cool on their trays for about 20 minutes, or until completely cool.
8
Once cooled, transfer to an airtight container and store at room temperature for about 5 days – if they last that long!