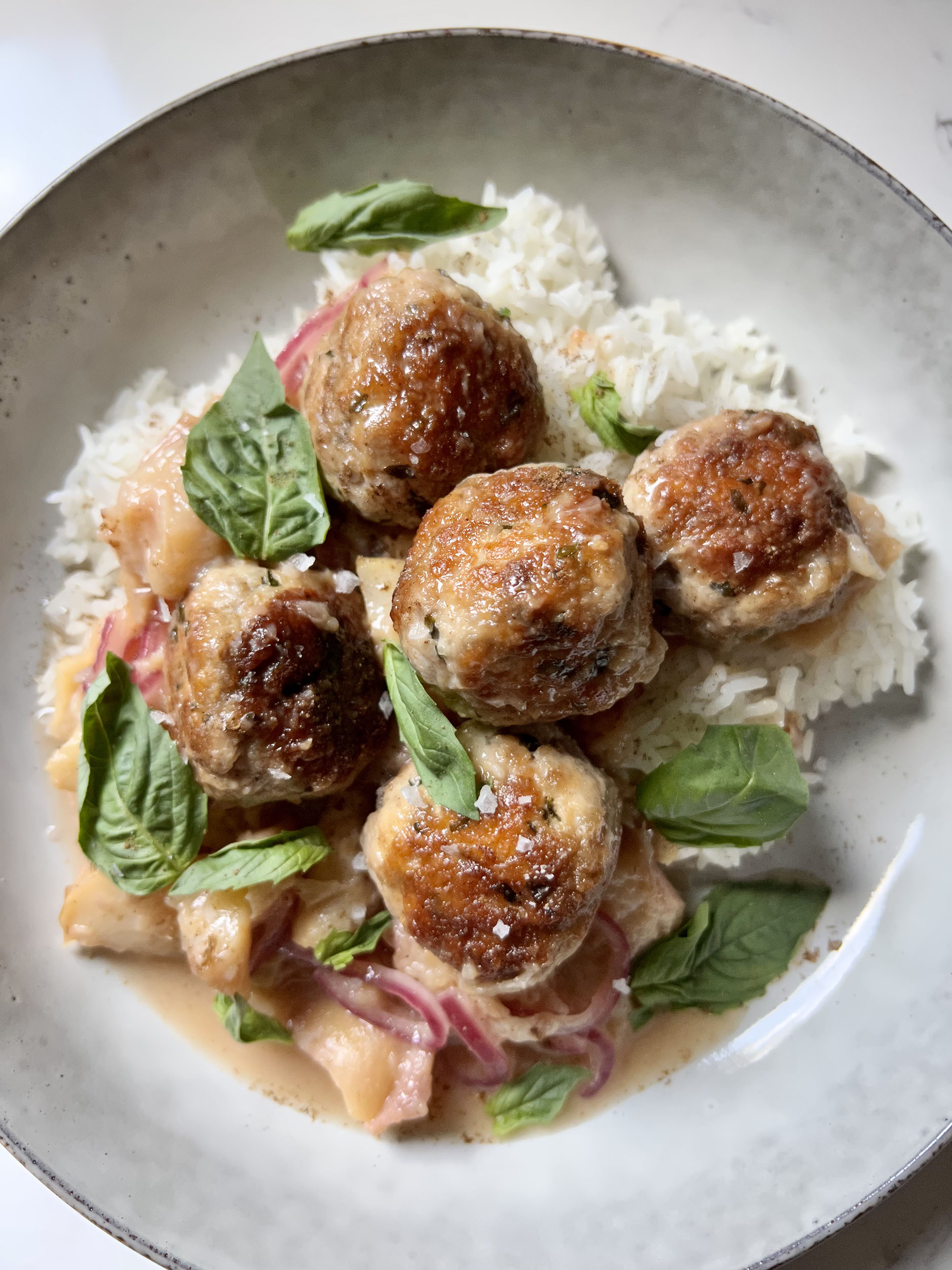 Print Recipe
Ginger Pork Meatballs with Peaches
Gingery pork meatballs scented with cumin, braised in a chunky peach sauce, is a savory sweet meaty dish with fresh basil and lime juice.
Ingredients
1.5 tbsp. Finely Grated Fresh Ginger

3 Garlic Cloves, grated or minced

1.25 tsp. Ground Cumin, plus more for serving

1.25 tsp. Kosher Salt, plus more as needed

1 lb. Ground Pork (or turkey or chicken, or vegan meat)

1/3 cup Plain Bread Crumbs, or Panko

3 tbsp. Finely Chopped Fresh Basil, plus basil leaves for serving

2 tbsp. Extra-Virgin Olive Oil

2 tbsp. Wine (dry white, rosé or red), or use broth, orange juice, peach juice or water

2 cups Diced Ripe Peaches or Nectarines (about 3), or use canned or frozen

1/4 cup Thinly Sliced White or Red Onion, or Scallions

Juice of 1 Lime

Flaky Sea Salt
Instructions
1
Into a large bowl, grate 1 and 1/2 tablespoons of fresh ginger. Add the cumin and kosher salt. Toss the spices in the ginger.
2
Add the one pound of ground pork, breadcrumbs and chopped basil. Use your hands to thoroughly mix the ginger spice paste, breadcrumbs, pork and basil. Try not to over mix the meat into a paste, this will make for tough meatballs.
3
Use a 1.5 tablespoon cookie scoop to portion the meatball mixture into 14 meatballs.
4
Gently roll the meatball portions into smooth round balls. In a large skillet or braiser, heat 2 tablespoons of olive oil over medium heat.
5
When the oil is shimmery, add the meatballs to the skillet. Let them brown, turning often to get an even browning on all sides.
6
When the meatballs are browned on all sides, add two tablespoons of white wine to the skillet. Alternatively you can use broth, water or juice (try orange, peach or apple).
7
Add the wine and scoot the meatballs to one side of the skillet while scraping up any brown bits. Now, add the diced peaches. Add 2 tablespoons of water to the peaches and sprinkle with a good pinch of kosher salt.
8
When the peaches begin to simmer, cover the pan and lower the heat to maintain a simmer. Let simmer for 5 to 10 minutes, until the meatballs are cooked though and the peaches have softened and broken down a bit.
9
If the sauce is still pretty loose and runny, let it cook down, uncovered for another 3-5 minutes, until the sauce reduces and thickens a bit more.
10
Add the onions to the pan and stir them into the peaches and meatballs. Let the onions soften slightly. Add lime juice to the skillet, stir.
11
Taste for seasoning. Add more kosher salt if needed to bring up the sweetness and peach flavor.
12
Cut the heat and we are ready to serve! Server over rice. Garnish with basil leaves, a sprinkling of ground cumin and flaky sea salt.