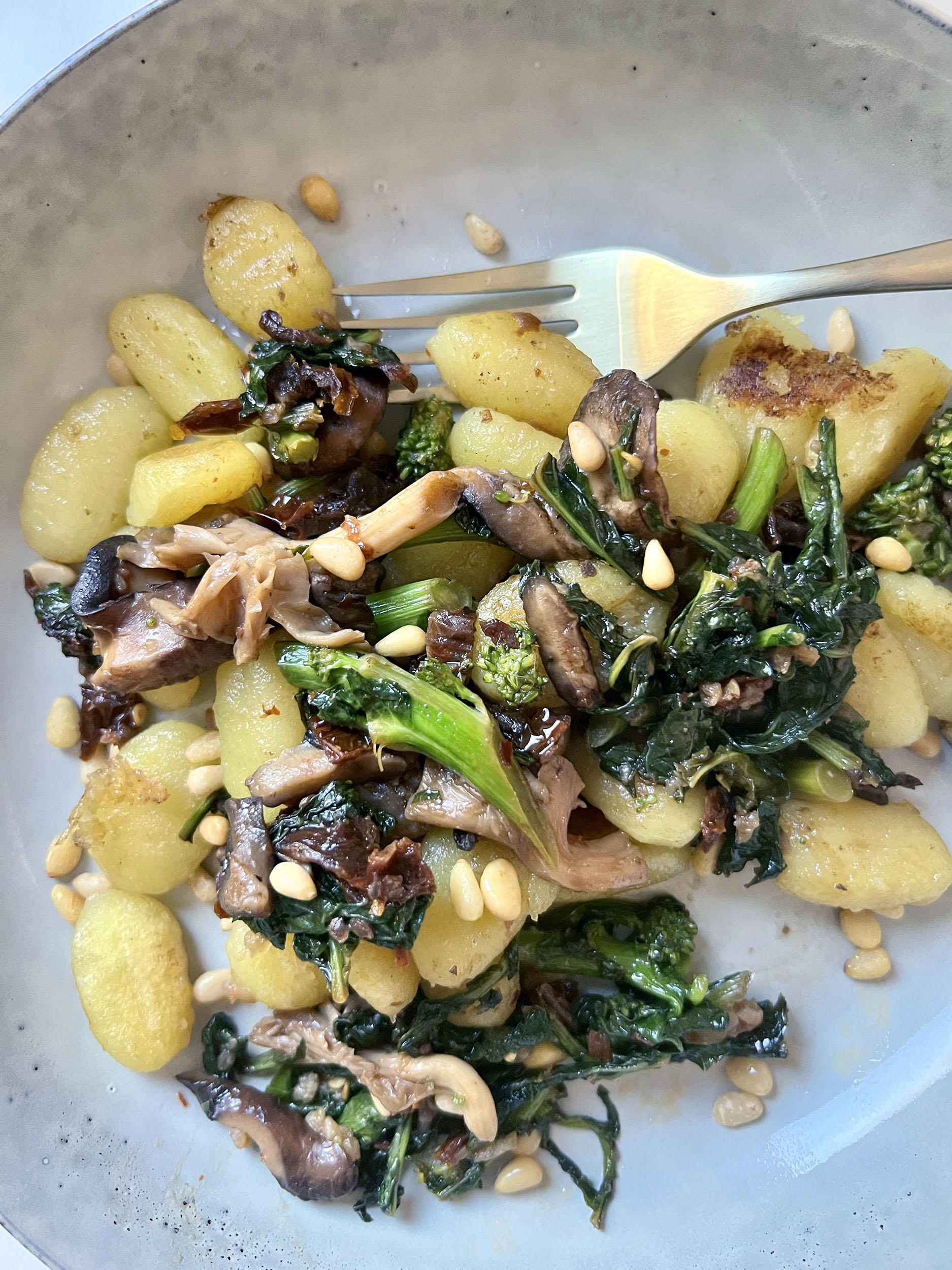 Print Recipe
Gnocchi with Broccoli Rabe and Sun Dried Tomatoes
Pillowy butter-toasted gnocchi topped with a versatile vegetable sauté of broccoli rabe, garlic, sun dried tomato and mushrooms.
Ingredients
3 tbsp. Olive Oil

5-6 Cloves Garlic, pressed or minced

1/2 tsp. Crushed Red Pepper Flakes

1/2 cup Oil-Packed Sun Dried Tomatoes, drained and chopped

1 tsp. Kosher Salt, plus more to taste

4-6 oz. Sliced Mushrooms

1 Bunch Broccoli Rabe, stalks and leaves washed and chopped into bite size pieces

1/4 cup Low Sodium Vegetable or Chicken Broth

1 16-oz. Package Store Bought Gnocchi

1-2 tbsp. Butter

Toasted Pine Nuts and /or Parmesan, for garnish
Instructions
1
Set a pot with about 3 quarts of water to boil.
2
In a skillet over medium heat, add the olive oil and heat the crushed red pepper flakes, garlic and salt until fragrant, about 30 seconds. Then add the chopped sun dried tomatoes.
3
Sauté the sun dried tomatoes for about 30 seconds, then add the mushrooms to the skillet.
4
Sauté the mushrooms just until they are tender and add the chopped broccoli rabe. Cook while stirring occasionally until the broccoli rabe turns bright green and begins to wilt slightly, just about a minute or two.
5
Season with a pinch of Kosher salt.
6
Add 1/4 cup of vegetable broth and bring the liquid to a simmer. Then reduce the heat and keep at a low simmer, stirring occasionally, until the liquid is reduced.
7
When the broth in the veggie mixture is reduced and the pan is nearly dry, transfer the veggie mixture to a serving dish and wipe out the pan. Set the pan over medium heat and melt a tablespoon of butter.
8
Cook the gnocchi in the boiling water we set going at the start, stirring occasionally. After about 3-4 minutes, when the gnocchi floats to the surface of the water, use a spider skimmer to scoop the gnocchi out of the boiling water and transfer it directly to the skillet.
9
Toast the boiled gnocchi in the butter over medium heat, tossing and stirring to evenly coat the gnocchi in butter, until the gnocchi begins to toast and develop golden browning.
10
Serve gnocchi topped with sautéd veggie mixture. Garnish with toasted pine nuts and/or Parmesan cheese.