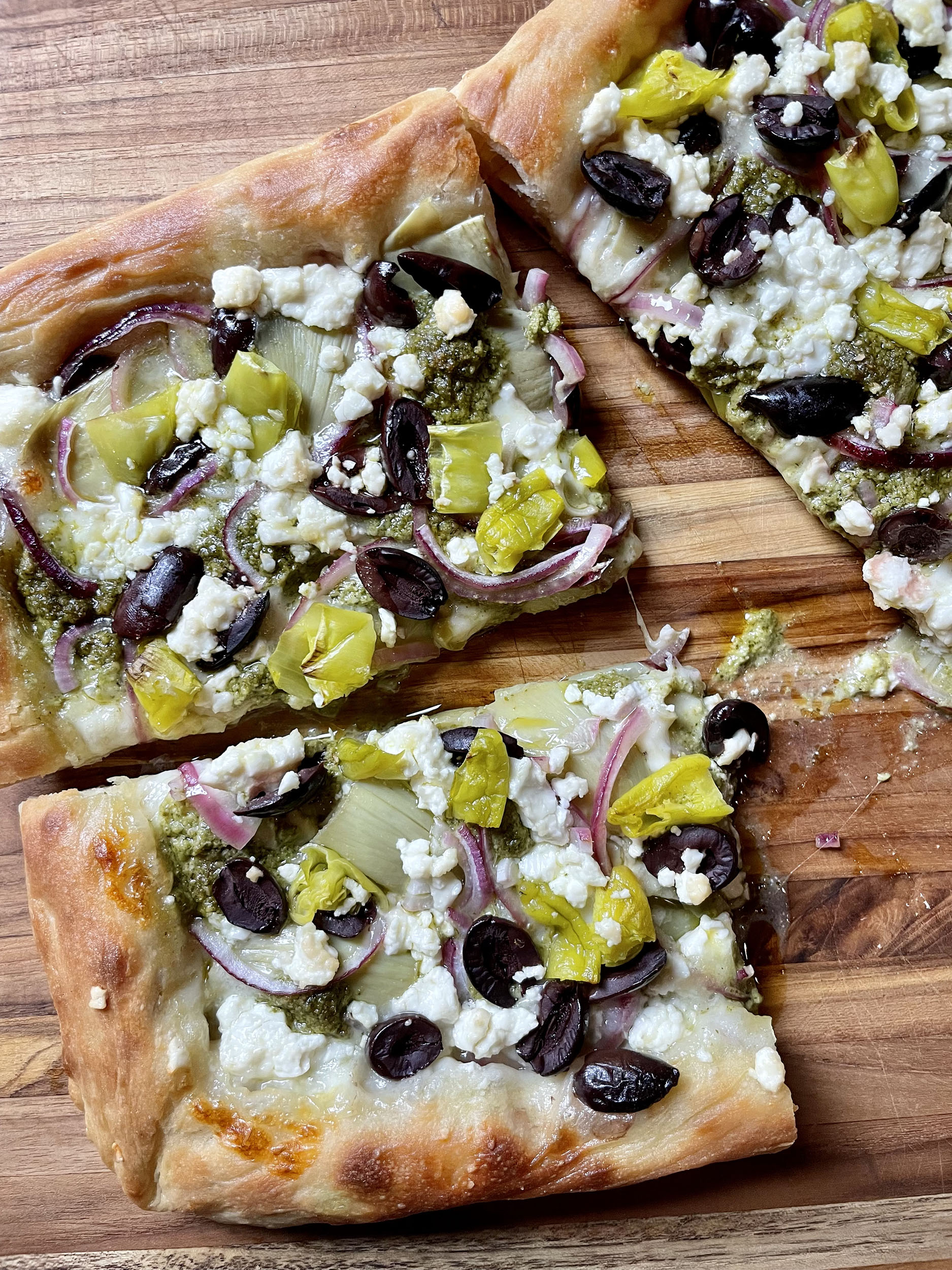 Print Recipe
Greek Pan Pizza
Greek Pan Pizza – loaded with artichoke hearts, olives, feta, onions, peppers and pesto. It's a super-flavorful pie with a puffy, thick pan pizza crust.
Ingredients
1 Prepared Pizza Dough

8 oz. Low Moisture Mozzarella, torn into thin strips or grated

3/4 of a 14-oz. can of Artichoke Hearts, rinsed and patted dry

3-4 tbsp. Fresh Basil Pesto

1/4 Red Onion, sliced thinly

1/4 cup halved Kalamata Olives

1/4 cup stemmed and quartered Pepperoncini Peppers

1/4-1/2 cup Greek Feta Cheese, crumbled

Olive Oil for drizzling on crust and oiling pan
Instructions
1
Preheat oven to 450 degrees.
2
Lightly oil a rimmed quarter sheet tray with olive oil.
3
Roll or stretch dough and lay in sheet tray, letting the dough come up the sides of sheet tray.
4
Layer the mozzarella on the dough then top with artichoke hearts.
5
Dollop the pesto evenly over the artichoke hearts.
6
Then add the onions and the olives.
7
Crumble the feta over the pie and top with the pepperoncini peppers.
8
Drizzle olive oil over the crust and use a brush to evenly spread the crust with olive oil.
9
Bake for 15-20 minutes until the crust is golden and puffy, and the cheese is melted and bubbly.
10
Pull pizza from oven and use a fish spatula to separate the crust from the sides of the pan then slide the spatula under the pizza and gently slide the pizza out onto a wire cooling rack. Check the bottom for doneness and if it needs more crisping up, slide the pizza directly onto the oven rack and bake for another few minutes.
11
Let the pizza cool on the wire rack for a few minutes and repeat the drizzling and brushing of olive oil on the crust. Slice and serve.