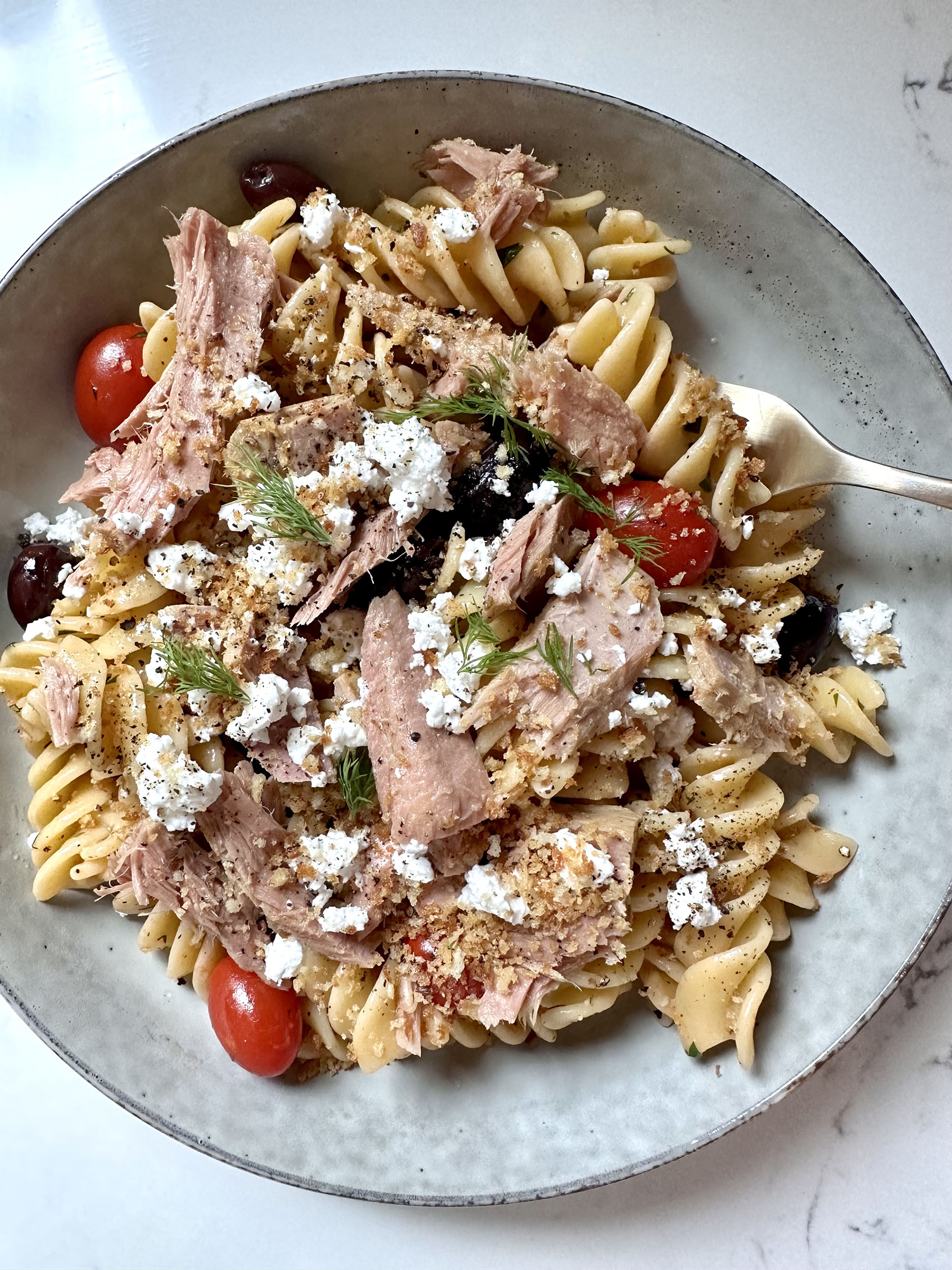 Print Recipe
Greek Pasta with Tuna, Olives and Feta
Herby, briny, fresh and bright, this Greek Pasta with tuna, olives and feta is great hot or cold. It's a quick, easy and healthy meal!
Ingredients
16 oz. Pasta like Fusilli, Penne or Rigatoni

2 tbsp. Butter

8-10 oz. Grape or Cherry Tomatoes

3/4-1 cup Kalamata Olives

1/2 cup Chopped Fresh Parsley

1/2 cup Chopped Fresh Dill, reserve a little for garnish

3/4 cup Grated Parmesan Cheese

6-12 oz. Oil Packed Tuna (about 3 oz. per serving)

1/4 cup Crumbled Feta

2-4 tbsp. Toasted Breadcrumbs

Kosher Salt and Cracked Black Pepper to Taste
Instructions
1
Get 4 quarts of water set to boil over high heat.
2
When the water is boiling, salt the water with 2 tablespoons of Diamond Crystal Kosher Salt. Cook the pasta according to the package directions for just shy of al dente. This is usually about 1 minute less than the package directions for al dente. Scoop out 2 cups of the pasta water and set aside before draining the pasta.
3
Add the drained pasta back to the pot, turn the heat to medium-low and add 2 tablespoons butter along with 1/2 cup of the reserved pasta water. Stir vigorously until the butter is melted and the pasta water has thickened slightly. Add the Grape tomatoes and Kalamata olives. Stir in the chopped fresh dill and parsley. Stir vigorously to fully incorporate the herbs.
4
Then add 3/4 cup grated Parmesan cheese. Drizzle about 1/4 cup more hot pasta water and stir vigorously to fully mix in and melt the parmesan. Some herbs might stick to the cheese and clump a bit. But don't let that worry you too much. Cut the heat and we're ready to serve.
5
Portion the pasta, tomatoes and olives into wide shallow bowls.
6
Break up each tuna fillet into bite-size pieces and arrange on top of the pasta.
7
Then sprinkle feta over the dish and top with a sprinkling of breadcrumbs.
8
A couple cranks of fresh cracked black pepper and a few reserved dill fronds completes the dish.