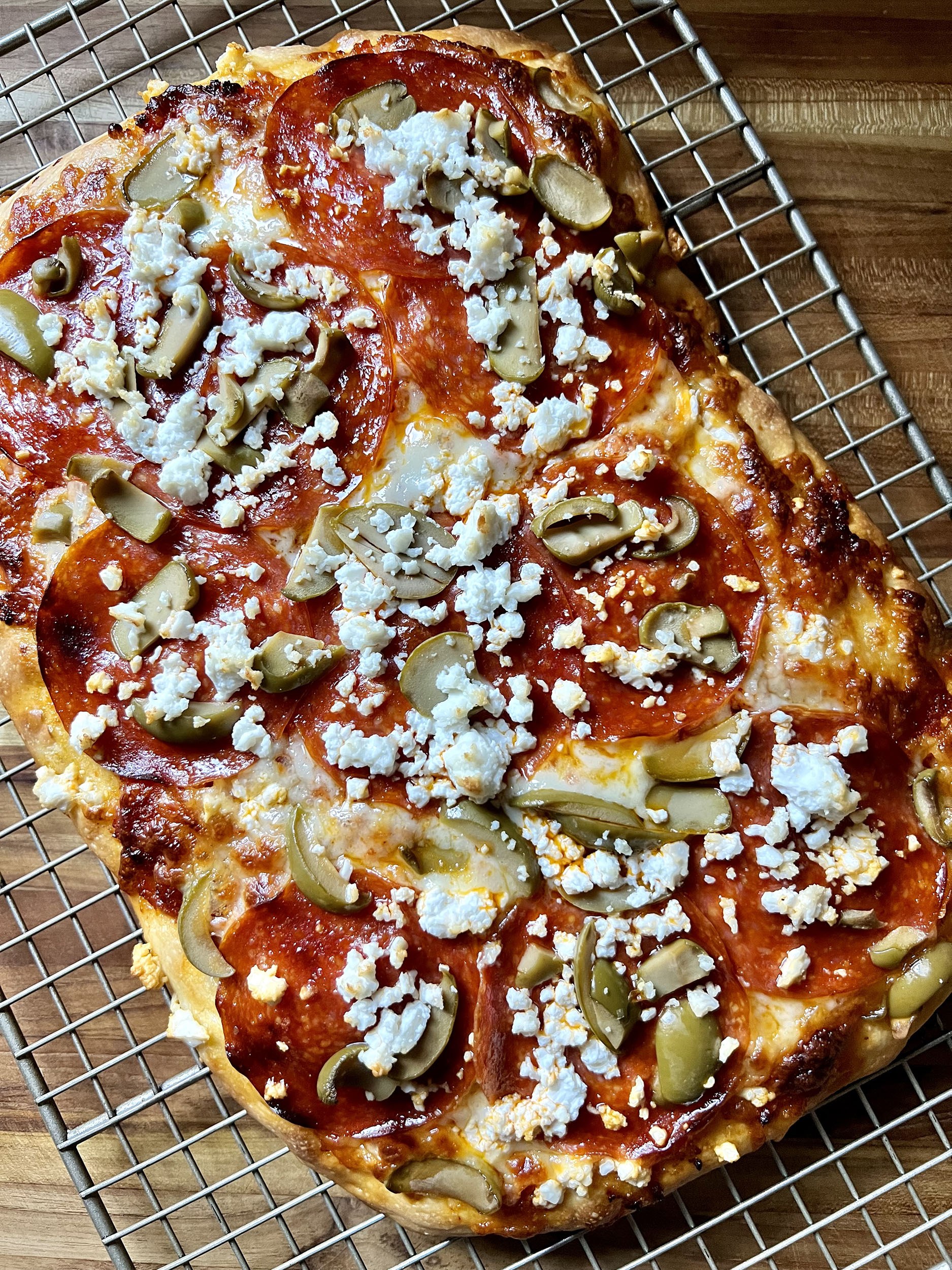 Print Recipe
Greek Pepperoni Pizza
Greek Pepperoni Pizza is a super savory pepperoni and olive combination with delicious zing from sun dried tomato pesto and feta.
Ingredients
Sun Dried Tomato Pesto

2 7-to 8-oz. Jars of Julienned Sun Dried Tomatoes in Oil

1/4 cup Ground Parmesan Cheese

1/4 cup Pine Nuts

Olive Oil

Greek Pepperoni Pizza

1 Prepared Pizza Dough

Olive Oil

1.25 cups Grated Mozzarella Cheese

Pepperoni

Green Olives, quartered

Feta Cheese, crumbled
Instructions
1
Pour the entire jar contents of the sun dried tomatoes into the bowl of a food processor. To that, add 1/4 cup of pine nuts and 1/4 cup of ground Parmesan cheese.
2
Process the sun dried tomatoes, cheese and pine nuts until the mixture resembles a thick paste. Then drizzle in olive oil with the processor running until a smoother, looser consistency is reached. Transfer the sun dried tomato pesto to a jar or airtight container.
3
Preheat the oven the 450 degrees F.
4
Lightly oil a quarter sheet pan and let the prepared pizza dough relax and warm up a little on the oiled pan.
5
Press the dough out to the corners of the pan. Let it rest in between pressing if the dough shrinks back too much. Then give it another go. It's ok if the dough doesn't quite reach the edges.
6
Spread the sun dried tomato pesto evenly on the dough, leaving 1/2 to 1-inch around the edge for the crust. Then top the sun dried tomato pesto with the grated mozzarella.
7
Top the cheese with the pepperoni. Then, evenly sprinkle on the olives and the feta.
8
Bake the pizza for about 15 minutes, until the crust is puffed and golden and the cheese is melted and bubbly. When the pizza comes out of the oven, let it sit for a few minutes, then use a spatula to ease the pizza out of the pan and on to a wire rack.
9
When you're ready to slice it up, slide it off the wire rack and slice it how you like it!