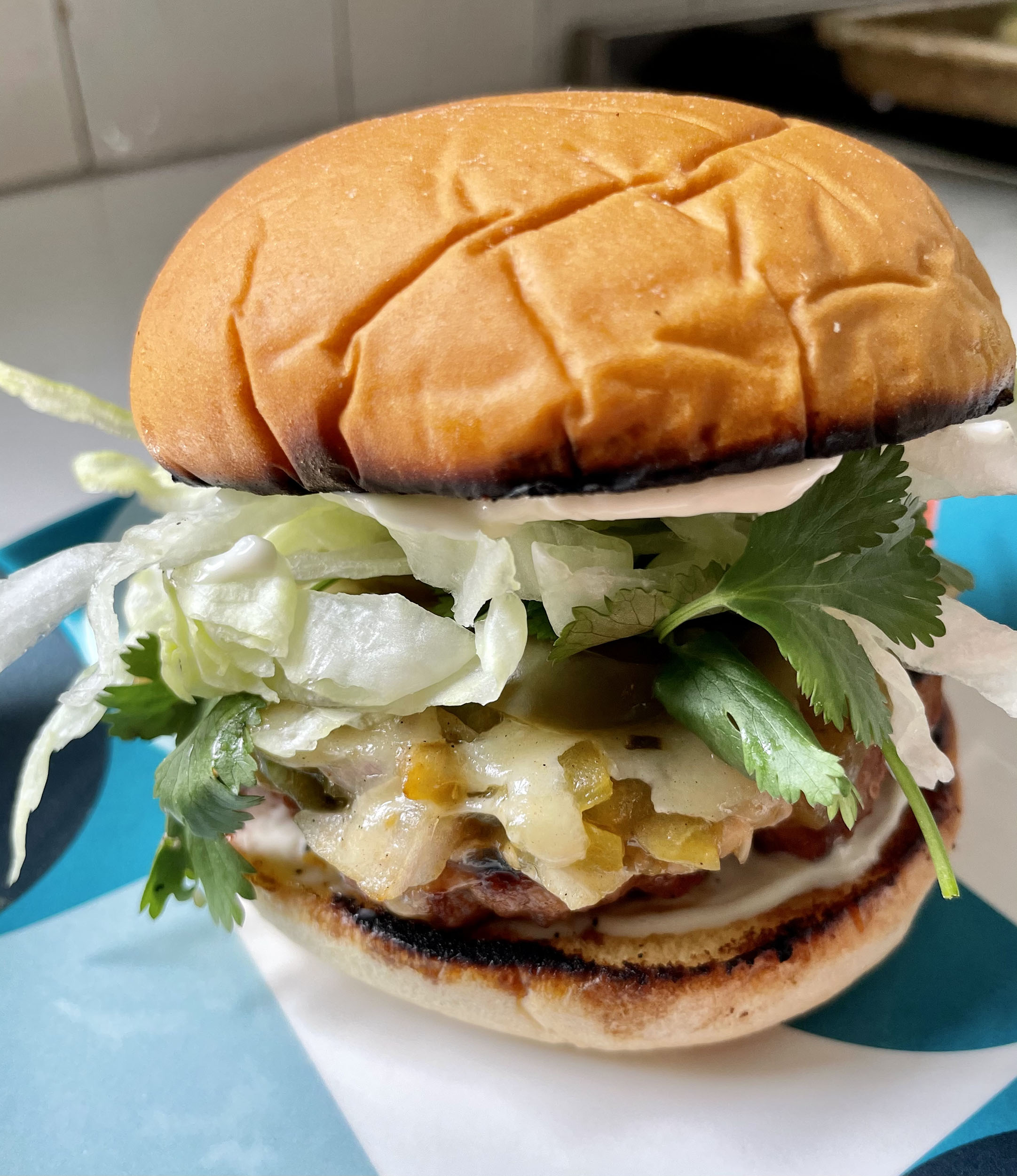 Print Recipe
Green Chili Chorizo Burgers
Ground pork and chorizo burgers are so juicy; tomatillo sauce is bright and punchy; pepper jack cheese and tons of fresh cilantro.
Ingredients
1 (4-ounce) Can Chopped Green Chile, drained

3 tbsp. Salsa Verde

2 tbsp. Finely Chopped Onion

1 lb. Ground Pork

1 lb. Mexican Chorizo Sausage, casings removed

2 tsp. Kosher Salt

1 tsp. Black Pepper

4 oz. Monterey Jack cheese, shredded (1 cup)

4 Hamburger Buns, toasted

¼ cup Mayonnaise

1 cup Shredded Iceberg Lettuce

1 cup Rough Chopped Cilantro, leaves and stems
Instructions
1
Combine chiles, salsa verde, and onion in small bowl; set aside.
2
Combine pork and chorizo in separate bowl. Form pork mixture into 8 equal balls, then press into 5-inch patties. Sprinkle patties with salt and pepper.
3
Grill patties, covered, over hot fire until well browned on first side, about 5 minutes.
4
Flip patties and top each with 1 tablespoon chili mixture and 2 tablespoons Pepper Jack.
5
Continue to grill, covered, until cheese is melted and burgers are cooked through, about 5 minutes longer.
6
Transfer to platter. Let rest for 5 minutes.
7
Spread 1 tablespoon mayonnaise on each bun top. Place 1 burger on each bun bottom, followed by ¼ cup lettuce and desired amount of cilantro, then the bun top.