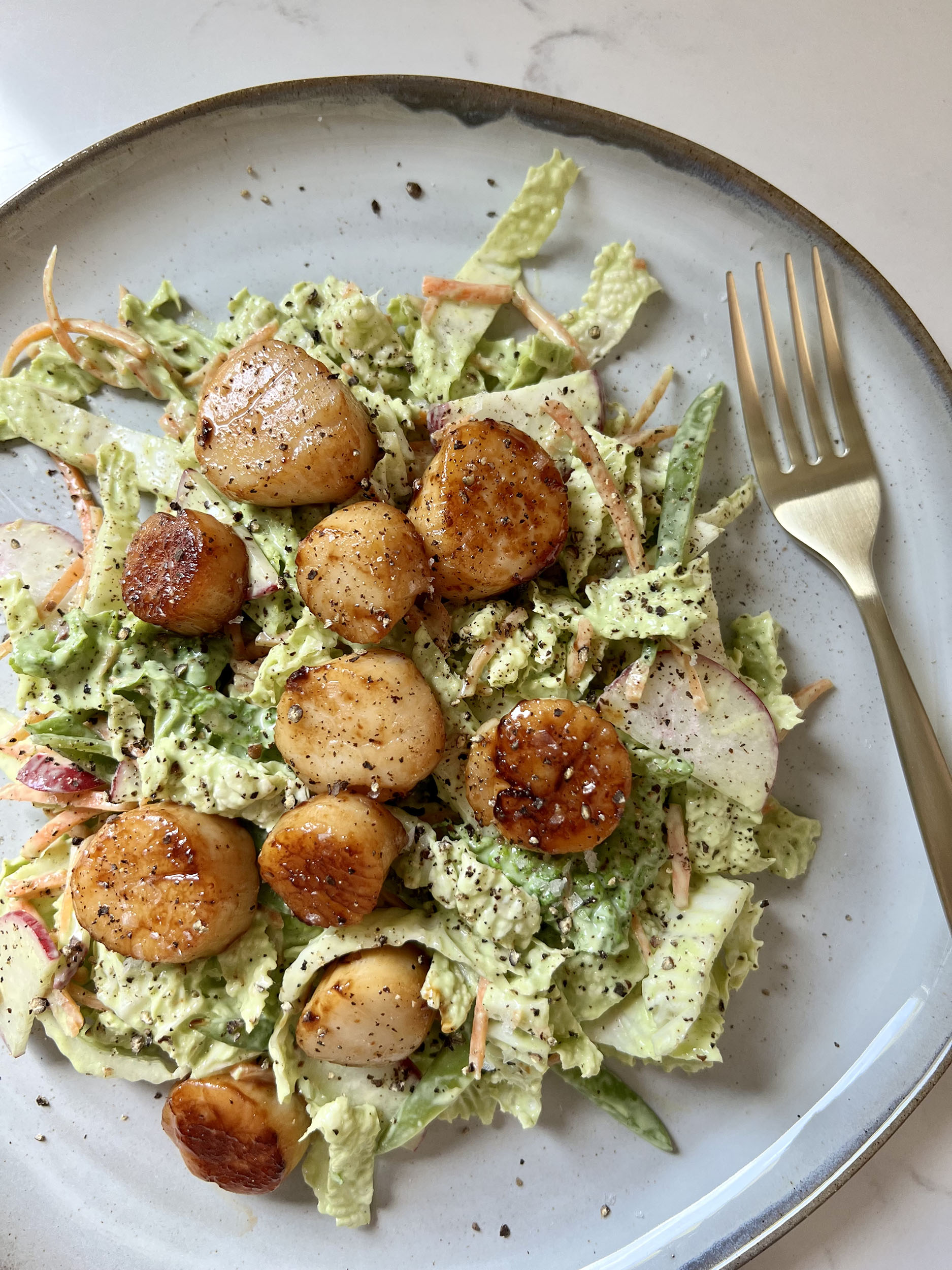 Print Recipe
Green Goddess Slaw and Sea Scallops
Crunchy slaw with tangy Green Goddess dressing, topped with seared scallops. So simple, comes together in 20 minutes – a perfect Spring meal.
Ingredients
Green Goddess Slaw

1 Avocado, pitted and sliced into smaller pieces

3/4 cup Buttermilk

1/4 cup Nonfat Plain Yogurt

1/2 cup Chopped Flat Leaf Parsley

2 Scallions, sliced thin

3 tbsp. Lemon Juice

Kosher Salt, to taste

6 cups Thinly Sliced Napa Cabbage

2 cups Thinly Sliced Snow Peas (sliced lengthwise)

2 cups Matchstick-cut Carrots

1 cup Thinly Sliced Radishes

Scallops

1 tbsp. Olive Oil

1 lb. 16/20 Scallops

Splash of Dry White Wine

Flaky Finishing Salt and Fresh Cracked Black Pepper
Instructions
1
Transfer the avocado, lemon juice, nonfat yogurt, buttermilk, scallion, and fresh flat leaf parsley to a blender and and blend until smooth. Taste and season with kosher salt. Pour dressing into a large bowl.
2
Add cabbage, radish, snow peas and carrots to the bowl with the dressing and toss to mix the veggies and coat in dressing. Set aside
3
Pat the scallops dry and heat olive oil in a skillet over medium-high.
4
Transfer the scallops the pan and let them cook until browned on one side, then flip and brown the other side - about 2 minutes per side.
5
Deglaze the pan with a splash of white wine and cook one more minute.
6
Use kitchen tongs to transfer a serving of slaw to a plate and top with seared scallops.
7
Sprinkle flaky finishing salt and fresh cracked black pepper over each serving.
Notes
When making this for two, you will likely have a bit of leftover slaw. It keeps well overnight in the fridge.