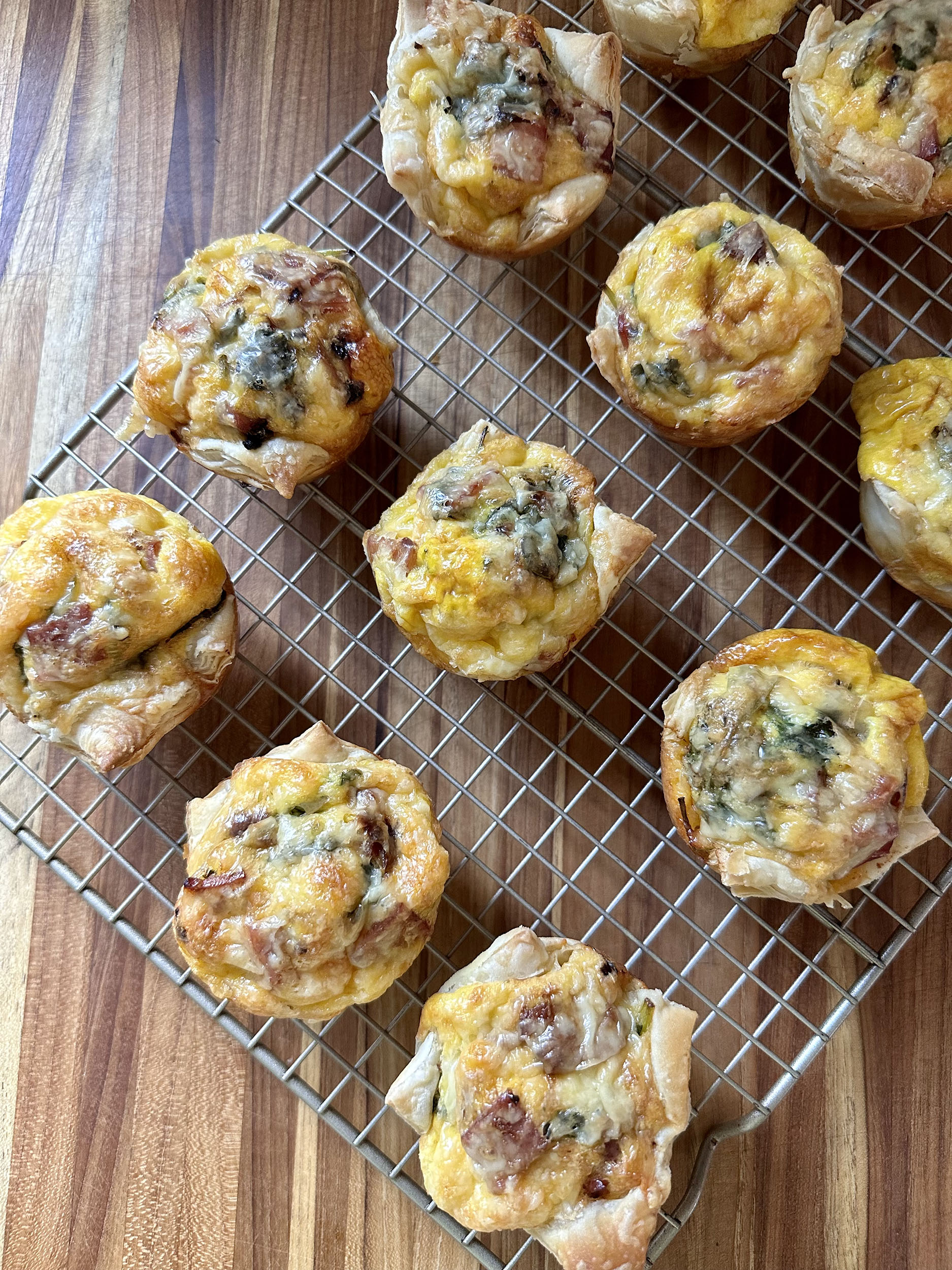 Print Recipe
Ham and Greens Puff Pastry Egg Cups
Savory pastry egg cups with ham, onion, kale and Gruyere cheese, baked in puff pastry. Ham and Greens Puff Pastry Egg Cups!
Ingredients
1 tbsp. Olive Oil

1/4 Small Red Onion, diced fine (about 1/4 cup)

Cooked Ham, sliced into 1-inch pieces (about 1 cup)

3 oz. Baby Kale

6-7 Large Eggs

Pinch of White Pepper

1 Frozen Puff Pastry Sheet, defrosted

1/2 cup Grated Gruyere Cheese
Instructions
1
Let your frozen puff pastry sheet sit out for about 45 minutes to defrost and preheat the oven to 400 degrees F.
2
Sauté the onion in about 1 tablespoon of olive oil, set over medium heat. When the onions soften a little add the ham to the skillet and stir occasionally. Sauté the onion and ham slices until the ham gets a little browning.
3
Then add the kale. Stir to combine and let the kale wilt, then cut the heat and let the mixture cool.
4
Beat the eggs in a large measuring cup or batter bowl. Sprinkle a pinch of white pepper in the eggs and whisk to combine.
5
When your puff dough is defrosted but still cold, roll it out on a lightly floured surface and use a bench scraper to map out where you'll cut the dough. Each square needs to be about 4-inches. We can roll each square a little more as we go if needed, but try to roll out your dough large enough to get 12, 4-inch squares.
6
Once you make the cuts, lay each square in the muffin tin cups. Gently press the pastry dough into the bottoms and sides so that there aren't any gaps or air pockets.
7
Place a small pinch of grated Gruyere into each pastry cup. Then, top the Gruyere with about 1 to 1.5 tablespoons of the ham and greens mixture. Carefully pour the beaten eggs into each cup, the egg should come up about 3/4 of the way to the top of the cup.
8
Top each egg-filled cup with more Gruyere cheese.
9
Place the muffin tin on a sheet tray and slide the tray with the muffin tin into the preheated oven. Bake for 15-20 minutes, until the Ham and Greens Puff Pastry Egg Cups are puffed and golden.
10
Let the egg cups cool a little and then you can transfer them to a wire rack. Serve these hot, warm, or cold. If these Ham and Greens Puff Pastry Egg Cups are not destined for your brunch spread, wait until they are completely cool and then store them in an airtight container in the fridge.