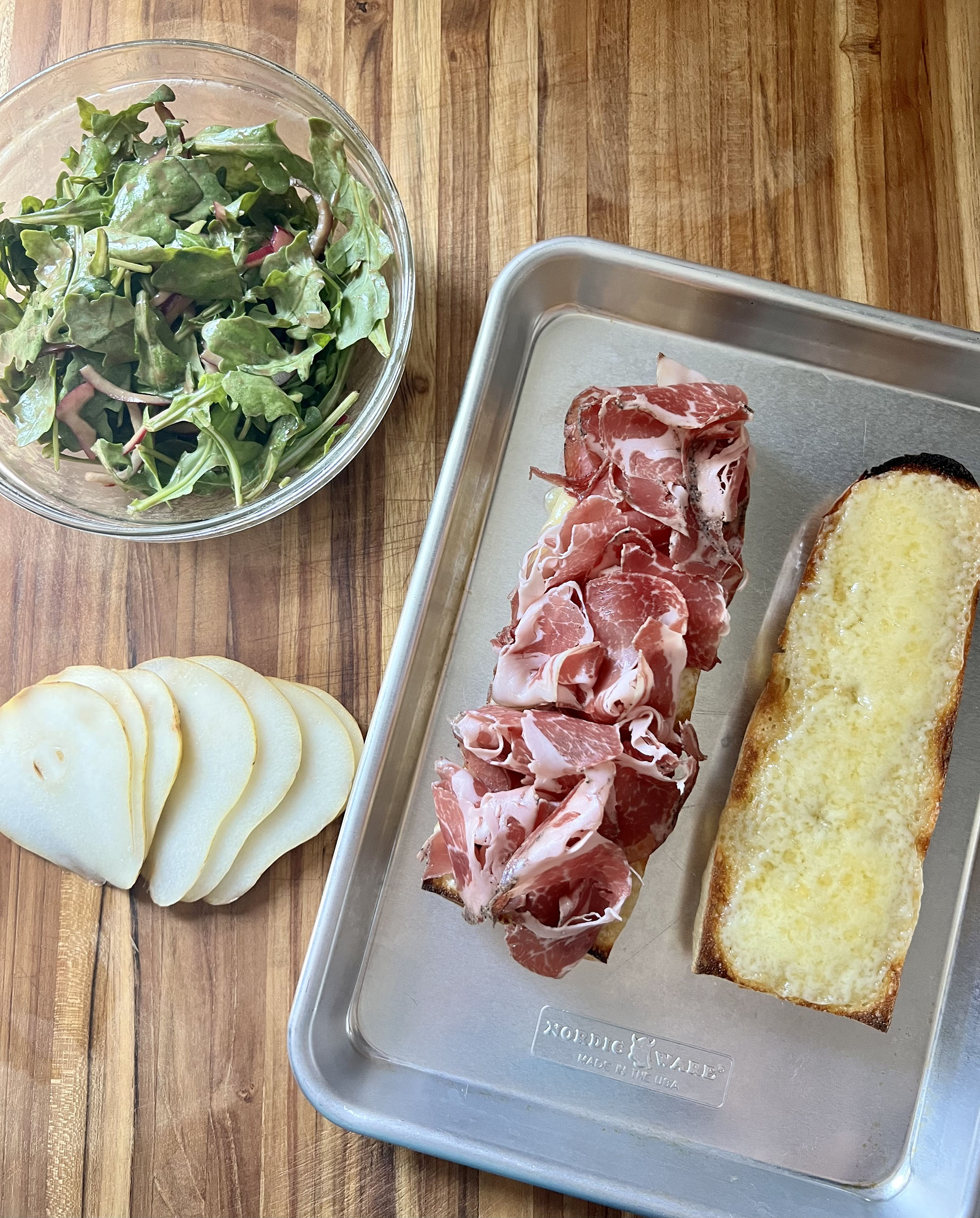 Print Recipe
Havarti Pear and Coppa Sandwich
The Havarti Pear and Coppa Sandwich features salty coppa; creamy havarti; sweet pear and vinegary balsamic dresses arugula salad.
Ingredients
1-2 handfuls Baby Arugula

1/4 Red Onion, sliced thinly

Balsamic Vinaigrette, or Olive Oil and Balsamic Vinegar

Kosher Salt

Black Pepper

1 Long Baguette, halved lengthwise

6-8 oz. Havarti Cheese

6-8 oz. Coppa

1/2-1 Pear
Instructions
1
Adjust an oven rack to the upper-middle position and turn the oven to broil.
2
Take a handful or two of baby arugula and toss in a bowl with thinly sliced onion and a drizzle of balsamic vinaigrette. If you don't have balsamic vinaigrette on hand, you can do a drizzle each of olive oil and balsamic vinegar. Toss together with a sprinkle of kosher salt and black pepper. Set the salad aside.
3
Place the baguette halves on a sheet tray.
4
Slice up the havarti and lay the slices on both halves of the baguette.
5
Place the tray in the oven and slice up the pear. Then watch the cheese and bread so as not to burn it under the broiler. When the bread is toasty around the edges and the cheese is melted and bubbly, pull it. Turn off the oven.
6
Crumple each slice of coppa as you lay the slices on the cheesy bottom half of the baguette. Shingle the pear slices on top of the coppa. Top the pear slices with a handful of the dressed arugula salad and give it a sprinkle of black pepper.
7
Now just lay the top half of cheesy baguette on top. Press down slightly, and that's it!