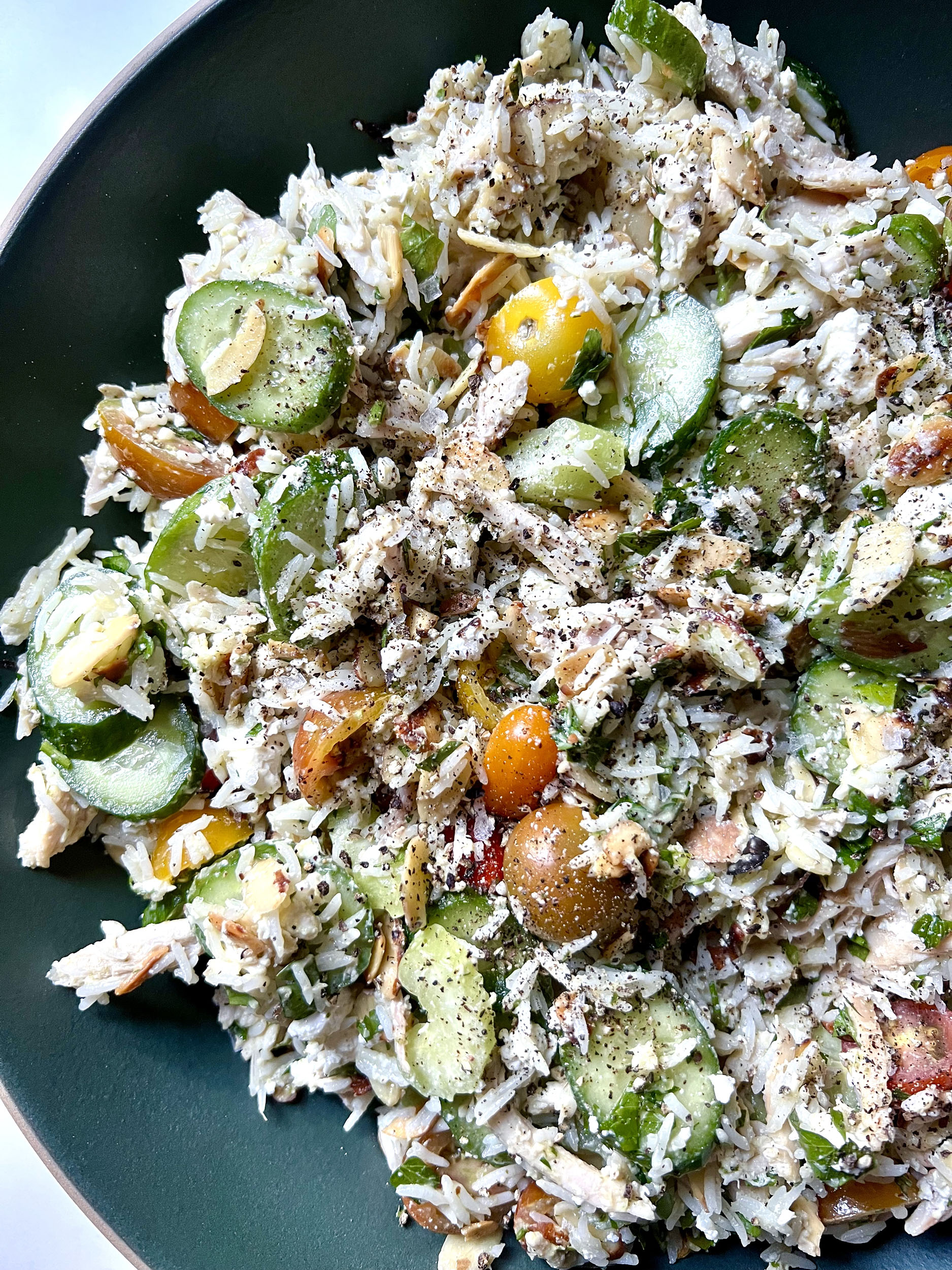 Print Recipe
Herby Chicken and Rice Salad
A fresh Herby Chicken and Rice Salad is perfect for a hearty, yet light Sunday Supper; with feta, crunchy veggies and toasted almonds.
Ingredients
Herby Dressing

1/2 cup Loosely Packed Fresh Herbs, like Dill, Parsley, Tarragon, Chives

1/3 cup Olive Oil

1/4 cup Fresh Lemon Juice

1 Small Shallot, chopped

1/2 tbsp. Dijon Mustard

2 tsp. Honey

1/2 tsp. Kosher Salt

1/4 tsp Black Pepper

Salad

2 cups Shredded Rotisserie Chicken

2 cups Cooked Basmati Rice, cooled

2 cups Halved Cherry tomatoes

1.25 cups Sliced Persian Cucumbers (or mini cucumbers)

1/2 cup Sliced Celery

1 cup Sliced Almonds, lightly toasted

1/2-1 cup Feta Cheese, crumbled

1/4 cup Chopped Parsley

Flaky Finishing Salt (optional)
Instructions
1
Combine the herbs in a blender with olive oil, lemon juice, honey, mustard, shallot, kosher salt and black pepper.
2
Blend the ingredients until the mixture is smooth. Set this aside.
3
Add the rice, almonds, tomatoes and celery to the large bowl with the shredded chicken. Pour the dressing over the salad and use a silicone spatula to thoroughly mix and coat everything in the dressing.
4
Crumble the feta over the dressed salad and sprinkle on the chopped parsley, mix again. Then transfer the dressed Herby Chicken and Rice Salad to a serving bowl. Season with flaky finishing salt and black pepper.