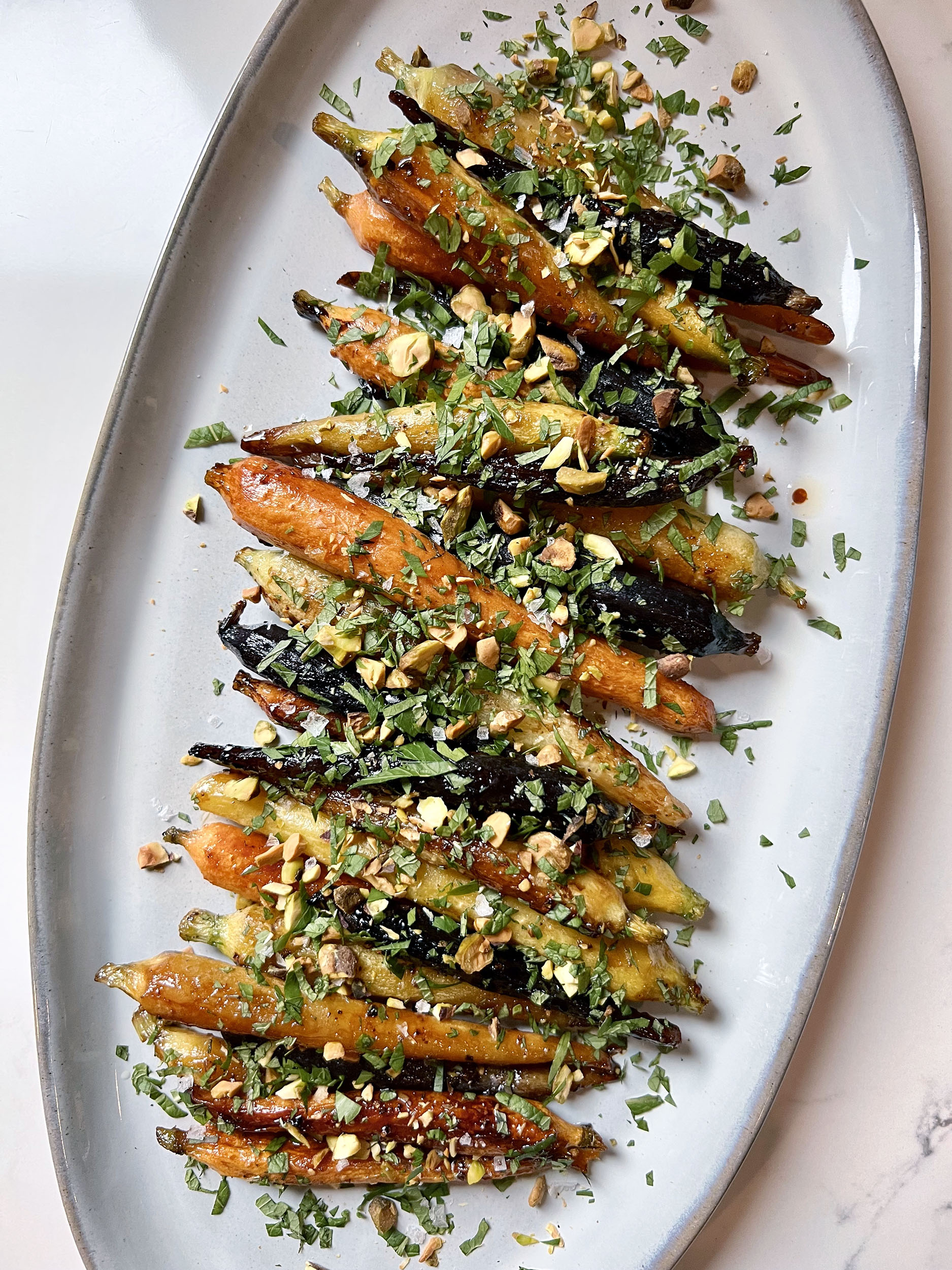 Print Recipe
Honey Butter Roasted Carrots with Garlic and Herbs
Sweet, tender Honey Butter Roasted Carrots are generously topped with chopped fresh mint, parsley and crunchy dry roasted pistachios.
Ingredients
2.5 tbsp. Salted Butter

3 Cloves Garlic, minced or pressed

1.5 tbsp Honey

1 lb. Peeled Baby Carrots (try to find multi-color carrots, if you can)

1 tsp. Kosher Salt

Fresh Ground Black Pepper

2 tsp. Chopped Fresh Mint

2 tsp. Chopped Fresh Parsley

1 tbsp. Chopped Dry Roasted Pistachios

Flaky Finishing Salt
Instructions
1
Preheat oven to 400 degrees. Lightly oil a sheet pan with olive oil and set aside.
2
In a large skillet or braiser, melt the butter over medium heat. When the butter is mostly melted, add the honey and stir to combine.
3
Add the garlic and cook for about 30 seconds, until the garlic becomes fragrant.
4
Add the carrots and toss them in the garlic honey butter until well coated. Season with Kosher salt and a few cranks of black pepper.
5
Toss the seasoned carrots a few more times. Then, turn off the heat and use kitchen tongs to transfer the carrots to the prepared sheet tray. Hold the remaining sauce in the pan.
6
Roast the carrots in the oven for 15-20 minutes, until the carrots are fork tender.
7
Transfer the carrots to a serving plate or tray. Pour the remaining Honey Butter Garlic sauce over the carrots.
8
Sprinkle the nuts on top.
9
Top the carrots and nuts with a generous sprinkling of chopped mint and parsley. Sprinkle on some flaky finishing salt, if you like.