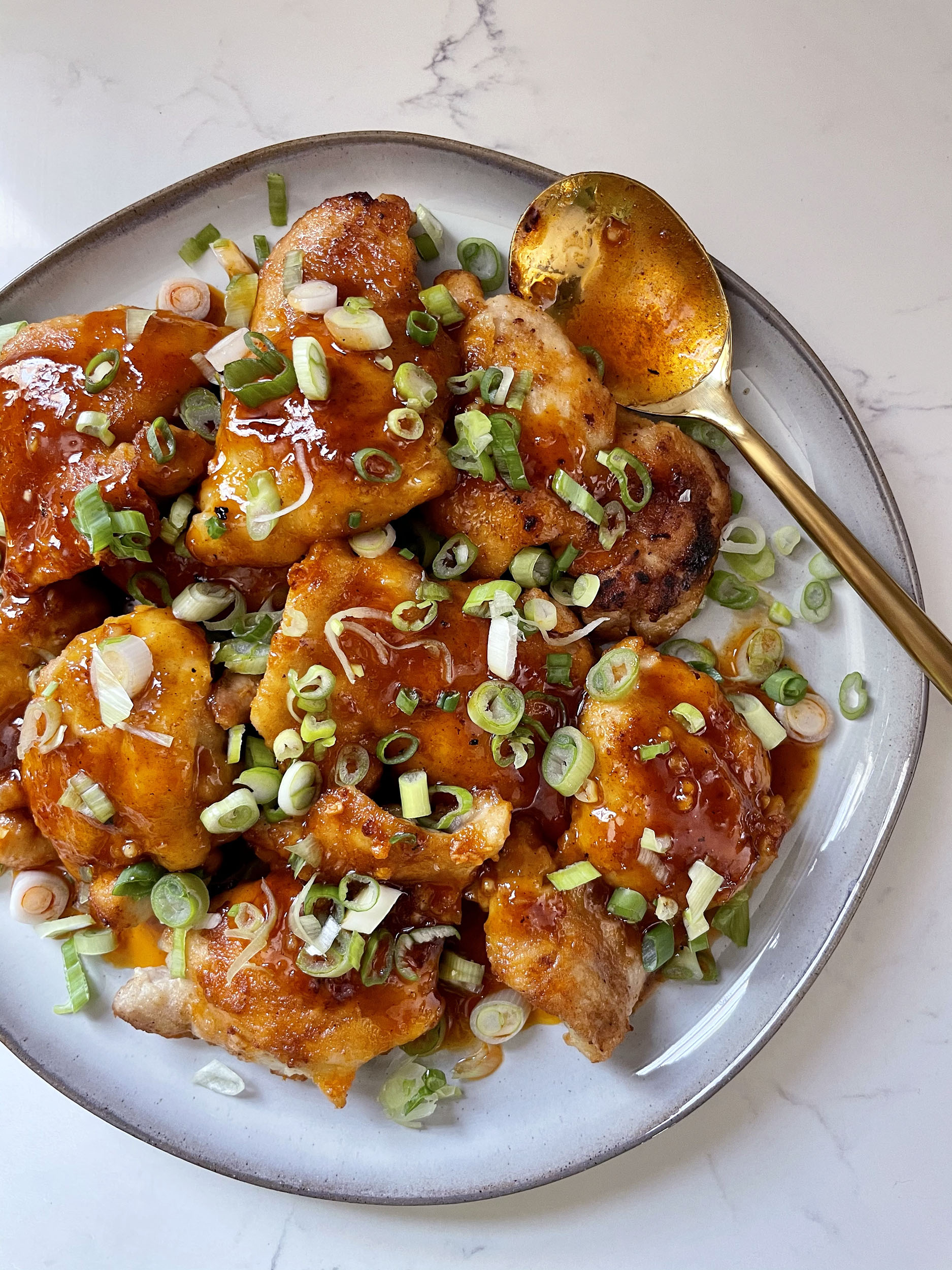 Print Recipe
Hot Honey Chicken
Juicy, tender chicken is browned and finished in the oven with a hot honey sauce; the sauce is then transformed into a silky hot sweet sauce with butter and a slight reduction.
Ingredients
¼ cup Honey

¼ cup Frank's RedHot Original Cayenne Pepper Sauce

2 Garlic Cloves, minced

2 tsp. Kosher Salt

1 tsp. Ground Cumin

3 lbs. Bone-in Chicken Pieces (any combination you prefer), trimmed

If using skinless chicken pieces, optional step: 1/3 cup flour for dredging the chicken

1 tbsp. Grapeseed or Vegetable oil

2 tbsp. Unsalted Butter, cut into 2 pieces

2 tsp. Lime Juice

2 Scallions, sliced thin
Instructions
1
Adjust oven rack to middle position and heat oven to 425 degrees.
2
If opting for the flour dredging step, combine salt and cumin in a small bowl. Pat chicken dry with paper towels and sprinkle all over with salt mixture.
3
Then dredge the chicken pieces in the flour shaking off the excess and set dredged pieces on a wire rack set in a sheet tray.
4
Combine honey, hot sauce, and garlic in bowl; set aside.
5
Heat oil in 12-inch oven-safe skillet over medium-high heat until just smoking. Add chicken and cook until golden brown on both sides, about 4-5 minutes per side. Transfer chicken to plate, skin side up (if using skin-on chicken pieces).
6
Pour off fat from skillet. Return chicken to now-empty skillet, skin side up; pour honey mixture evenly over chicken.
7
Transfer skillet to oven and roast until breasts register 160 degrees and drumsticks/thighs register at least 175 degrees, 17 to 20 minutes.
8
Let chicken rest in skillet for 10 minutes.
9
Transfer chicken to shallow platter. Bring juices in skillet to boil over medium-high heat (skillet handle will be hot).
10
Cook until slightly thickened, 1 to 2 minutes. Reduce heat to low and whisk butter and lime juice into juices in skillet until butter is melted.
11
Spoon sauce over chicken. Sprinkle with scallions and serve.