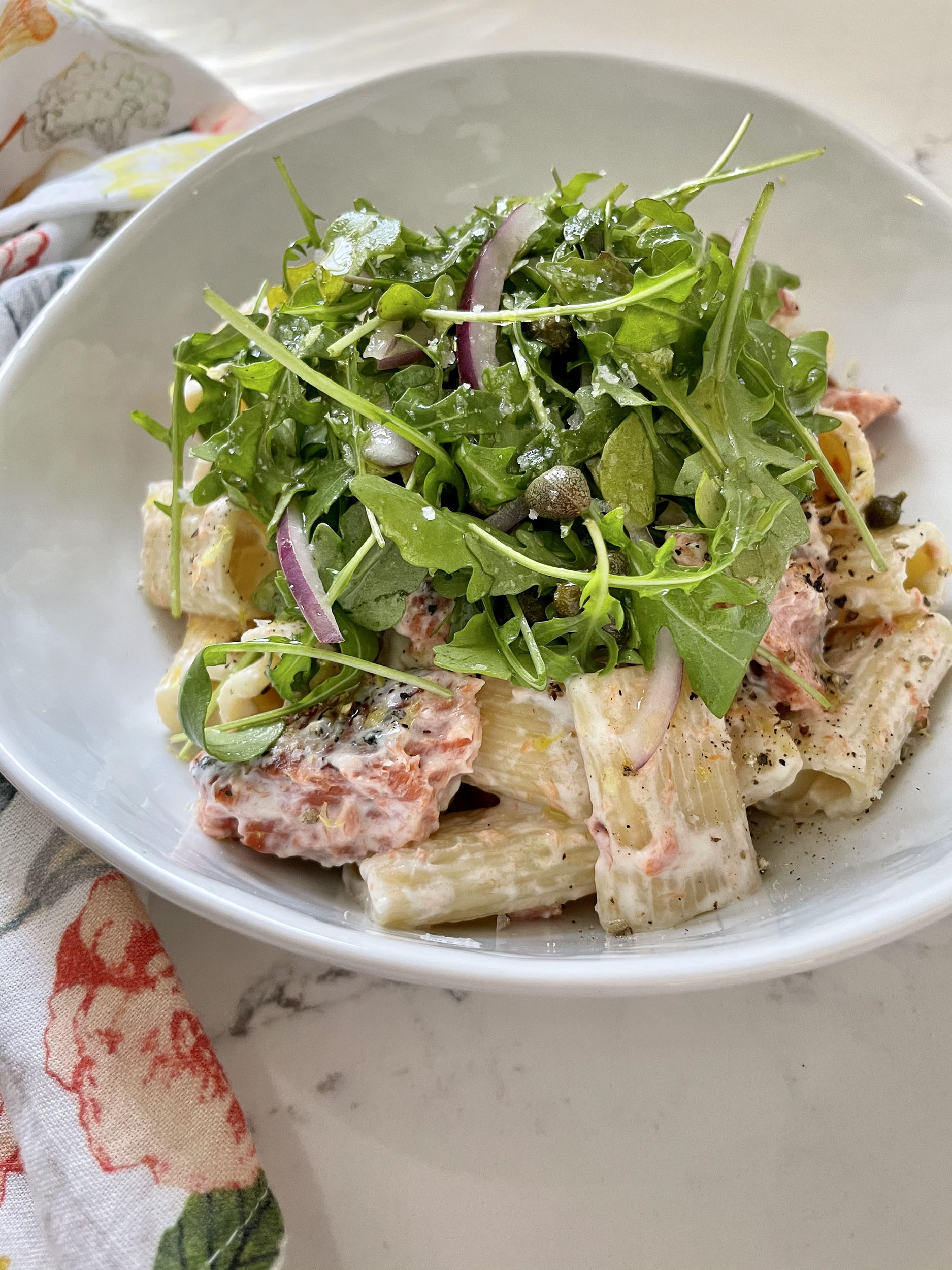 Print Recipe
Hot Smoked Salmon Pasta with Arugula Salad
Hot Smoked Salmon and rigatoni smothered in cream cheese sauce and topped with a salad of arugula, sliced red onions, capers, olive oil and lemon juice.
Ingredients
Hot Smoked Salmon Pasta

1 16-oz. package Rigatoni Pasta (or other tubular pasta)

1 tbsp. Olive Oil + more for drizzling over dish

2 Cloves Garlic, minced

1/4 cup Milk

8 oz. Full Fat Cream Cheese, cubed and softened to room temperature

1 cup Pasta Water

14-16 oz. Hot Smoked Alaskan Salmon (or canned Alaskan Salmon)

Lemon Zest, to taste

Fresh Cracked Pepper, to taste

Flaky Sea Salt for garnish

Arugula Salad

~2 cups Baby Arugula

2-3 tbsp. Capers

1/4-1/2 Red Onion, thinly sliced

1 tbsp. Olive Oil

2-3 tbsp. Fresh Lemon Juice
Instructions
1
Combine arugula, onions, and capers in a large bowl. Drizzle with olive oil and lemon juice. Toss with your hands to coat the salad and set aside.
2
Bring a pot of salted water to boil.
3
As soon as the rigatoni goes into the water, set a timer for 12 minutes, stir occasionally.
4
In a separate Dutch oven or a large pot, lightly sauté minced garlic in about a tablespoon of olive oil over medium-low heat. As soon as the garlic is fragrant (about 30 seconds), turn the heat to low and pour in 1/4 cup or so of milk.
5
Add the cubed cream cheese and stir continuously until the cheese is melted and a smooth sauce forms.
6
Scoop 1 cup of the pasta water when the rigatoni is cooked to al dente, and set aside. Immediately drain pasta and leave in the colander.
7
Slowly add the pasta water to the cream cheese sauce, stir continuously until a loose, gravy-like sauce forms. You may only need 3/4 of the pasta water. Turn off the heat.
8
Immediately add the cooked rigatoni to the sauce and gently fold and stir to coat the rigatoni in the cream cheese sauce.
9
Break the hot smoked salmon into bite size chunks into the pot with sauced pasta, gently fold and stir to coat the salmon.
10
Immediately spoon portions of the pasta into shallow bowls.
11
Grate lemon zest over each bowl of pasta.
12
Add a few cranks of fresh cracked black pepper over each bowl of pasta.
13
Give the salad one good mix with your hand and top each bowl of pasta with a handful of salad.
14
Drizzle olive oil over each bowl and top with flaky sea salt.