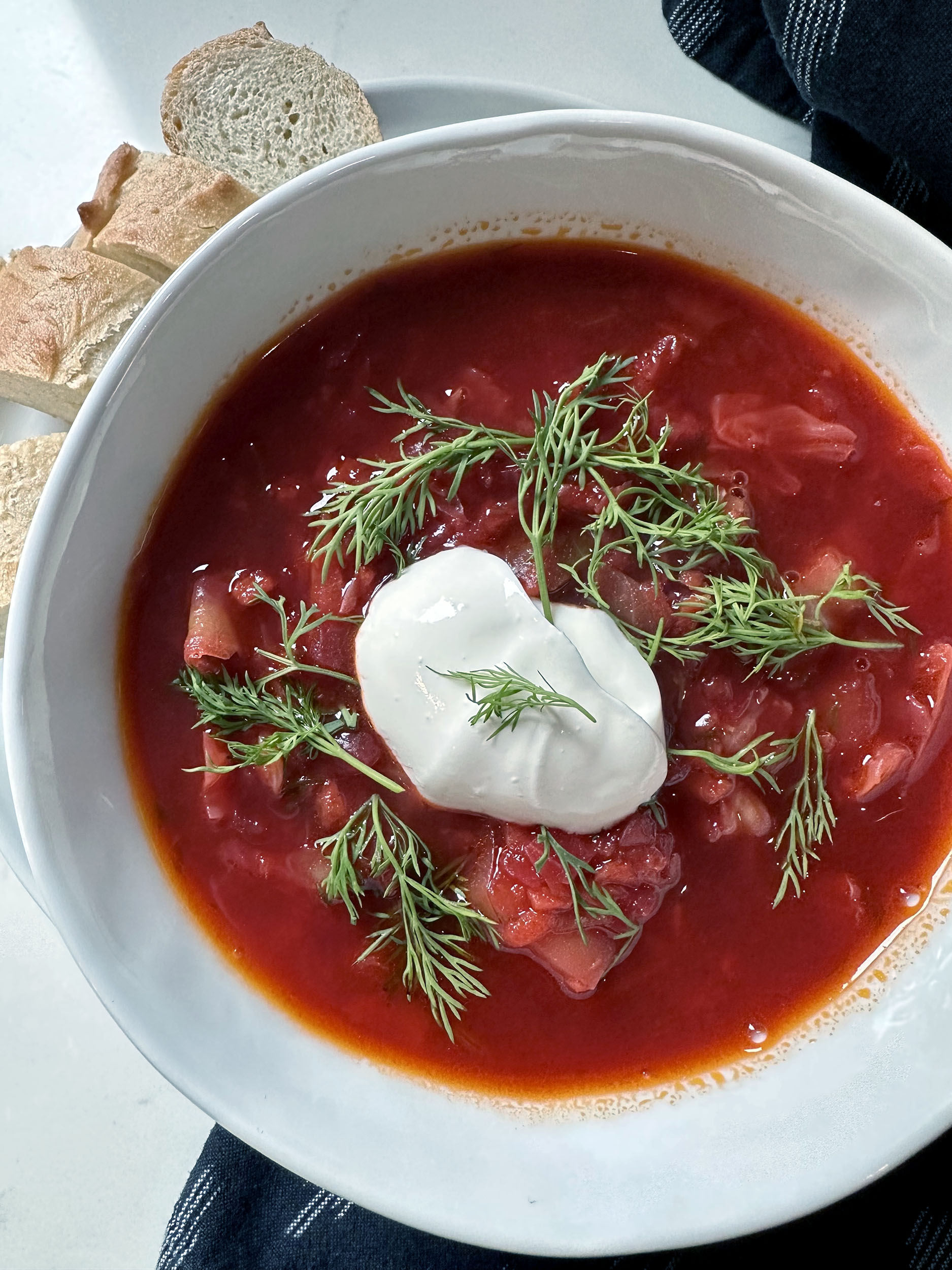 Print Recipe
Hot Ukrainian Borscht
Super healthy, with vegetal and earthy flavors, this Hot Ukrainian Borscht is a great soup to kick off the new year!
Ingredients
1 lb. Yukon Gold Potatoes, peeled and cut into 1-inch cubes

1 small head of Green Cabbage, halved, cored and sliced crosswise into thin strips

3 tsp. Kosher Salt, divided, plus more to taste

8 cups Chicken Broth

1/4 cup Grapeseed Oil

1 Onion, diced fine

8 oz. Beets, trimmed peeled and shredded, totaling 2 cups

2 Carrots, peeled and shredded, totaling 1.5 cups

1 6-oz. can of Tomato Paste

1/3 cup Chopped Fresh Dill

1 tbsp. Lemon Juice, plus more to taste
Instructions
1
Reserve 1/2 cup of the broth.
2
Get the rest of the broth set to boil in a large Dutch oven over high heat. Once boiling, add the cubed Yukon Gold potatoes and the sliced cabbage with 1 teaspoon of kosher salt. Adjust heat to keep a simmer and cover and simmer until the potatoes are fork tender, about 10 minutes.
3
Meanwhile, in a large skillet, heat 1/4 cup of grapeseed oil over medium-high heat. Add the diced onion and stir frequently until the onion is softened, about 5 minutes.
4
Then add the shredded carrots and beets. Stir to combine and season with another 1 teaspoon of kosher salt. Stir frequently and cook until the veggies are softened, about 5 minutes.
5
Then add the 6-ounce can of tomato paste and work it into the veggies. Cook and stir until the tomato paste is fully incorporated, begins to look darker in color and forms a thick veggie mixture. About 2 minutes.
6
Now, use that 1/2 cup of reserved broth to deglaze the tomato paste veggie mixture. Scrape up any browned bits from the bottom of the pan. Then cut the heat under the beets.
7
Uncover the simmering broth, potatoes and cabbage. The cabbage should be cooked down a bit and the potatoes should be fork tender. Now, carefully add the beet mixture to the broth and cabbage mix.
8
Stir in the beet mixture until it's fully incorporated. Cover again and let it simmer for another 5 minutes or so. Then stir in lemon juice, dill and another 1 teaspoon of kosher salt. Stir well. Now, cut the heat and taste for seasoning.
9
Serve the borscht while hot and garnish with sour cream and more dill, if desired.
Notes
I started with adding the juice of half a lemon. I like my Borscht a bit more sour, so I added the juice of 1 whole lemon. So in total I have the juice of 1.5 lemons. Then I added another 2 teaspoons of kosher salt. Your's might be just to your liking before adding more seasoning. So be sure to taste before serving.