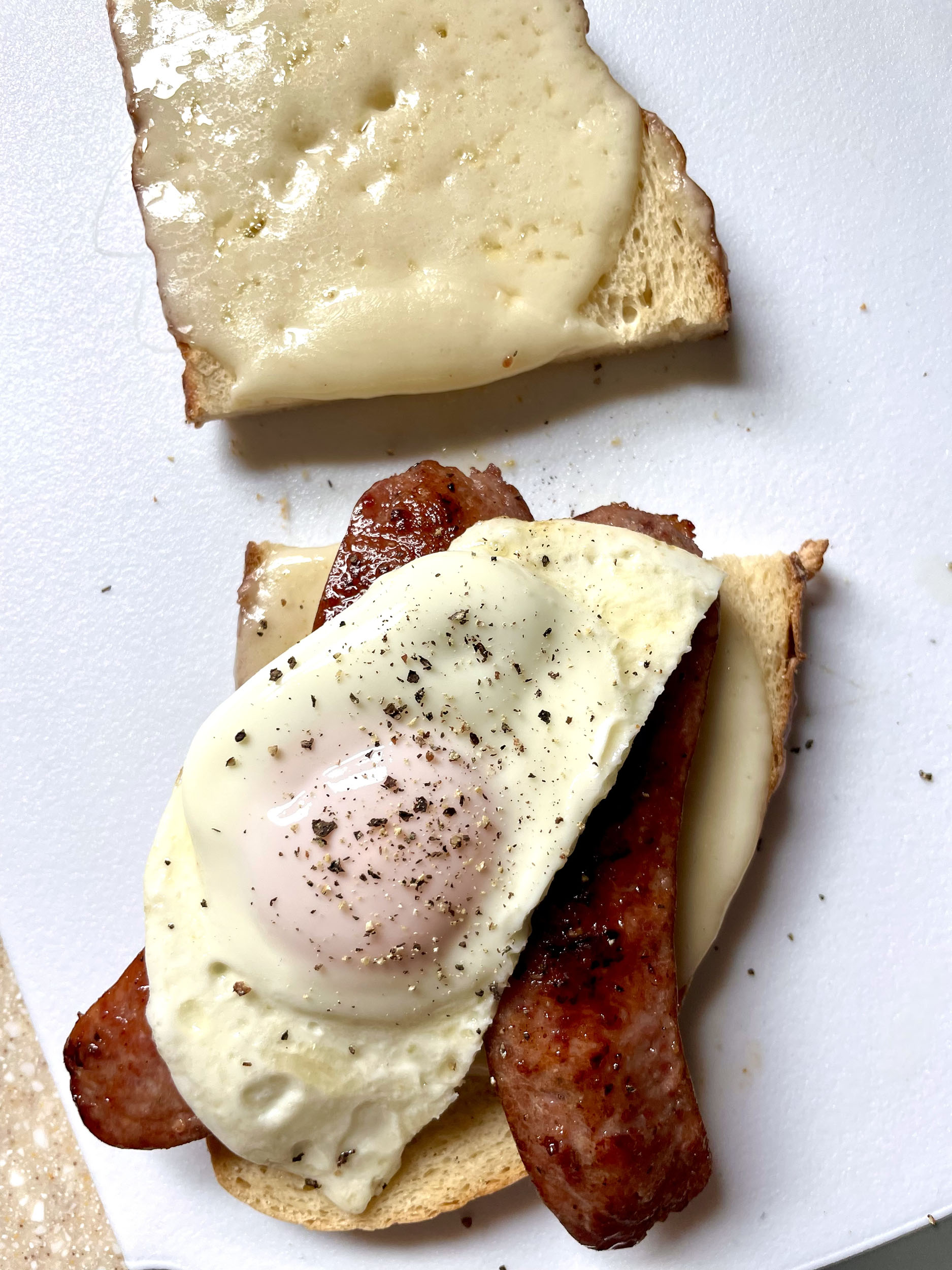 Print Recipe
Breakfast Sandwiches for a Group
Today's post is less of a recipe and more of a strategy – an easy way to prepare the components for breakfast sandwiches when you have a full house.
Ingredients
4 Kielbasa Sausages, sliced lengthwise, but not all the way through

4 Large, Wide Slices of Sourdough Bread

8 slices Provolone Cheese

4 Eggs

Butter
Instructions
1
Preheat oven to broil and set one oven rack in the center-top position and one oven rack on the bottom position.
2
Over medium/medium high heat, brown the cut sides of the sausages, about 4 minutes. Then transfer sausages, cut side down, to a sheet pan and place on the bottom rack in the oven.
3
Place four slices of sourdough bread on a sheet pan and place on the center-top oven rack. Lightly toast bread, about 2-3 minutes.
4
Remove bread from oven and flip each slice over so the toasted side in down on the pan. Cover each slice of sourdough with 2 slices of provolone cheese and set aside until the eggs are cooking.
5
In the now-empty sausage skillet, melt one tablespoon of butter over medium-low heat.
6
Crack all four eggs into the skillet. When the whites set and begin to turn opaque, cover the skillet and let cook for about three minutes.
7
Meanwhile, as soon as the cover goes on the eggs, place the provolone-topped sourdough slices back into the oven on the center-top rack. Let cheese melt, about 3 minutes. Remove the eggs from heat.
8
When cheese is melted transfer the sausage sheet tray and the cheese toast sheet tray from the oven. Slice each piece of sourdough in half, on the short side.
9
If the egg whites have cooked together to form one piece, slide the eggs onto a cutting board, slice the group in half (avoiding the yolks) and in half again to get 4 individual fried eggs. Gently transfer the eggs to the sheet tray with the sausages. Serve right from the sheet trays, letting everyone build their own sandwich.