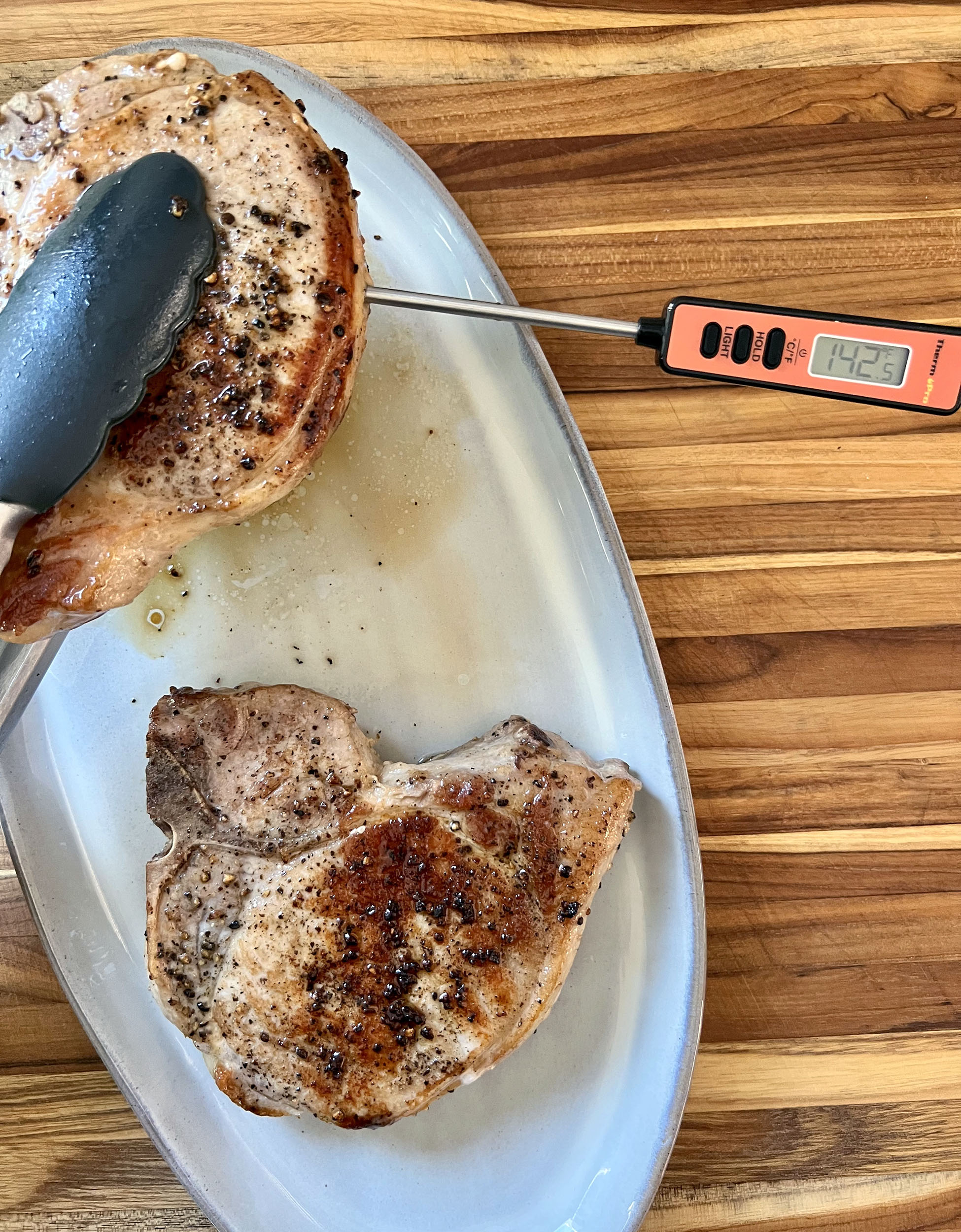 Print Recipe
Pan-Seared Pork Chops
In this How to Make post, we employ the cold-sear method for bone-in pork chops–juicy, perfectly-cooked chops, without the splatter or mess.
Ingredients
2 14- to 16-oz. Bone-in Pork Chops, 1.5-inches thick, trimmed

3 tsp. Kosher Salt (1.5 tsp. per chop)

Fresh Cracked Pepper
Instructions
1
Start by salting both sides of each chop with 1.5 teaspoons of Kosher salt and let sit for at least one hour, or up to 24 hours in the fridge. When you're ready to cook the chops, pat one side dry with paper towels and sprinkle with cracked black pepper. (If you've refrigerated the chops overnight, let them come to room temp before patting dry and continuing with the recipe.)
2
Place each chop, peppered side down into a cold, dry, nonstick skillet, off of the heat. Pat the un-peppered side dry with paper towels and sprinkle cracked black pepper on top.
3
Now, turn the burner up to high and set a timer for two minutes. Use silicone-coated tongs to flip the chops at the two minute mark. Then set the timer for another two minutes.
4
Sear the other side for two minutes. And flip again. After this second flip, turn the burner down to medium and set the timer for another two minutes.
5
Keep flipping the chops (now over medium heat) every two minutes until the exterior has a nice brown crust and the internal temperature reads 130-135 degrees. This should take about 10-12 minutes longer – for a total of about 14-16 minutes of cooking time. If your chops are not sizzling, increase the heat slightly. If your chops begin to smoke, reduce the heat slightly.
6
Pull the chops from the heat when the internal temperature reads 130 degrees. Let the chops rest for 5-7 minutes. In this 5-7 minutes the temperature will continue to rise - this is called carry-over cooking. At the 5-7 minute mark of resting, temp the chops again. The internal temp should be 135-140 degrees. This is a fully cooked pork chop temperature, even if the meat itself is slightly pink inside.
Notes
Cook's Illustrated notes that electric stoves can be slow to respond when we turn down the heat; you may turn down the burner but it can take a while for the burner to actually cool down quickly. So, if you have an electric stove, turn a separate burner (next to the one you're using on high to sear the chops) on to medium heat. When you get to the fourth minute, and make the flip and you're at the point of reducing the heat, just move the pan over to the burner on medium. Shut down the burner you used on high.