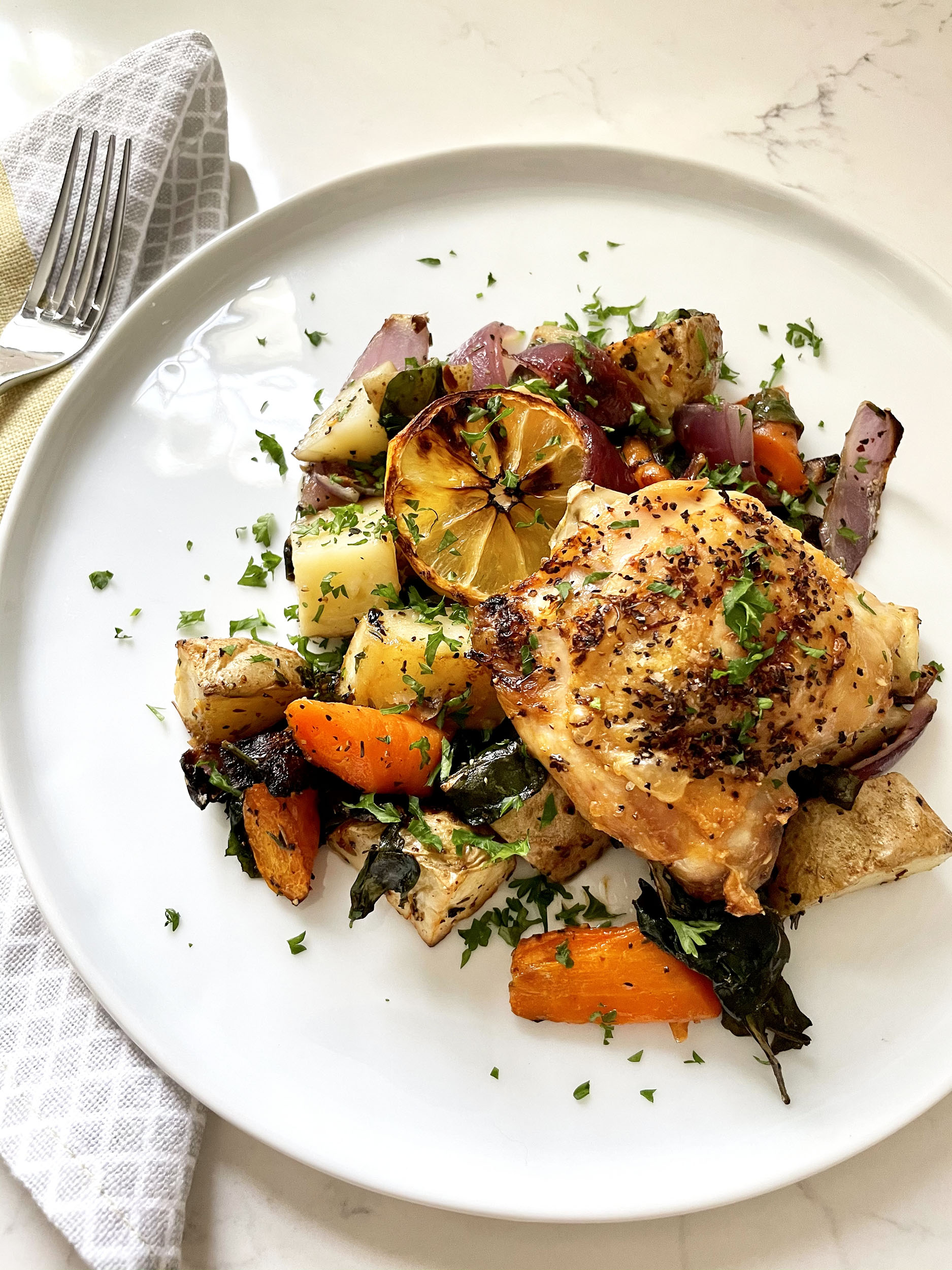 Print Recipe
Lemon Pepper Sheet Pan Chicken
An easy one-pan dinner, this recipe is full of zippy, fresh lemon flavor; mellowed by the creamy roasted potatoes, sweet onions and carrots.
Ingredients
4-6 Chicken Pieces (Thighs, Drumsticks or Breasts) * Note the cook time difference if using breasts. Plan for about 10 minutes less

4-5 Medium Potatoes, 1" cubes

5-7 Small to Medium Carrots, 2" pieces

1 Medium Onion, halved and cut into strips

3-4 Garlic Cloves, smashed and rough chopped

6 oz. or half a bag of Fresh Spinach

3 Lemons: zest of 1 Lemon and 2 other Lemons sliced into wheels

3-4 tbsp. Olive Oil

1 tsp. Black Pepper

1/2 tsp. Red Pepper Flakes

1 tsp. Salt + more to taste

2 tsp. Dried or Fresh Thyme
Instructions
1
Thoroughly dry your chicken pieces and give them an even sprinkle of salt, pepper and lemon zest.
2
Preheat oven to 425 degrees.
3
Chop the potatoes into roughly 1" cubes; the carrots into 2" pieces. Halve the onions and slice the halves into wide strips.
4
The garlic cloves get a smash and rough chop.
5
Slice the lemons into thick wheels and set the lemon slices aside until we have the veggies on the sheet pan.
6
In a very large bowl or container, mix the olive oil and seasonings with the veggies, adding the spinach at the end. Gently toss to coat the spinach and pour veggie mix onto a sheet pan.
7
Top with lemon wheels, then top with chicken pieces. Sprinkle more lemon zest over top.
8
Bake for 30-35 minutes, check the temperature of the chicken, it's done when the thermometer reads 165. Let rest for 5-10 minutes.