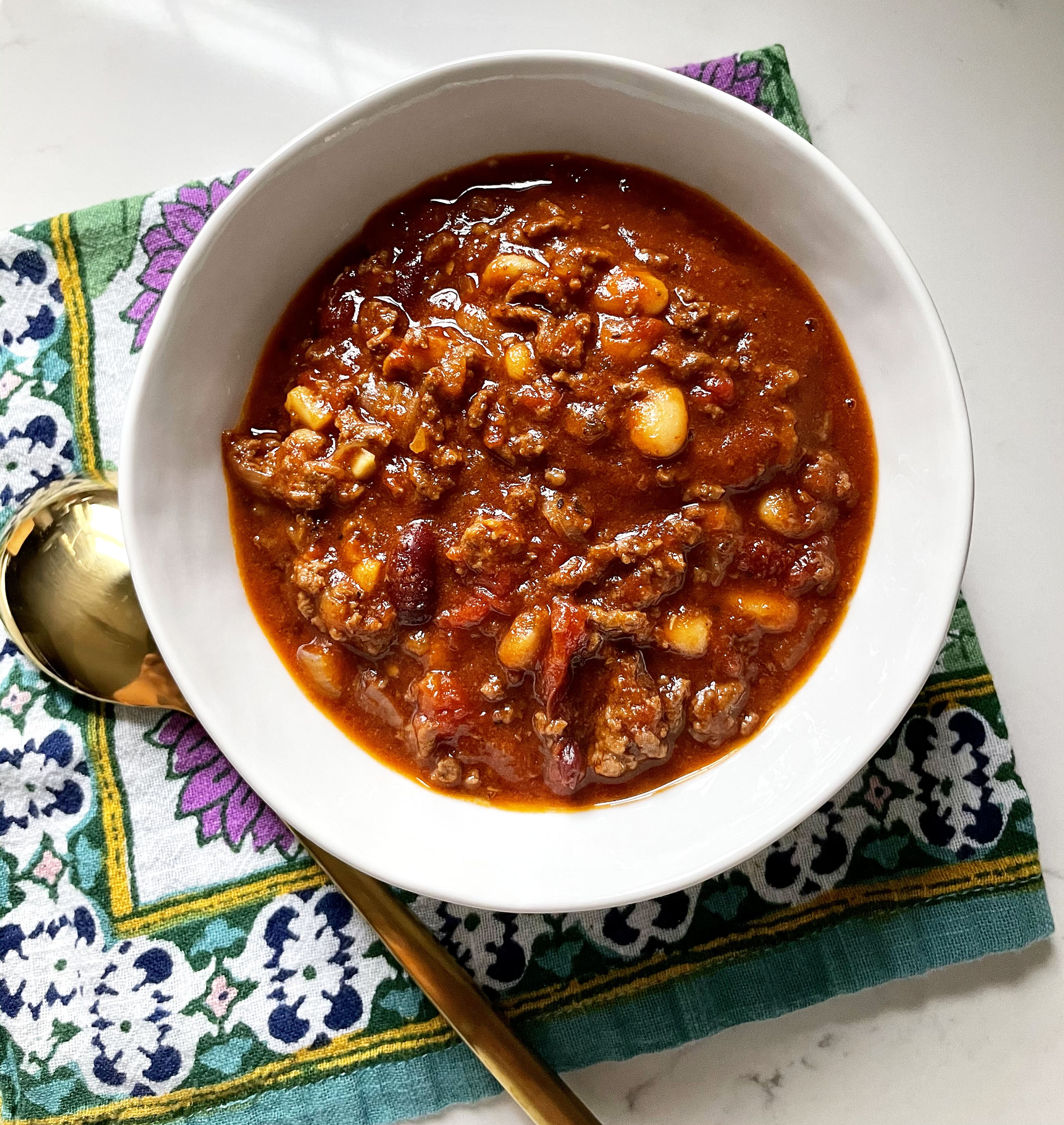 Print Recipe
Instant Pot Chili
An old favorite made more delicious with Guajillo Chile powder and leftover au jus. Faster than ever in the Instant Pot, but still just as easy on the stovetop.
Ingredients
1-2 tbsp. Olive Oil

2 lbs. Ground Beef

1 medium Onion, diced

2-4 cloves Garlic, minced

Generous pinches of Kosher Salt and Pepper, plus more to taste

1 1/4 cup Au Jus (or beef broth, for souped up version, see notes)

2 tbsp. Guajillo Chile Powder

1 tbsp. Cumin Powder

2 tsp. Dried Oregano

3 tbsp. Tomato Paste

1 15.5-oz. can Kidney Beans

1 15.5-oz. can White Northern Beans

1 28-oz. Can San Marzano Tomatoes, hand crushed

2 tbsp. Dark Brown Sugar, optional
Instructions
1
Set the Instant Pot to sauté and once it's hot, add one tablespoon of olive oil to the pot.
2
Add your beef to the pot and add a hefty sprinkling of salt and pepper. Cook, breaking the ground beef into crumbles as it cooks.
3
Once the beef is browned, add the onions and garlic and cook for a few minutes, until the onions just start to go translucent.
4
Then deglaze the pan with the 1 and 1/4 cups of au jus (or broth). Be sure to scrape up all the brown bits on the bottom of the pot. Stir well.
5
Next add the chili powder, cumin, and dried oregano.
6
Stir to combine and cook for 2-3 minutes, until the spices become fragrant.
7
Add the tomato paste, stir to combine. Add the beans, give it a good stir.
8
Pour the crushed tomatoes and their juice over the top and, without stirring, secure the lid on the Instant Pot.
9
Set the Instant Pot to Pressure Cook and set the timer for 10 minutes. Let the steam naturally release.
10
After the steam releases and the float valve is down, carefully remove the lid.
11
If Chili is still liquid-y, set the Instant Pot to sauté and simmer to reduce the liquid.
12
At this point, taste it for seasoning and add more salt if needed.
13
Add 2 tablespoons dark brown sugar. This is optional.
14
Let chili sit for 10 minutes before serving.
Notes
For a souped-up broth, add 2 tablespoons fish sauce, 1 tablespoon soy sauce and 1 teaspoon unsweetened cocoa powder to 1.5 cups beef, chicken or vegetable stock.