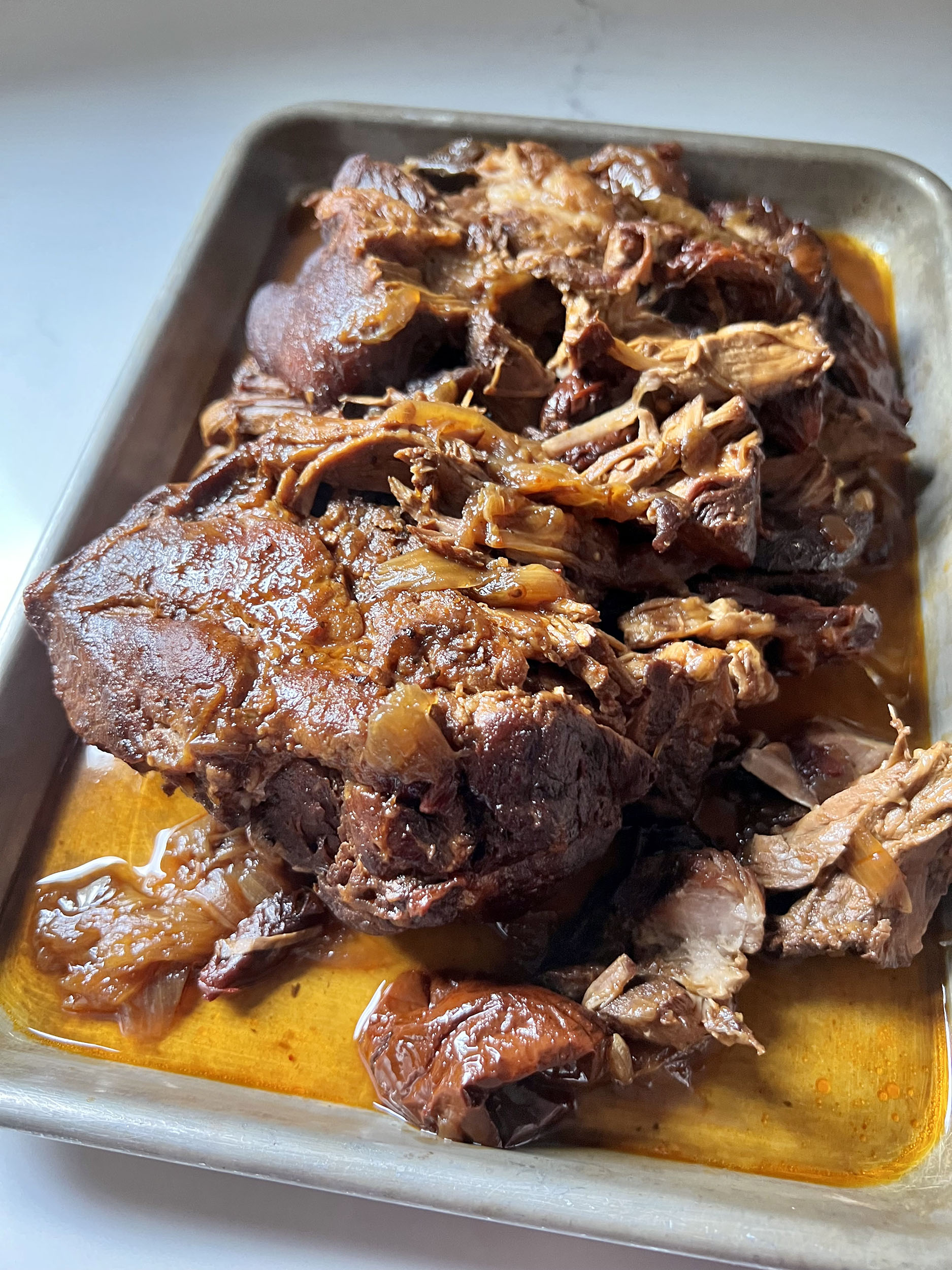 Print Recipe
Instant Pot Dr. Pepper Chipotle Pulled Pork
Deeply, yet simply, flavored with Dr. Pepper and Chipotle Peppers in Adobo Sauce, this pork shoulder is perfect for tacos, or sandwiches.
Ingredients
4-6 lb. Pork Shoulder, excess fat trimmed

Kosher Salt

2 tbsp. Vegetable Oil

Black Pepper

2 tbsp. Brown Sugar

1-2 7-oz. Cans of Chipotle in Adobo Sauce, optional

~24 oz. Dr. Pepper
Instructions
1
Generously salt all sides with kosher salt. Let the pork shoulder shake off the chill from the fridge for about 20 minutes.
2
Set the Instant Pot to sauté and add 2 tablespoons of vegetable oil. Add the pork to the Instant Pot and brown the pork shoulder on all sides.
3
Once browned on all sides, transfer the pork shoulder to a sheet tray and turn the Instant Pot off. Slice the white onion into quarters and add it to the pot. Then transfer the pork back to pot on top of the onion slices.
4
Season the pork with cracked black pepper. Then add the chipotles and the adobo sauce from each can (if using). Now pour in the Dr. Pepper.
5
Close and lock the Instant Pot lid, Set the pressure to high and set the timer for 1 hour.
6
After 1 hour and the 20 minute steam venting, use a fork to test the tenderness of the pork shoulder. It should pull apart very easily.
7
If you want to reduce the cooking liquid, leave the Instant Pot uncovered and set the Pot to sauté and let it bubble and boil for 30 minutes.
8
Transfer the pork shoulder to a sheet pan and pull the meat apart with two forks. Use a ladle to ladle on some of the cooking liquid and onions.
9
So you can serve this any way you like. On buns with slaw; or go for tacos. I went with tacos. Because the meat is spicy and has the smoky flavors of the chipotle, I did a kind of tacos al pastor with pineapple, onions and cilantro.
Notes
I had quite a bit of cooking liquid left in the pot so I strained it into a jar to freeze. It will be great to add to chili or soup for a little extra kick of heat and flavor. To make in the oven or slow cooker, plan on a 6-7 hour cooking time. Turn the pork shoulder once halfway through the 6-7 hour cooking time.