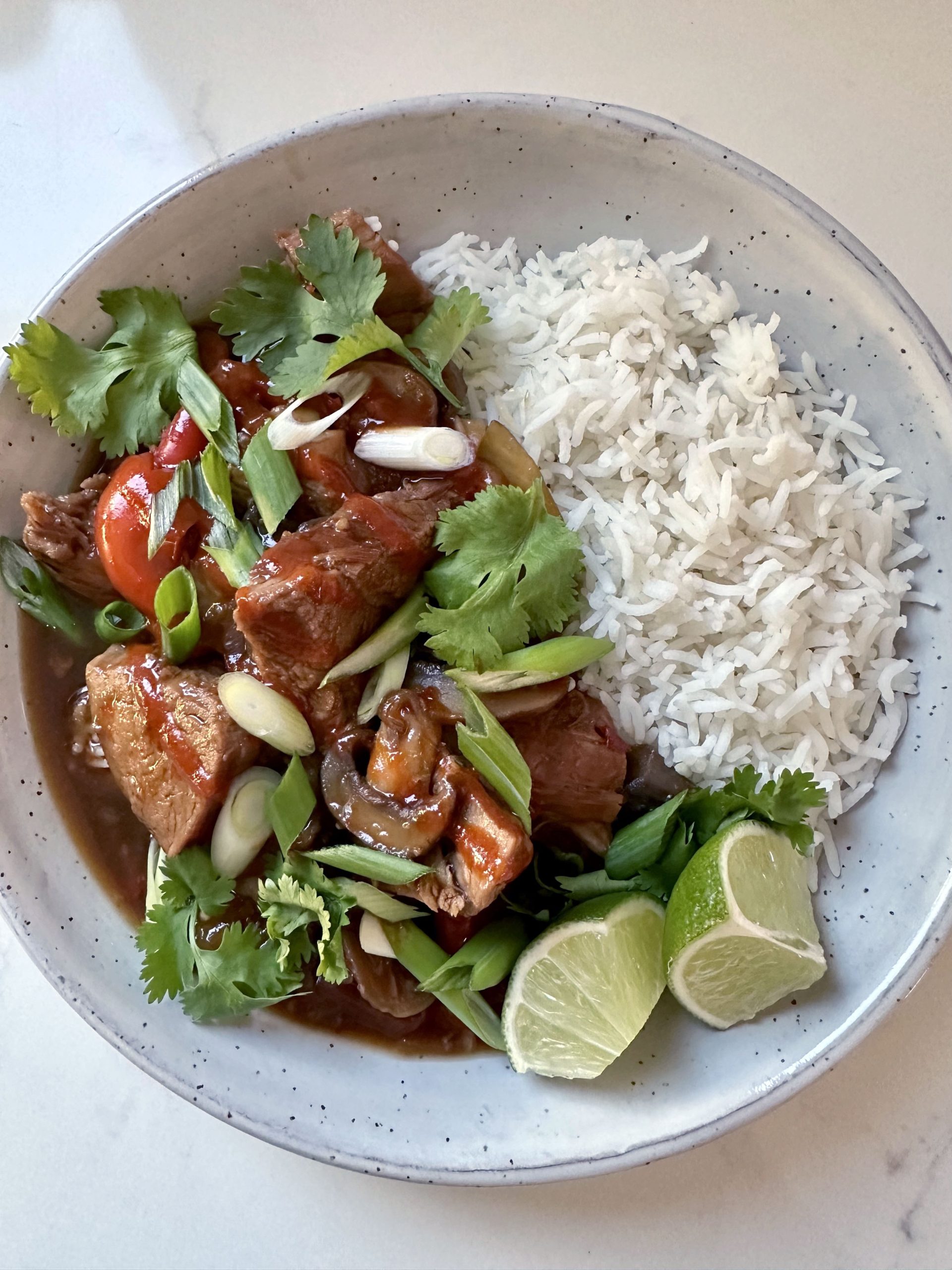 Print Recipe
Instant Pot Thai Sweet Chili Pork
A mostly hands off Sunday Supper, Instant Pot Thai Sweet Chili Pork comes together very quickly. With sweet and savory Thai flavors.
Ingredients
2 Pork Tenderloins, ~1 pound each

1/2 lb. Mushrooms, sliced

1 Large Yellow onion, cut into 1-inch pieces

1 Large Sweet Red Pepper, cut into 1-inch pieces

1 cup Hoisin Sauce

3/4 cup Thai Sweet Chili Sauce

1/4 cup Soy Sauce

2 tbsp. Lime Juice

2-4 Garlic Cloves, minced

2 tsp. Fresh Ginger, grated

1 tsp. Rice Vinegar

Garnishes

Scallions, sliced thin

Cilantro Leaves

Chopped Roasted Unsalted Peanuts

Sriracha Sauce

Lime Wedges
Instructions
1
In a large measuring cup, whisk together the Hoisin sauce, Thai sweet chili sauce, soy sauce, lime juice, ginger, garlic, and rice vinegar.
2
Place the 2 pounds of pork loin in the bowl of the Instant Pot. Toss the onions, mushrooms and red pepper on top. Then, pour the braising sauce over the top.
3
Place the bowl in the Instant Pot, cover and lock the lid. Adjust the settings to pressure cook on high and set the timer for 20 minutes.
4
At the end of 20 minutes pressure cooking, let the pot release the steam naturally, for 20 minutes. Then, transfer the pork loin to a cutting board and slice the loins into chunks.
5
Add the cut pork loin back to the sweet chili braising liquid and set the Instant Pot to the sauté setting. Let the sauce come up to a simmer and simmer for 10 minutes. Shut off the pot and that's it!
6
Use a slotted spoon to serve over rice or to top a roll for a sandwich. Then use a regular spoon to spoon braising liquid over the pork and veggies.
7
Garnish with sliced scallions, lime wedges, fresh cilantro leaves and chopped peanuts. For extra heat, drizzle on Sriracha.