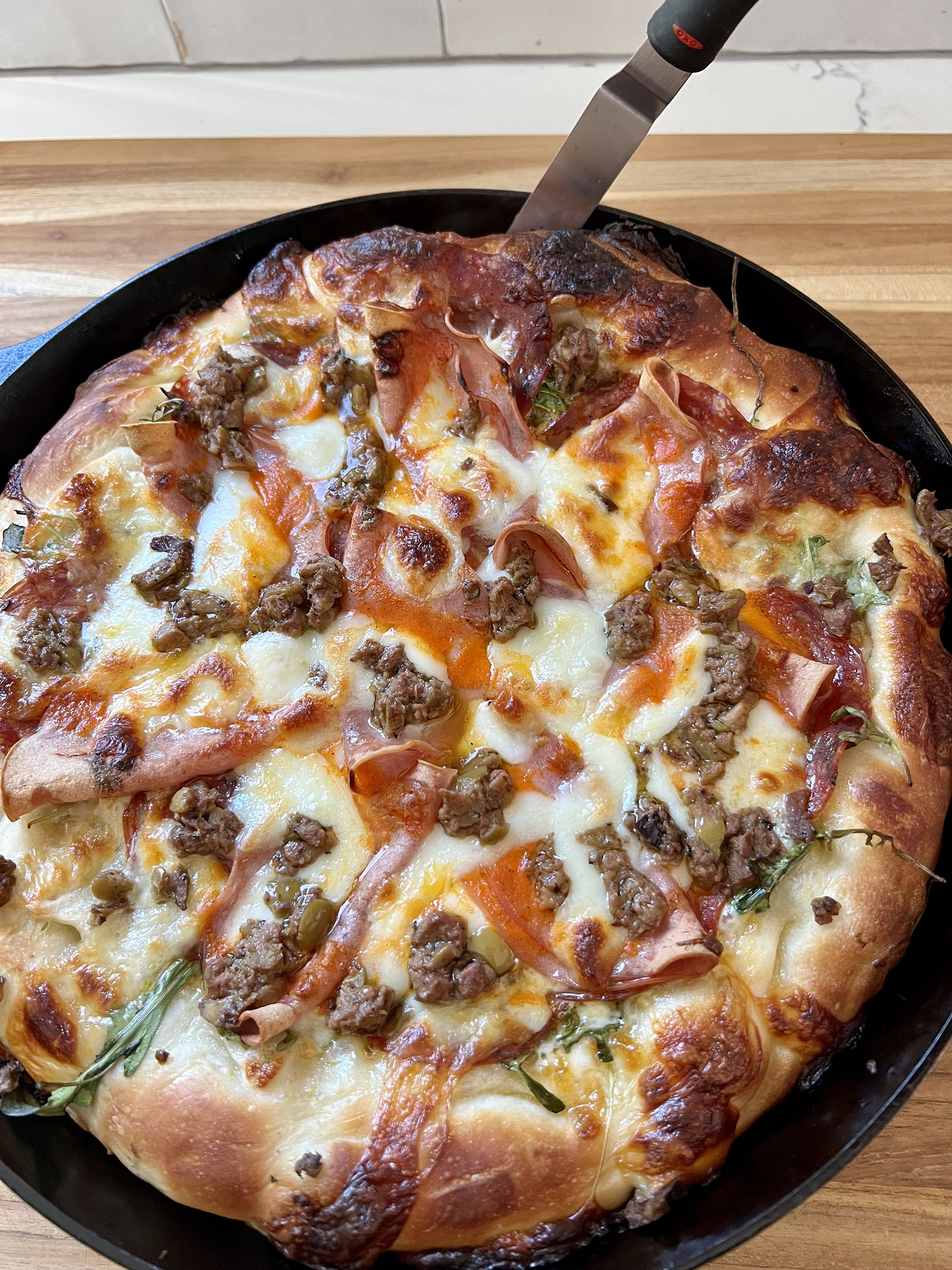 Print Recipe
Italian Sandwich Pizza
Salami and mortadella make a great flavor combination. Red pepper sauce for a bright acidity and olive tapenade adds a briny tartness.
Ingredients
1 12-oz. Jar Roasted Red Peppers, blended until smooth

1 Prepared Pizza Dough

Grapeseed Oil, for oiling the skillet

Provolone Cheese Slices

Baby Arugula

Calabrese Salami or Pepperoni

Low-Moisture Mozzarella Cheese, grated or torn into small strips

Mortadella

Olive Tapenade
Instructions
1
Preheat the oven to 450 degrees F. Place an oven rack on the middle lower position. Lightly oil the inside of your oven-safe skillet.
2
Pull, stretch or roll the pizza dough to line the bottom of your skillet.
3
Start with the provolone cheese slices.
4
Drizzle on some of the roasted red pepper sauce.
5
Spread a large handful of baby arugula on top of the roasted red pepper sauce.
6
Layer the Calabrese salami over the arugula. Top the salami with about half of the mozzarella.
7
Top the mozzarella with folded mortadella slices.
8
Then top the mortadella slices with the rest of the mozzarella cheese.
9
Drizzle on a little more red pepper sauce and dollop on the olive tapenade.
10
Bake the pizza on the lower middle rack for 15-20 minutes, until the crust is puffy and golden and the cheese is melted and bubbly.
11
When the pizza comes out of the oven, use an offset spatula or knife to loosen the edges from the pan and slide the pizza out on a cutting board. Let the pizza sit for a few minutes, then slice and serve!