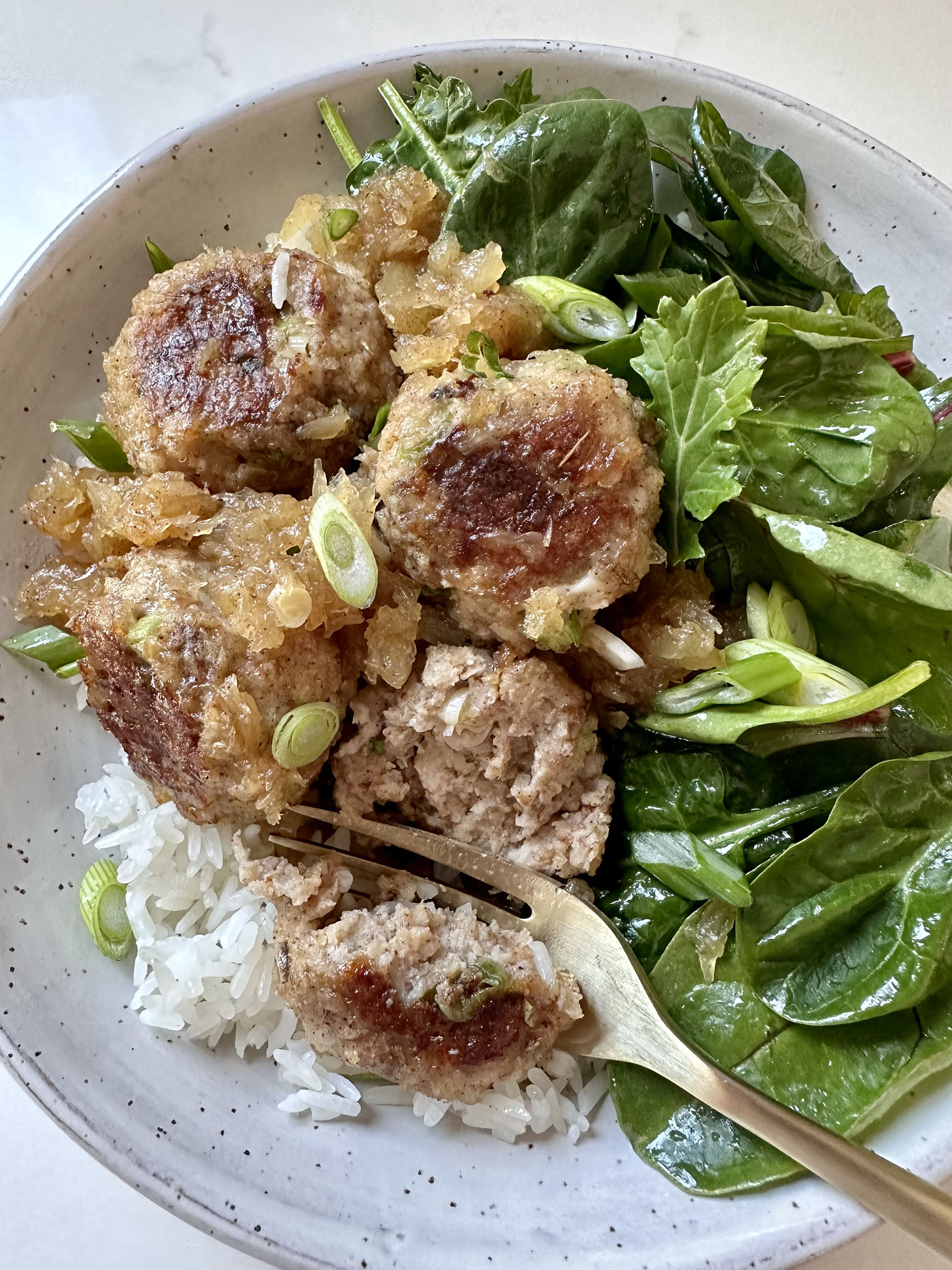 Print Recipe
Jerk Chicken Meatballs with Pineapple Glaze
Aromatic, spicy, sweet and savory, Jerk Chicken Meatballs with Pineapple Glaze, serve with rice and a salad for a wonderful Sunday Supper.
Ingredients
Pineapple Glaze

1 1-lb Can Crushed Pineapple and its 100% Pineapple Juice

3/4 cup Packed Brown Sugar

2 tbsp. White Vinegar

1/2 Scotch Bonnet or Habanero Chile

1/2 tsp. Allspice

Jerk Chicken Meatballs

1 lb. Ground Chicken

3/4 cup Panko

1/2 cup Heavy Cream or Milk

1/2 cup Finely Chopped Green Onions

1 Large Egg

2 tbsp. Jerk Seasoning

2-4 Garlic Cloves, grated

1-2 Scallions, sliced thin for garnish

Kosher Salt

Jerk Seasoning Blend

2 tbsp. Onion Powder

1 tbsp. Garlic Powder

1 tbsp. Dried Thyme

1 tbsp. Sea Salt

2 tsp. Ground Allspice

1 tsp. Ground Cloves

1 tbsp. Ground Ginger

2 tsp. Ground Cinnamon

2 tbsp. Brown Sugar

2 tsp. Black Pepper

1/2 tsp. Cayenne Pepper
Instructions
1
Add the one pound can of crushed pineapple and its juice to a medium saucepan. To that, add brown sugar, white vinegar, allspice, and half of one Scotch Bonnet or Habanero Chile.
2
Stir to combine and bring up to a simmer over medium heat. Then reduce the heat to low and let the pineapple glaze gently simmer until the meatballs are done, or for about 30 minutes. (It's fine to leave the glaze on low until the meatballs go into the sauce.)
3
Position an oven rack to the center position and preheat the oven to 375 degrees F. Line a large sheet tray with parchment paper and set aside.
4
In a medium bowl, combine ground chicken, heavy cream or milk, finely chopped green onions, egg, panko, grated garlic cloves, allspice, and 2 tablespoons of jerk seasoning.
5
Use your hands to gently mix the ingredients into the ground chicken, until well combined. The mixture will be pretty wet. Use a 1.5 or 2 tablespoon scoop to portion out the meatballs, placing them on the prepared sheet tray. You should get about 20 meatballs.
6
Once portioned out, lightly roll each meatball into more of a sphere. The sprinkle each meatball with a little kosher salt. Bake the meatballs in the preheated oven, on the center rack for about 15-20 minutes. Until the internal temperature of the biggest one reads 165 degrees F.
7
When the meatballs come out of the oven, add them to the glaze and gently stir to coat the meatballs in the glaze.
8
Sprinkle more sliced scallions over the meatballs, if desired.
9
Serve with rice and salad if desired
10
Combine sea salt, onion powder, dried thyme, garlic powder, brown sugar, cinnamon, ground ginger, ground cloves, ground allspice, black pepper and cayenne pepper in a jelly jar. Fix the lid and vigorously shake to combine.