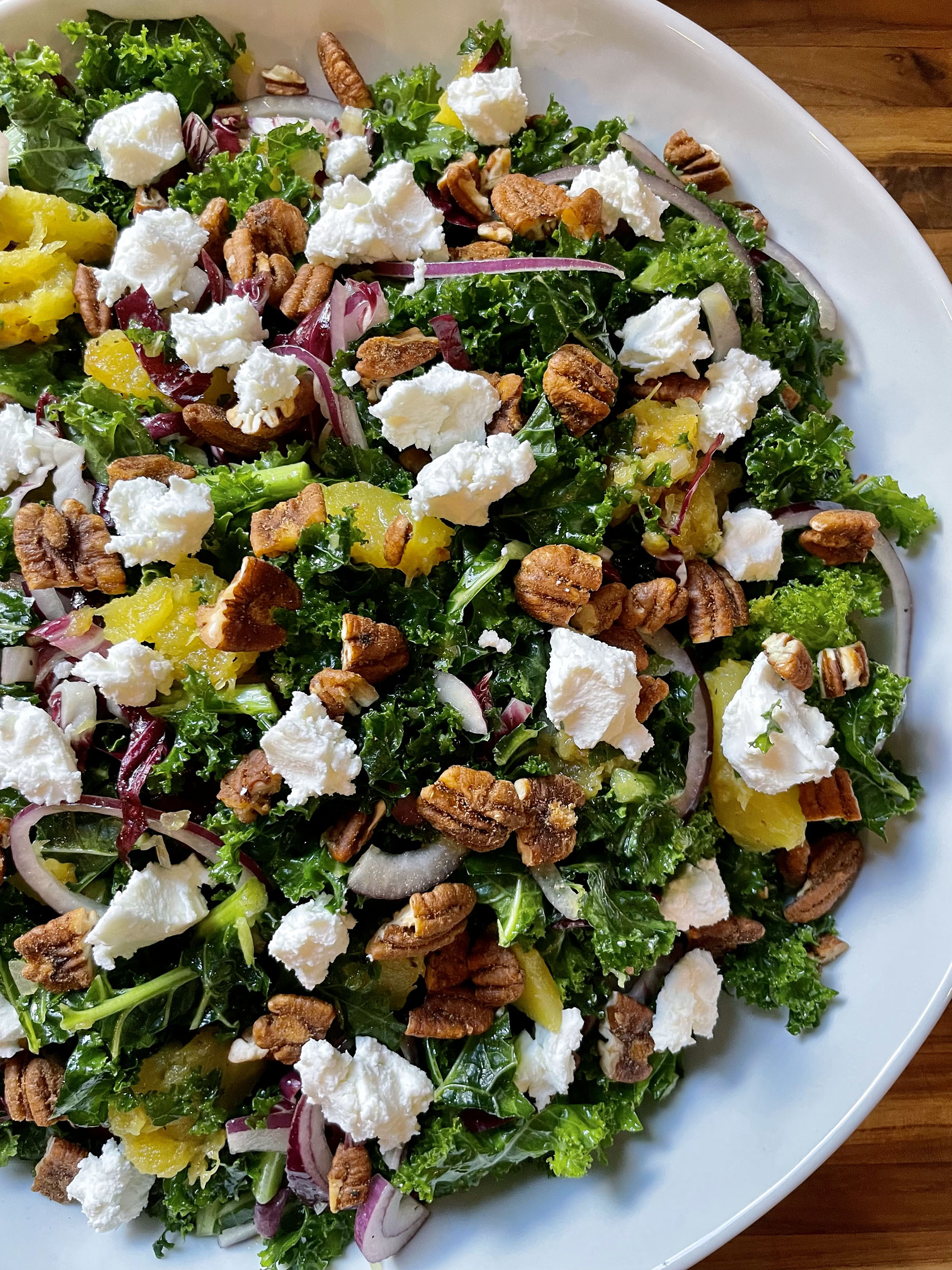 Print Recipe
Kale Salad with Roasted Acorn Squash
Kale salad for Fall with roasted acorn squash, onion, radicchio, sweet hot toasted pecans and creamy rich goat cheese. Great as a side or a meal.
Ingredients
1 small to medium Acorn Squash

Drizzle of Olive Oil

Kosher Salt and Black Pepper to taste

6-10 oz. Kale, ribs removed and chopped into bite size pieces (or one heaping handful per person)

1 small head Radicchio, sliced thinly

1/2 Red Onion, sliced thinly

1/2 cup halved Sweet Spicy Roasted Pecans

1/4-1/3 cup Goat Cheese, broken into small chunks

Dressing

1/4 cup Fresh Orange Juice

1 Small Shallot, minced

1 tbsp. Apple Cider Vinegar

1 tbsp. Pure Maple Syrup

1 tbsp. Dijon Mustard

1.5 tsp. Kosher Salt

1/2 tsp. Black Pepper

1/3 cup Olive Oil
Instructions
1
Preheat oven to 350 degrees.
2
Cut acorn squash in half through the stem. Place halves on a rimmed sheet tray and drizzle olive oil over the cut sides. Sprinkle with Kosher salt and black pepper. Roast for 1 hour.
3
Let squash cool until it's easy to handle and with a utility knife, cut and peel the skin off. Discard the skin and slice each half in half again, and slice into 1/8-inch strips. Set aside.
4
Pour all ingredients except for the olive oil in a skillet on medium heat. Whisk to combine and bring to a simmer. Once simmering, whisk in olive oil and keep whisking, let simmer for one minute. Remove from heat and pour dressing into a heat proof measuring cup.
5
In a large bowl, add 1/3 of the still-warm dressing to the prepped kale. Massage the dressing into the kale until the kale wilts slightly and changes to a darker green color.
6
Add the sliced radicchio and sliced onion to the kale. Pour on a little more dressing and toss together.
7
Add the roasted squash slices and pour on the rest of the dressing, gently toss to combine.
8
Transfer salad to a serving dish and just before serving, top with halved pecans and dot the top with small chunks of goat cheese.