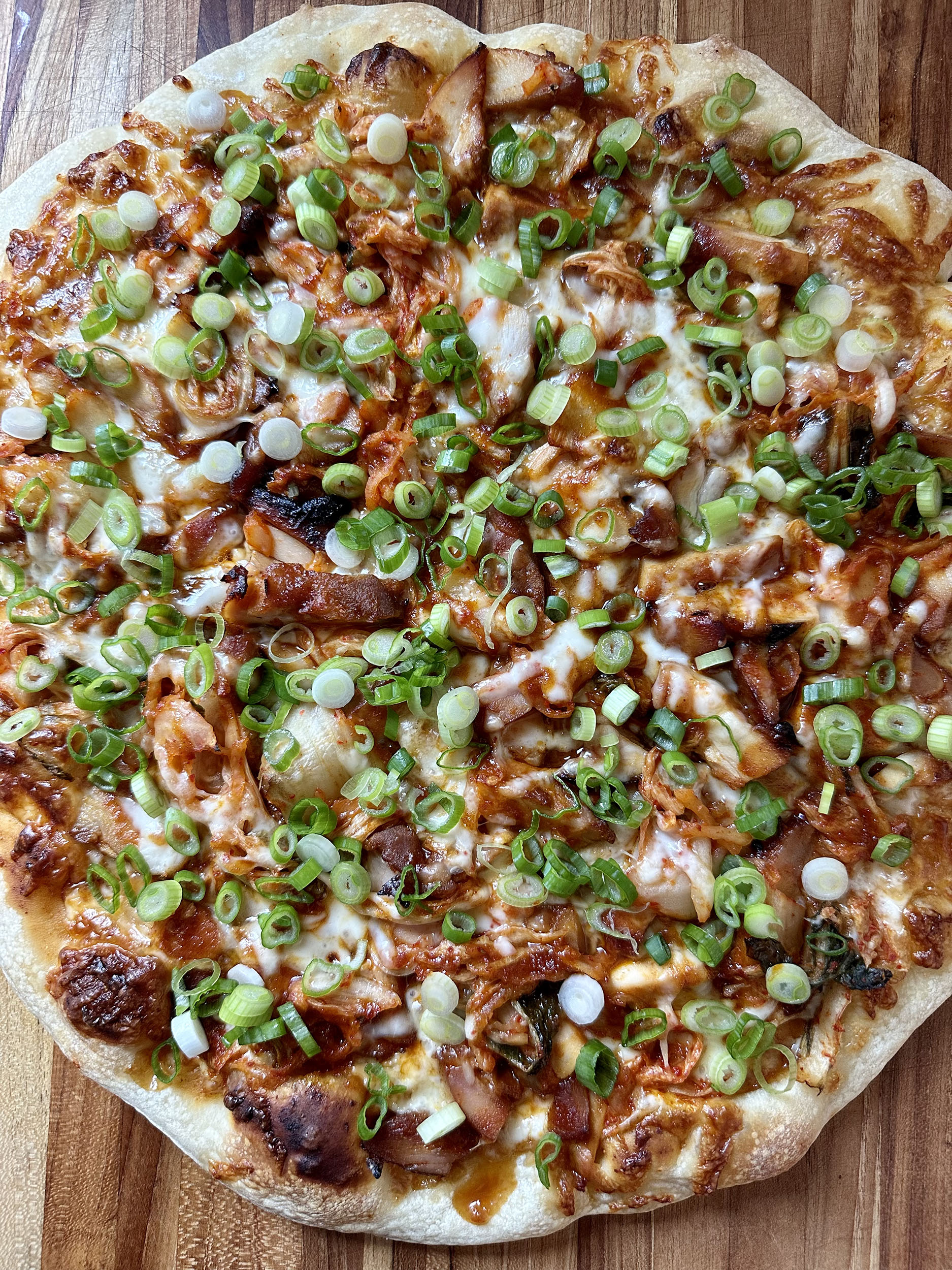 Print Recipe
Korean Chicken BBQ Pizza
Korean BBQ Chicken reimagined on a pizza with kimchi, Gochujang sauce and mozzarella cheese. So flavorful, rich and well-balanced.
Ingredients
This Recipe is for Reimagining Korean Barbecue Chicken Leftovers

1 Prepared Pizza Dough

~1 cup Mozzarella Cheese

Gochujang BBQ Sauce

1-2 Leftover Korean BBQ Chicken Thighs

Kimchi

Scallions, sliced for garnish
Instructions
1
Preheat the oven with a pizza stone or steel to 425 degrees F. Roll, stretch or spin your prepared pizza dough out to about 12-inches round, on a lightly floured pizza peel. Then, brush the crust with about 2 tablespoons of the Gochujang barbecue sauce. Leave about a 1/2-inch border for the crust. You want enough sauce on there for even coverage, but not for it to be soupy.
2
Top the sauce with about 1/2 to 3/4 cup of grated mozzarella cheese. Top the cheese with the thinly sliced chicken thighs. Then squeeze the excess liquid from the kimchi and evenly top the chicken and cheese with kimchi.
3
Top with about 1/4 cup more grated mozzarella and a drizzle of the Gochujang barbecue sauce. We are ready for the oven!
4
Bake the pizza for about 15-20 minutes, until the crust is puffed and golden and the cheese is melted. When the pizza comes out, let it sit for a few minutes while you thinly slice 1-2 scallions. Sprinkle the scallion slices over the pizza, slice and serve!