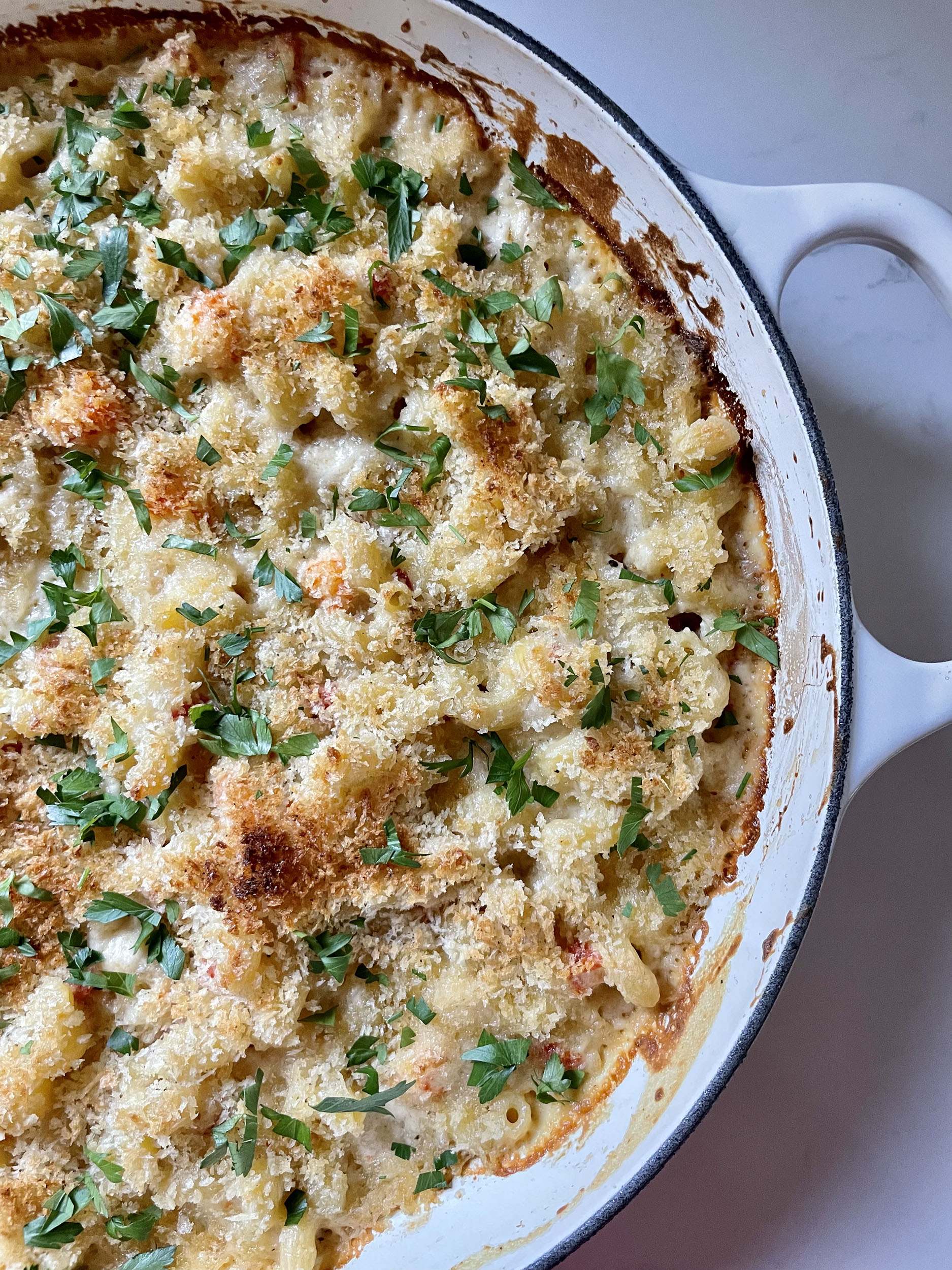 Print Recipe
Langostino and Pimiento Skillet Mac and Cheese
Crispy panko crust gives way to a creamy cheese sauce, bouncy pasta, sweet langostino tails and mild sweet pimientos – an elevated skillet mac and cheese.
Ingredients
1 12-ounce package cooked Langostino Tails

1/2 small sweet onion, diced

Pat of Salted Butter

1/2 tbsp. Olive Oil

1 tsp. of Kosher salt, divided

1/2 tsp. Black Pepper, divided

2 tbsp. Salted Butter

3 tbsp. All Purpose Flour

2 cups Whole Milk or Half and Half

1 tsp. Dry Mustard

1/4 tsp. Cayenne Pepper

2 cups Fresh grated Extra Sharp Cheddar Cheese

1 4-oz. jar Diced Pimientos, drained and rinsed

8 oz. Elbow Macaroni or Cavatappi Pasta

3/4 cup Panko Breadcrumbs

1/2 tsp Garlic Powder

1-2 tbsp. Chopped Parsley, for garnish
Instructions
1
Preheat oven to 400 degrees and bring a large pot of water to a boil.
2
Melt a pat of butter with some olive oil and add the diced onion. When the onion starts to become translucent, add the langostino tails, sprinkle with a pinch of Kosher salt and fresh cracked black pepper. Sauté for only a minute or two and then use a slotted spoon to transfer the langostino tails and onions to a small bowl and set aside. Turn off the heat.
3
Add the cayenne, dry mustard and salt to two cups of whole milk or half and half. Whisk in the spices and set aside.
4
Turn the heat to medium under the skillet. Add two tablespoons of salted butter to the skillet and melt it with the leftover liquid from the onions and langostino tails. When the butter is melted, sprinkle 3 tablespoons of flour into the butter and whisk to make a roux. Let cook, while stirring for 30 seconds.
5
Whisk in the milk mixture. Cook while stirring the milk mixture until it thickens enough to coat the back of a spoon, about 3-5 minutes.
6
Cook the pasta just short of al dente, about 7 minutes.
7
While the pasta is cooking, remove the cream sauce from heat and add two cups of fresh grated sharp cheddar cheese. Stir to combine and melt the cheese. Then add the drained, rinsed pimientos. Drain the pasta.
8
Stir in the langostino tails and onions to the cheese sauce. Then add the cooked, drained pasta to the cheese sauce and langostino tails. Stir to coat the pasta in the cheese sauce.
9
In a small bowl, mix one tablespoon of olive oil and garlic powder with 3/4 cup panko breadcrumbs.
10
Sprinkle the panko mixture over the top of the Skillet Mac and Cheese.
11
Bake the skillet mac and cheese, on the center rack, for 15 minutes, until the cheese sauce is bubbling. Then switch the oven to broil – leave the skillet on the center rack and broil for 2-3 minutes, until the panko crumb mixture is golden brown.
12
Top the baked skillet mac and cheese with chopped parsley.