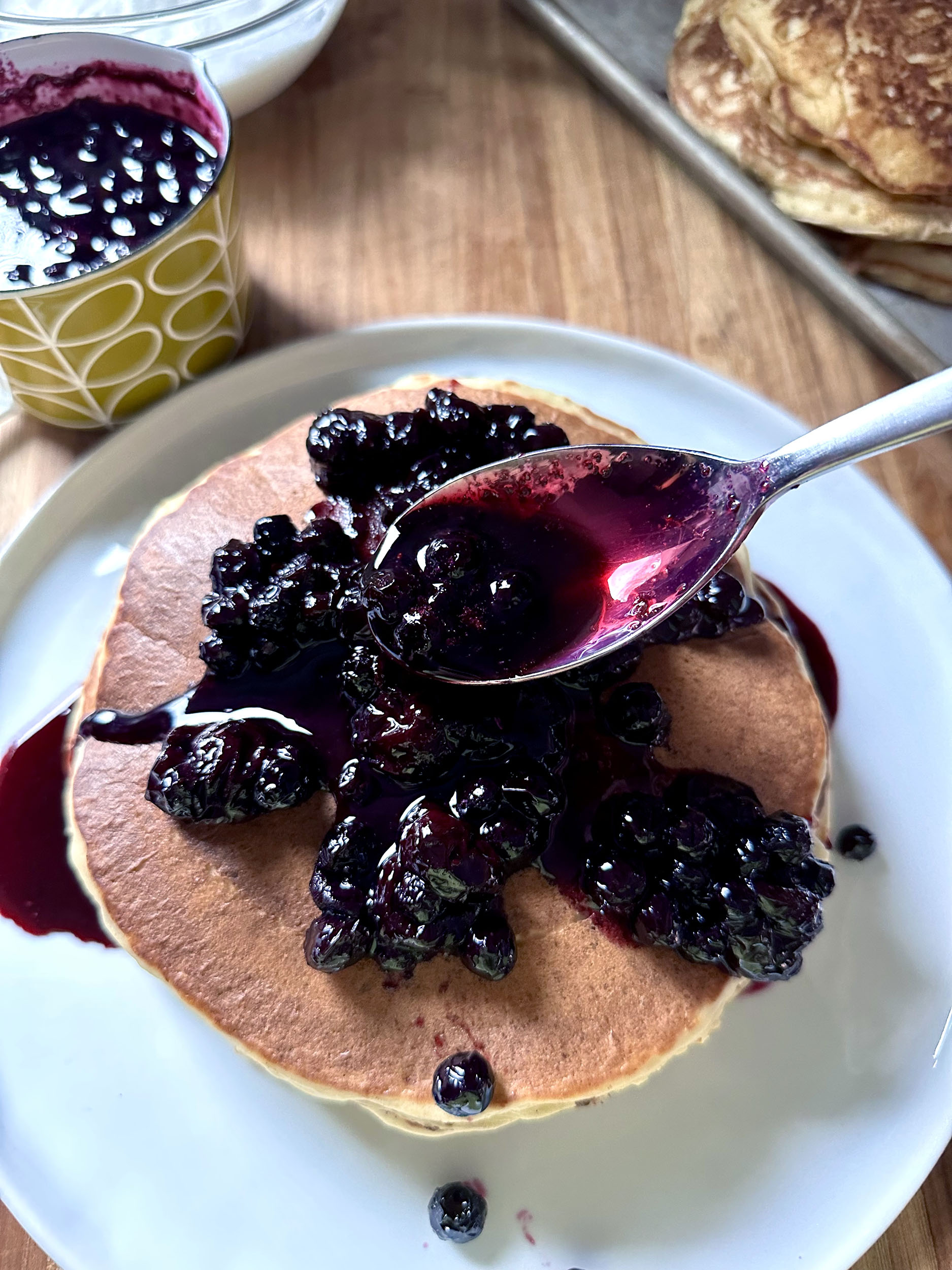 Print Recipe
Lemon Ricotta Pancakes with Blueberry Compote
Fluffy pancakes are rich with ricotta and bright with lemon. Topped with a blueberry compote, these Lemon Ricotta Pancakes are such a treat!
Ingredients
Blueberry Compote

2 cups Frozen Blueberries, divided

1/4 cup Water

1/4 cup Sugar

2 tsp. Lemon Juice

Lemon Ricotta Pancakes

2 cups All-Purpose Flour

1/4 cup Sugar

1.5 tsp. Baking Soda

3/4 tsp. Baking Powder

1.5 tsp. Kosher Salt

2 Large Eggs, at room temperature

1.5 cups Whole Milk

1 cup Ricotta Cheese

1.5 tsp. Vanilla Extract or Vanilla Bean Paste

1/4 cup Fresh Lemon Juice

2 tsp. Lemon Zest
Instructions
1
Combine 1 cup of frozen blueberries, 1/4 cup of water, 2 teaspoons lemon juice and 1/4 cup sugar in a saucepan. Cook the mixture over medium heat for about 10 minutes. Stir occasionally. Then add the remaining 1 cup of blueberries and continue cooking for another 8 minutes. Remove from heat and set aside.
2
Preheat the oven to 200 degrees F. with a sheet tray placed on the center rack.
3
In a large bowl whisk together the flour, baking powder, baking soda, salt and sugar. In a separate bowl, lightly beat the two eggs and add the ricotta, milk and vanilla. Whisk until combined.
4
Pour the wet mixture into the dry mixture and use a silicone spatula to mix the batter. Take care not to over mix, leave it pretty lumpy. Then gently fold in the lemon zest and juice. Again, leave it pretty lumpy.
5
Heat a 12-inch nonstick pan over medium heat for a couple minutes.
6
When the pan is hot, add a pat of butter. When the butter is foamy, swirl it around the pan to coat the bottom.
7
Use a ladle or a measuring cup to ladle about 1/3 cup of the Lemon Ricotta Pancake batter into the hot buttered pan. Use the bottom of the ladle or cup to slightly spread the batter.
8
Cook for about 3 minutes before flipping, or until bubbles form in the center of the pancake. Use a nonstick-safe spatula to flip the pancake and cook the other side until golden.
9
Place each finished pancake on the warm sheet tray in the warm oven. Repeat until batter is gone.
10
Serve the pancakes hot with the warm blueberry compote and whipped cream or yogurt. Or, go for maple syrup if you prefer!