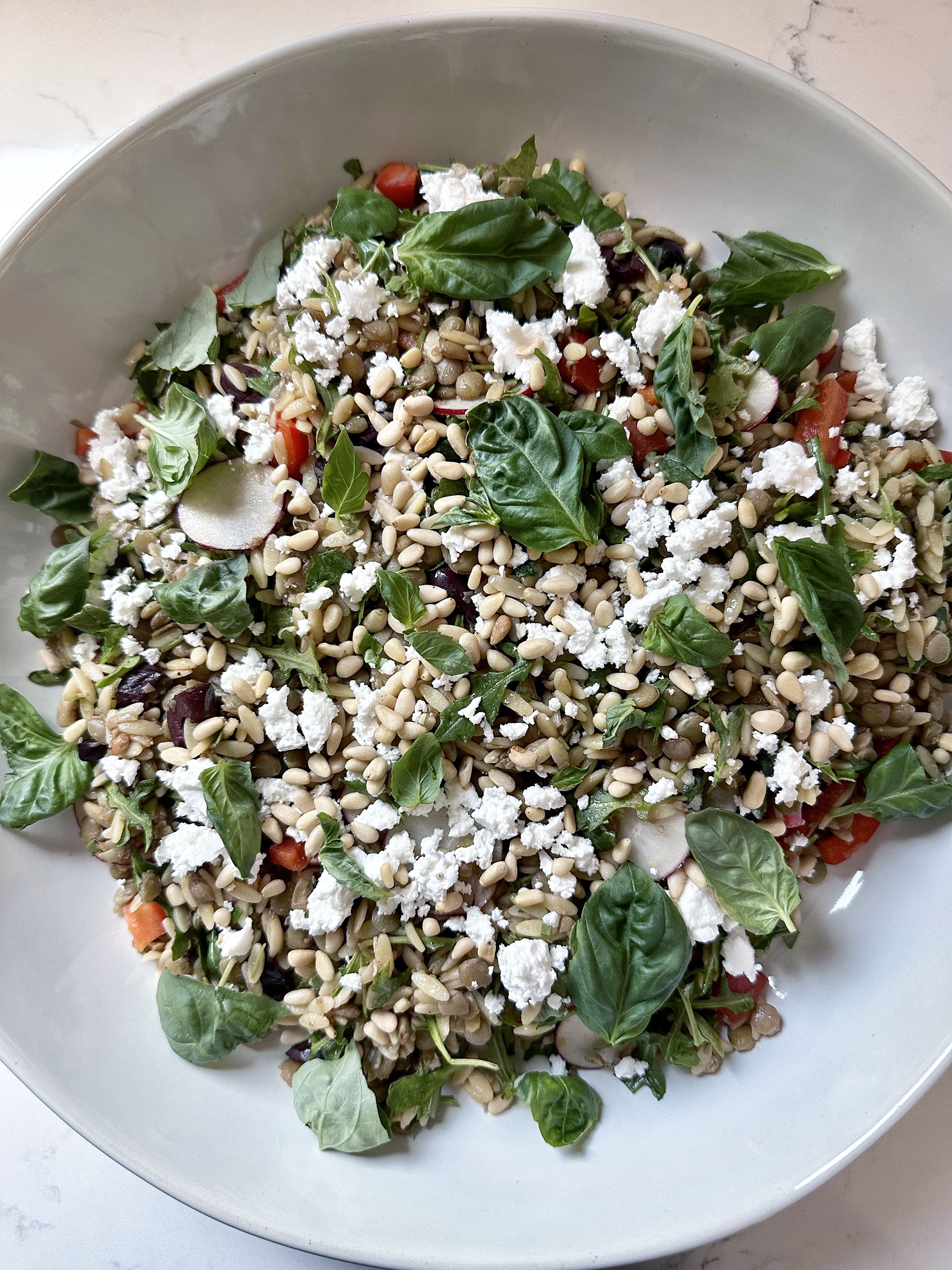 Print Recipe
Lentil and Orzo Salad
Hearty, yet light, this Mediterranean Lentil and Orzo Salad is a perfect main dish salad. Totally customizable, serve it warm or cold.
Ingredients
1 cup Lentils

1 cup Orzo

Olive Oil

2 cups Baby Arugula (or other tender leafy green)

1 Red Pepper, diced

1/2 cup Halved, Pitted Olives

5-6 Radishes, sliced thin

1/4 cup Toasted Pine Nuts

Feta Cheese

Fresh Basil Leaves

Flaky Finishing Salt, optional

Balsamic Vinaigrette

1/4 cup Balsamic Vinegar

1/4 cup Olive Oil

1 tbsp. Dijon Mustard

Kosher Salt

Black Pepper
Instructions
1
Cook the lentils and the orzo separately, according to their package directions. For 1 cup Lentils cook in 3 cups water. For 1 cup orzo cook in 5 cups of water.
2
Drain the orzo and spread the orzo and cooked lentils out together on a sheet tray.
3
Drizzle with olive and stir to lightly coat in olive oil. This will keep the orzo from clumping as it cools.
4
In a large bowl, add the arugula and the orzo lentil combo. Toss with a good drizzle of the vinaigrette. Add the rest of the veggies, another drizzle of the vinaigrette and toss to coat everything in the vinaigrette.
5
Turn the mixed Lentil and Orzo Salad out onto a serving platter or a wide, shallow salad serving bowl. Then top with feta cheese and toasted pine nuts.
6
Finally, sprinkle flaky finishing salt over the top if desired; and scatter torn fresh basil leaves.
7
Serve the salad with the remaining vinaigrette on the side.
8
Combine ingredients in a jar, tighten the lid and shake well until the vinaigrette is emulsified.