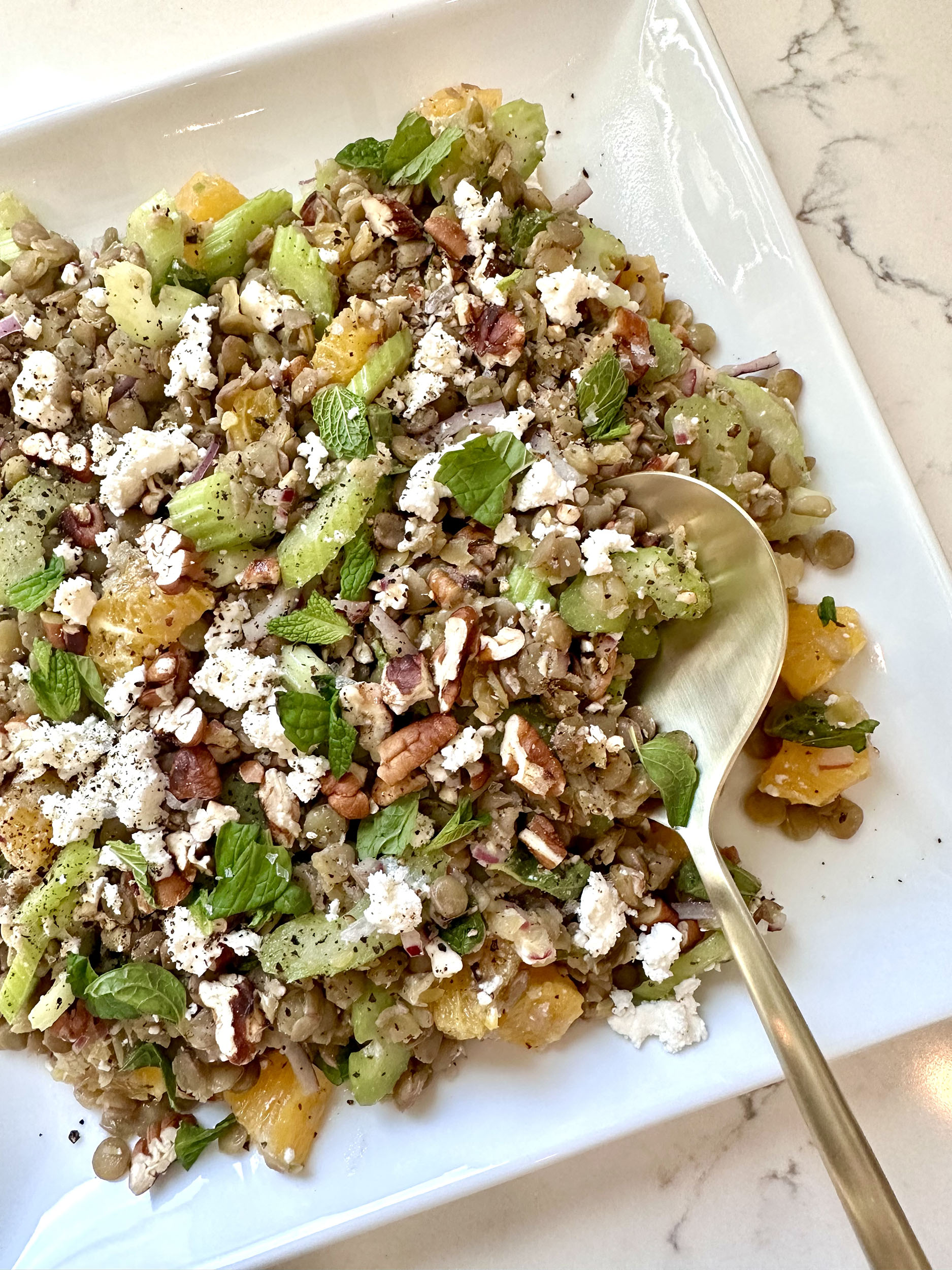 Print Recipe
Lentil Salad with Oranges and Feta
With superfood lentils as the base for this beautiful salad, Mediterranean flavors come together to create a perfect protein-rich salad.
Ingredients
1 cup Dried Brown Lentils, picked over and rinsed

2 tsp. Kosher Salt, for soaking the lentils

4 cups Water

1 tsp. Kosher Salt, for cooking lentils

Vinaigrette

3 tbsp. Apple Cider Vinegar

1 Shallot, minced (or 2 tbsp. minced red onion)

1 tbsp. Honey

1/2 tsp. Dried Mint

1/4 cup Extra Virgin Olive Oil

1/2 tsp. Kosher Salt

Salad

2 Celery Ribs, sliced thin on a diagonal

1 Orange, peel and pith cut away, halves cut into 8 wedges, wedges sliced crosswise into 1/4-inch pieces

1/2 cup Toasted Pecans, chopped

1 oz. Feta Cheese, crumbled, plus a little more to top

Torn Fresh Mint Leaves

Fresh Cracked Pepper
Instructions
1
Soak 1 cup of lentils in warm water and 2 teaspoons of kosher salt for 1 hour. While they soak, arrange an oven rack to the center position, with enough room to place a covered saucepan on the rack. Then, preheat the oven to 325 degrees F. After a one hour soak, Drain the lentils and transfer them to a medium saucepan. Cover the lentils with 4 cups of water and add 1 teaspoon of kosher salt. Cover and transfer the saucepan to the preheated oven and bake the lentils for 40-50 minutes. Then drain the lentils well and set aside.
2
In a large bowl, whisk together the minced onion or shallot, honey, dried mint, vinegar, and kosher salt. Slowly drizzle in the olive oil while whisking to create an emulsified vinaigrette. Set the vinaigrette aside.
3
Add the the drained lentils to the bowl with the vinaigrette. Toss the warm lentils in the dressing. Then add the prepped celery, onion, pecans and orange.
4
Toss to combine and coat everything in the vinaigrette. Then add crumbled feta and torn fresh mint leaves. Toss again to combine. Transfer the salad to a serving plate.
5
Top the plated Lentil Salad with Oranges and Feta with a few more feta crumbles and torn fresh mint leaves. Season with fresh cracked pepper.
6
Serve warm, cold or at room temperature.