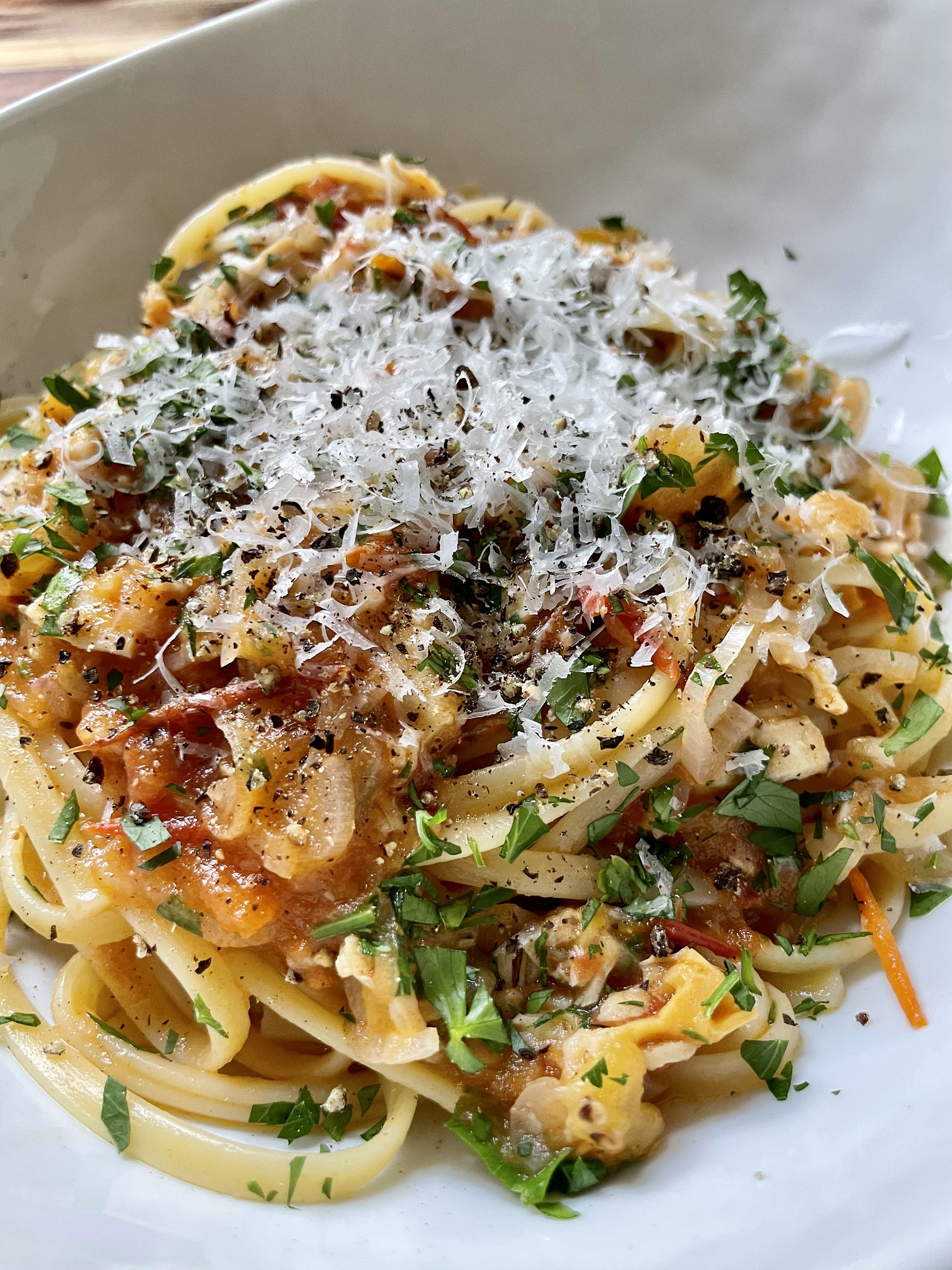 Print Recipe
Linguini and Clams with Summer Tomatoes
This Linguini and Clams with Summer Tomatoes is so fresh and light! White wine and garlic with briny clams and chewy al dente linguini.
Ingredients
6-7 Medium to Large Ripe Tomatoes (use a combination of types, if you can), diced (totaling about 2 cups diced tomatoes)

2 tbsp. Olive Oil

2 Small Shallots, thinly sliced

Pinch of Kosher Salt (plus more to taste)

3-6 Cloves of Garlic, minced (use as much or as little garlic as you like)

1/4 cup Dry White Wine

2 6.5-oz. Cans of Chopped Sea Clams, drained, can juices reserved

Pinch of Red Pepper Flakes (plus more to taste)

8 oz. Linguini (half a 1lb. package)

Juice of Half a Lemon

1/4-1/3 cup Finely Chopped Fresh Parsley, plus more as garnish

Cracked Black Pepper, to taste

Fresh Grated Parmesan, for garnish
Instructions
1
Bring 3 quarts of salted water to a boil in a large pot, covered. Reduce heat to low when it begins to boil.
2
Meanwhile, heat 2 tablespoons of olive oil in a large skillet.
3
Add the diced tomatoes. Let the tomatoes cook for a couple minutes, then add the shallots and a pinch of Kosher salt. Stir and cook for about 4 minutes.
4
Add the minced garlic. Stir to combine and let this simmer for about 5 minutes.
5
Add the white wine and continue to let simmer for another 5 minutes.
6
Then add the chopped clams and 2-3 tablespoons of clam liquid. If you want to add some spice, add a pinch of red pepper flakes.
7
At this point, bring your hot water for the linguini back up to boil.
8
Let the sauce continue simmering for another 5-8 minutes, until the juices have reduced a little. When a spatula run through the sauce makes a trail, reduce the heat to the lowest setting. Taste the sauce for seasoning and add more Kosher salt or red pepper flakes, if needed.
9
Put the dry linguini in the now boiling water. cook, stirring occasionally to prevent sticking. Boil the linguini for 10 minutes, or until just al dente.
10
Using kitchen tongs, transfer the cooked linguini to the pan with the tomato and clam sauce.
11
Squeeze the juice of half a lemon over the linguini and stir to coat the noodles in the sauce.
12
Add the chopped parsley and stir again to incorporate.
13
Serve in shallow wide bowls, Spoon extra sauce over each portion and top with more parsley, fresh cracked black pepper and grated parmesan.
Notes
If you use fresh clams in their shells (instead of canned chopped clam meat), In step 8, add the clams to the pan and cover. Simmer until the clam shells are open, 7-9 minutes. Transfer the opened clams to a separate dish and proceed with the rest of the recipe. When it's time to serve, plate the linguini and add desired number of clams to each serving.