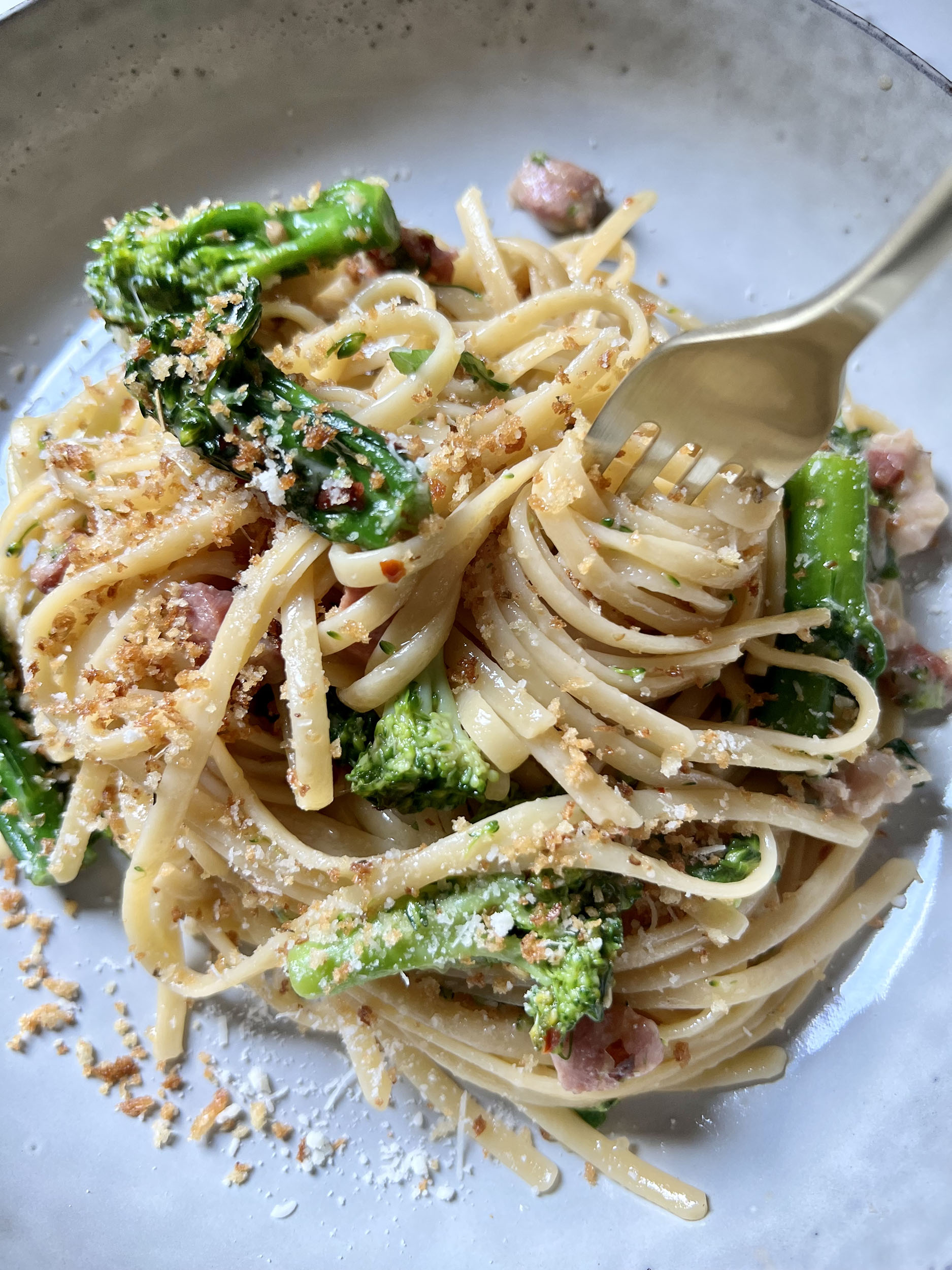 Print Recipe
Linguini with Pancetta and Broccolini
Linguini with Pancetta and Broccolini is a fresh and flavorful one pot pasta dish that perfect for Sunday Supper!
Ingredients
Bread Crumbs

1 cup panko bread crumbs

1 tablespoon extra-virgin olive oil

¼ teaspoon table salt

Pasta

1 pound broccolini, trimmed, stalks cut into 1-inch pieces, florets left whole

1 teaspoon table salt, plus salt for cooking broccolini and pasta

1 pound linguine

¼ cup extra-virgin olive oil

4 ounces pancetta, cut into 1⁄4-inch pieces

2 garlic cloves, minced

¾ teaspoon red pepper flakes

2 ounces Parmesan cheese, grated (1 cup), plus extra for serving

4 tablespoons unsalted butter, cut into 4 pieces
Instructions
1
Combine 1 tablespoon olive oil and 1 cup of panko in a nonstick skillet. Sprinkle with a pinch of kosher salt and toast over medium heat for a 2-3 minutes, shaking or stirring every few seconds, until the panko turns golden. Transfer to a separate small dish.
2
Heat 4 quarts of water in aDutch oven over high heat. When the water is boiling, add 2 tablespoons of kosher salt to the pot. Stir and add the broccolini. Boil the broccolini for about 2 minutes, just until the broccolini turns bright green and is crisp-tender. Then, use a spider skimmer to scoop out the broccolini and transfer it to a separate bowl and set aside.
3
Let the water come back up to a boil and add the linguini noodles to the boiling water. Stir occasionally to keep the noodles from sticking together and cook the linguini for 5 minutes. We want the noodles to be very al dente – flexible but still crunchy in the center. They will finish cooking at the end, in the sauce.
4
When the pasta is ready after about 5 minutes in the water, scoop out 2 cups of pasta water and drain the linguini. Wipe out the Dutch oven and set it over medium heat. Add the olive oil and the diced pancetta. Cook the pancetta, stirring occasionally until the pancetta is cooked though and begins to brown.
5
Add the red pepper flakes and the garlic, stir to combine and then add 1.5 cups of the reserved pasta water. The water will likely immediately begin to boil. Now add the pasta back to the pot.
6
Follow the pasta with the broccolini. and immediately begin stirring the pasta and the broccolini into the sauce: bringing everything up from bottom and folding it over the top.
7
Keep stirring it this way until the sauce is mostly absorbed and the pasta has cooked more to al dente.
8
Once the sauce is mostly absorbed and coating the pasta and broccolini, cut the heat. Add the butter and the powdered Parmesan. Stir well to incorporate.
9
When the butter is melted in, the cheese is incorporated and everything is looking silky-smooth, it's time to serve!
10
Serve in wide shallow bowls and top each serving with the toasted panko and more Parmesan.