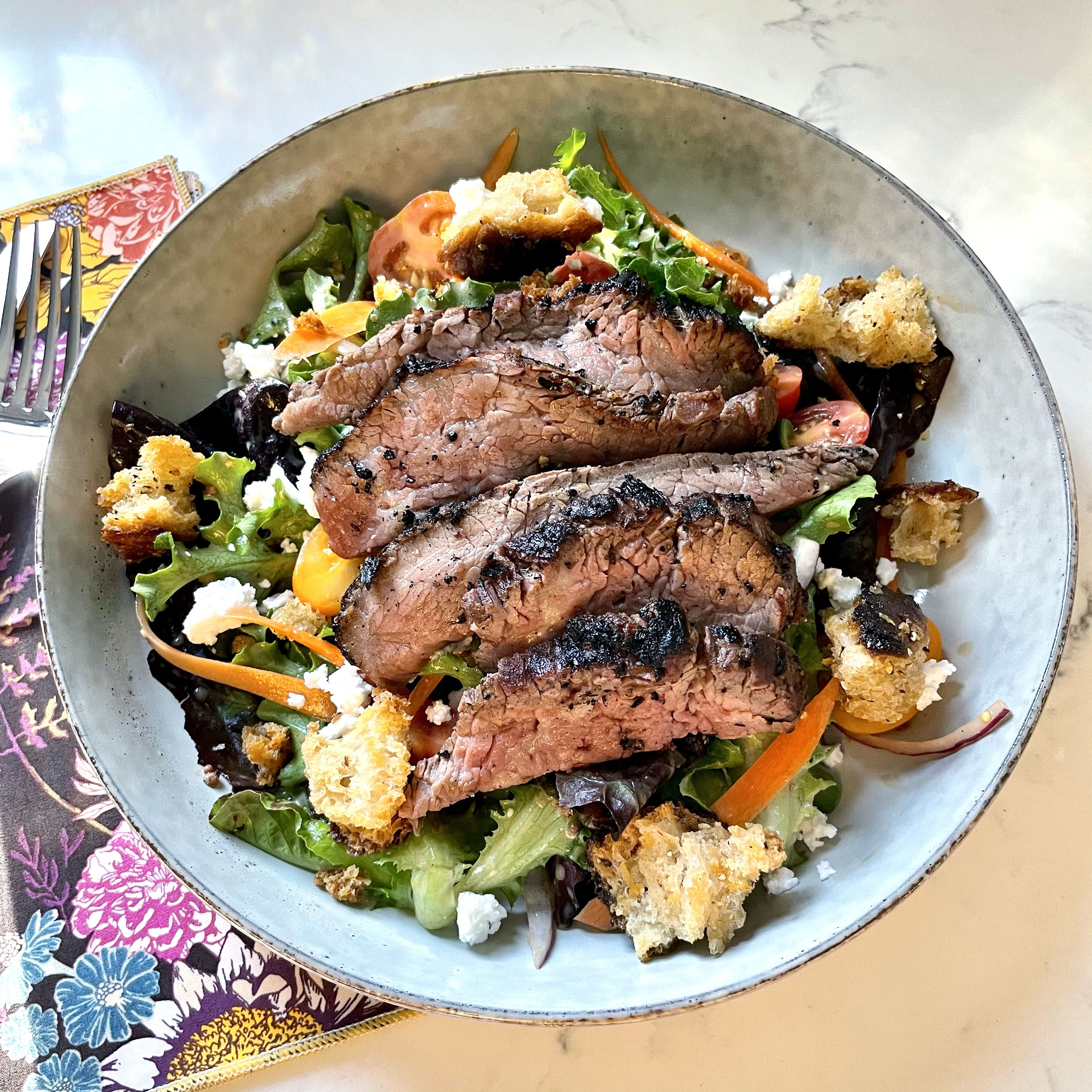 Print Recipe
Steak Salad
Tri-tip steak, well-seasoned and seared tops a simple salad of greens, carrots, tomatoes and red onion with a creamy non-dairy dijon balsamic dressing.
Ingredients
1 - 2 lb. Tri-tip Steak

Marinade

1 cup Soy Sauce

1/2 cup Water

1/4 cup Worcestershire Sauce

1/4 cup Apple Cider Vinegar

2 tbsp. Brown Sugar

Sea Salt, Pepper and Granulated Garlic to coat surface of steak

Olive oil for searing the steak

Salad Dressing

1 tbsp. Smooth Dijon Mustard

1 tbsp. Seeded Dijon Mustard

1 tbsp. Balsamic Vinegar

2 tbsp. Olive Oil

Pinch of Kosher Salt and Fresh Cracked Black Pepper to taste

Salad

2 heads Little Gem Lettuce or 1 head Green or Red Leaf

3-4 small to medium Carrots, peeled and cut in ribbons

1 package Cherry Tomatoes, halved

1/2 medium Red Onion, thinly sliced

Crumbled Feta and Croutons are optional
Instructions
1
Place Tri-tip in a Ziplock bag and mix together the marinade ingredients in a large measuring cup. Pour marinade over meat in the Ziplock and squeeze out the air. Zip and place in the refrigerator for 1-3 hours.
2
After the marinate, discard the marinade and the bag and place the steak on a sheet tray. Liberally coat all sides of the steak with the salt, pepper, garlic rub.
3
Preheat your oven to 350 degrees.
4
Get an oven-safe pan very hot over medium-high heat with a little grapeseed or vegetable oil and sear all sides of the steak, about 3-4 minutes on each side. Then, put the whole pan into a 350 degree oven for about 10 minutes per pound. It's ready when internal temperature reads 130 degrees. Let it rest for at least 10 minutes before slicing it into thin strips (be sure to slice it against the grain).
5
In a large measuring cup whisk together smooth Dijon mustard, seeded Dijon Mustard, Balsamic vinegar and olive oil. Add a pinch of salt and some fresh cracked black pepper and whisk until smooth and thick. If you want a thinner dressing add water, one teaspoon at a time until you reach your desired consistency. Set aside.
6
Use a vegetable peeler to create ribbons of the carrots.
7
Slice the tomatoes in half lengthwise.
8
Slice the onion in half and thinly slice the half.
9
Wash the lettuce and tear any large leaves into bite-size pieces.
10
In a large bowl, toss the prepared veggies with about half of the dressing.
11
Plate salad on a rimmed dish and top with steak, feta and croutons (if using) and top with more dressing, if desired.