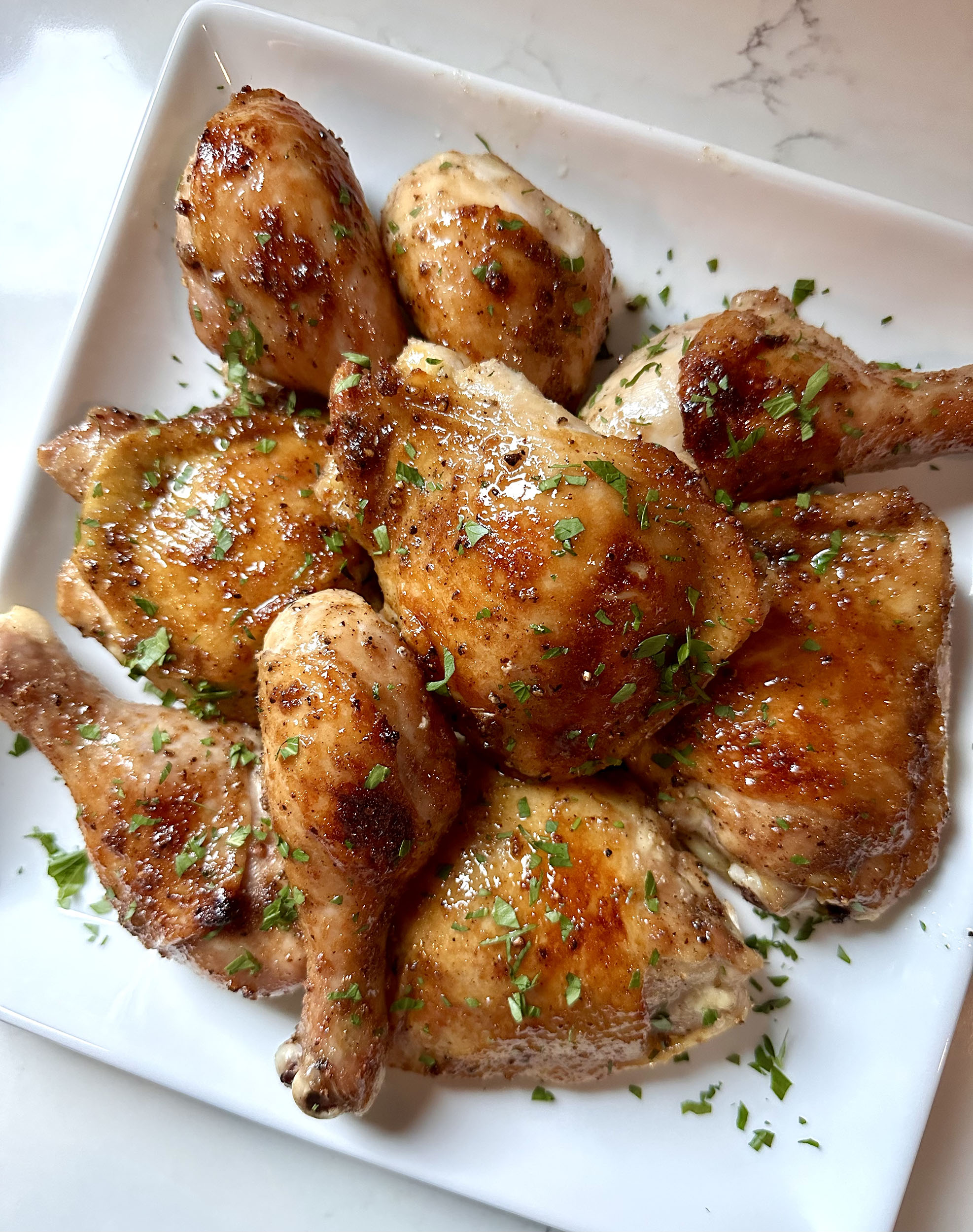 Print Recipe
Maple Butter Glazed Chicken
Sweet and savory, Maple Butter Glazed Chicken is an easy weeknight meal, but its special flavor is perfect for a laid-back holiday meal.
Ingredients
Dry Brine

1 tbsp. Garlic Powder

1 tbsp. Light Brown Sugar

2 tbsp. Diamond Crystal Kosher Salt

1/2 tbsp. Fresh Ground Black Pepper

8 Chicken Pieces

Maple Butter Glaze

1/4 cup Unsalted Butter

2 tbsp. cup Pure Maple Syrup

1 tbsp. Soy Sauce

1 tbsp. Unseasoned Rice Vinegar or white wine vinegar

1/2 tbsp. Worcestershire Sauce

2-4 Sprigs of Rosemary or Thyme

Chopped Parsley for Garnish
Instructions
1
Place a wire rack in a sheet tray.
2
In a small bowl, whisk together the dry brine ingredients. Coat all sides of each piece of chicken with the dry brine. Pat the seasoning into the chicken pieces and place them skin side up on the wire rack in the sheet tray. Set aside at room temperature for 1 hour.
3
Meanwhile, preheat the oven to 425 degrees F.
4
Combine the glaze ingredients in a small saucepan over medium heat. Stir as the mixture bubbles. Cook and stir (or swirl) for about 4-6 minutes, until the mixture has thickened to coat the back of a spoon. Then, remove from heat and let sit until we are ready for it.
5
After the chicken has been brining for an hour, lift the chicken on the wire rack out of the sheet pan and rinse off the extra dry brine in the pan. Replace the chicken on the rack in the sheet pan. Drizzle olive oil over all the chicken pieces, and use your hands to rub the oil over all sides of each piece.
6
Bake the chicken on the center rack for about 15-20 minutes. Then begin the glazing process. Every 7 minutes for another 28-30 minutes, pull the chicken out of the oven, brush on the glaze and place back in the oven.
7
Temp the chicken after 28 minutes of glazing. We're looking for 165 degrees. When the chicken is fully cooked, let it sit for 10 minutes or so before transferring to a serving plate. Sprinkle the plated chicken with chopped parsley for color. Or you can nestle herb sprigs between chicken pieces for presentation.