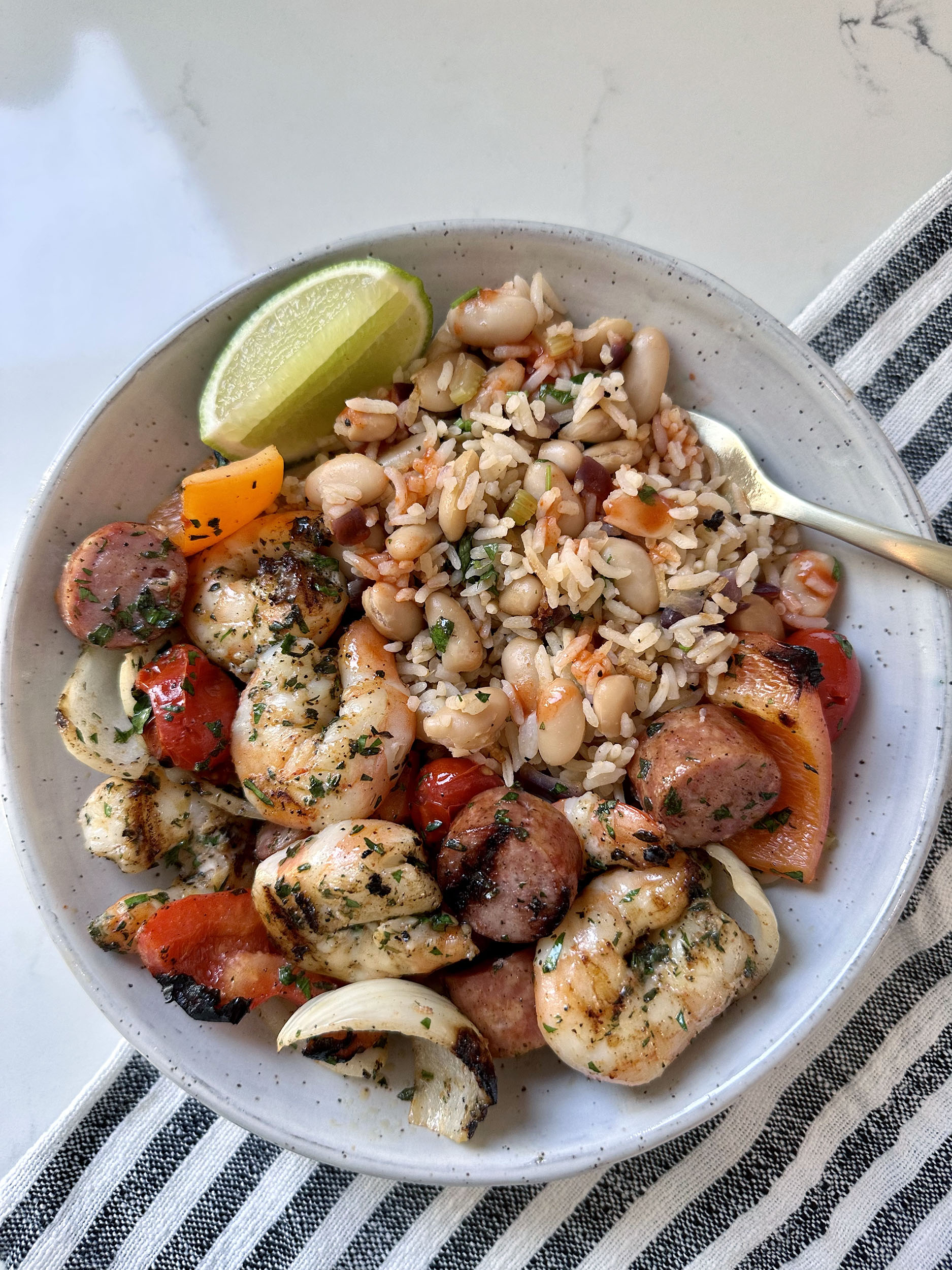 Print Recipe
Mardi Gras Creole Kabobs with Beans and Rice
Slightly sweet, slightly spicy Creole seasoned veggies, sausage and shrimp skewered and grilled to perfection served with Beans and Rice.
Ingredients
Creole Marinade

8 oz. Large Peeled, Raw Shrimp (about 16)

6 oz. Smoked Sausage (such as Conecuh), cut into 1⁄2-inch rounds (about 1 cup)

1 Small Sweet Onion, cut into 1-inch pieces (about 1 cup)

1 Small Red Bell Pepper, cut into 1-inch pieces (about 3⁄4 cup)

16 Cherry Tomatoes (about 1⁄2 pint)

3 tbsp. Olive Oil

2 tsp. Creole Seasoning (such as Tony Chachere's)

1 tsp. Chopped Fresh Thyme

1 tsp. Chopped Fresh Oregano

2 tbsp. Chopped Fresh Flat-Leaf Parsley

Beans and Rice

1 cup Rice, rinsed and drained

2.5 cups Chicken Broth or Stock (or amount of liquid directed by rice cooker or rice package directions)

1 tbsp. Butter

1 tbsp. Olive Oil

2-4 Cloves of Garlic, minced

1 Medium Red Onion, diced

1-2 Stalks of Celery, diced

1 Green Bell Pepper, diced (OPTIONAL)

2 15.5-oz. Cans Red or White Kidney Beans

1 tsp. Onion Powder

2 tsp. Kosher Salt

1/4 tsp. Black Pepper

1 tbsp. Hot Sauce, like Crystal

1 tbsp. Fresh Cilantro, chopped fine

Garnish

Lime Wedges and Hot Sauce
Instructions
1
In a large bowl, combine the large shrimp, sausage slices, onion slices, cherry tomatoes and the sweet red pepper pieces.
2
Add the olive oil, oregano, thyme, parsley and seasoning to the bowl and use your hands to mix and fully coat everything in the olive oil, herbs and seasoning. Set the bowl aside. We will let the kabob mix sit at room temp for about 45 minutes.
3
Rinse and drain your rice. Then, instead of cooking the 1 cup of rice in water, use chicken stock or broth. Cook the rice according to your rice cooker, or package directions.
4
In a large skillet, heat 1 tablespoon of olive oil over medium high heat.
5
Sauté the onion and the celery until softened. Add the garlic and sauté for another minute. Then stir in the beans, onion powder, kosher salt, pepper and hot sauce. Reduce the heat to low and let this simmer until the rice is finished cooking. Meanwhile, set up your grill pan on the stovetop and turn the burners to low.
6
When the rice is cooked, stir 1 tablespoon of butter into the rice. Then add the rice to the bean and veg mixture. Stir well to combine and keep the Beans and Rice on low heat, stirring every now and then.
7
Turn the heat under the grill pan up to medium-high. The Beans and Rice are pretty much done, so now we will thread the skewers with the kabob ingredients. Get a rimmed sheet pan to hold the kabobs. Thread each skewer with an even mix of shrimp, sausage, tomato, onion and red pepper.
8
Using an oil soaked paper towel and kitchen tongs, wipe the grill pan with the paper towel to give the pan a light coating of oil. Then carefully place the kabobs on the hot pan. You may need to turn some of the larger pieces of pepper or onions to let the sausage and shrimp come into better contact with the grill pan. Even if everything isn't touching at first, as the veggies cook, they will soften and as you turn the kabobs, things will come into contact with the grill pan.
9
Watch the kabobs. You will see when they need to be turned over. Use tongs to flip them over.
10
Once the veggies and sausage have some char, the shrimps are opaque and are forming a C shape, turn off the heat under the grill pan and use tongs to pull the kabobs off the grill pan.
11
Turn off the heat under the Beans and Rice and stir in a tablespoon or so of finely chopped fresh cilantro. Serve along side the tray of Creole Kabobs.
12
Serve with Crystal Hot Sauce and Lime Wedges.