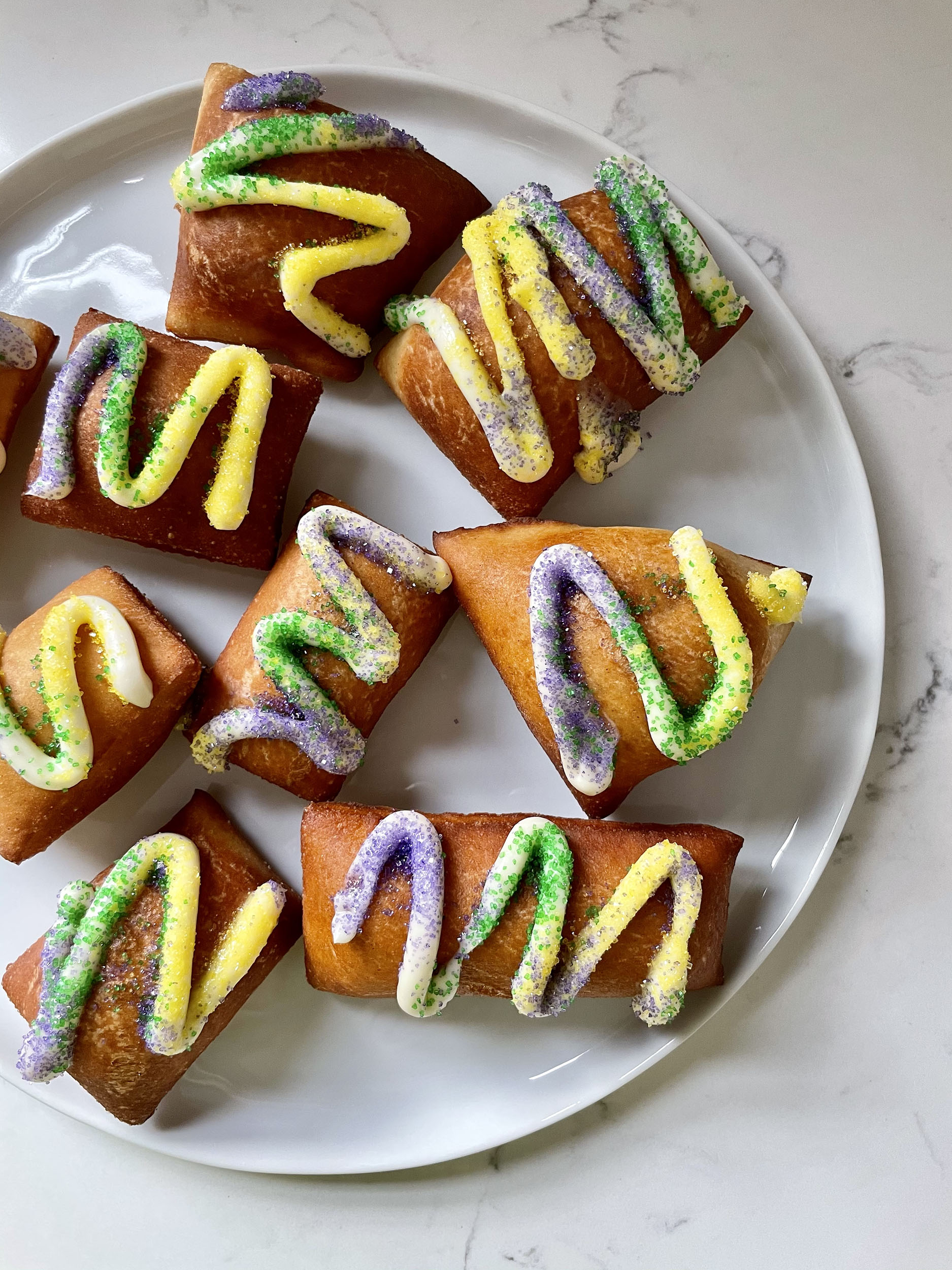 Print Recipe
King Cake Beignets
King Cake decorated beignets are the perfect dessert hybrid for Mardi Gras. The beignets are airy and chewy; perfectly sweetened with the cream cheese frosting and bright sanding sugars.
Ingredients
Beignet Dough

1 tsp. Active Dry Yeast

3/4 cup Warm Water (105 to 115 degrees), divided

4 tbsp. Granulated Sugar, divided

1 Large Egg, beaten

1/2 cup Evaporated Milk

1/2 tsp. Kosher Salt

2 tbsp. Vegetable Shortening

3/4 tsp. Ground Cinnamon

3.5 cups Bread Flour, plus more for work surface

Vegetable Oil for frying

Cream Cheese Frosting

3 tbsp. Cream Cheese, room temperature

1/2 tbsp. Unsalted Butter, melted

1/4 tsp. Kosher Salt

1/2 tbsp. Whole Milk

1/2 tsp. Vanilla Extract

1/4 cup, plus 2 tbsp. Powdered Sugar, sifted

Green, Purple, and Yellow Sanding Sugars
Instructions
1
Stir together the yeast, 1/4 cup of the warm water and 1/2 teaspoon of the granulated sugar in the bowl of a stand mixture with the dough hook attachment. Let stand until foamy, about 5 minutes.
2
Stir in egg, evaporated milk, 1/2 teaspoon of the salt and remaining granulated sugar.
3
Stir together shortening and remaining warm water (reheat if needed to melt the shortening). Add to the yeast mixture and beat on low until combined.
4
Stir together cinnamon and bread flour. Gradually add cinnamon and flour blend to the yeast mixture, beat on low speed until a sticky dough forms.
5
Transfer to a large bowl coated with cooking spray, turn the dough to grease the top, cover and place in fridge for 4 hours or overnight.
Meanwhile, make the cream cheese frosting:
6
Combine cream cheese, butter, salt, milk, vanilla and powdered sugar. Mix with a hand mixer or in a stand mixer with the paddle attachment until smooth and creamy.
7
Spoon frosting into a piping bag or a Ziplock and set aside.
Cutting and Frying Beignets
8
Turn dough out onto a lightly floured surface and roll out to a 12" x 12" square. Use a pizza wheel cutter to cut dough into 2" x 2" squares (you should get about 36 pieces).
9
Pour oil to a depth of 2" in a large Dutch oven. Over medium-high heat, heat oil to 360 degrees.
10
Carefully drop in 6 dough pieces at a time (work in about 6 batches), and fry for about 1.5 minutes on each side until golden brown. Use a spider or slotted spoon to transfer to a wire rack placed in a sheet tray.
11
Once all beignets are done, cut a 1/16" -1/8" tip off the piping bag and drizzle frosting over beignets and sprinkle with the purple, green and yellow sanding sugars. Serve immediately.