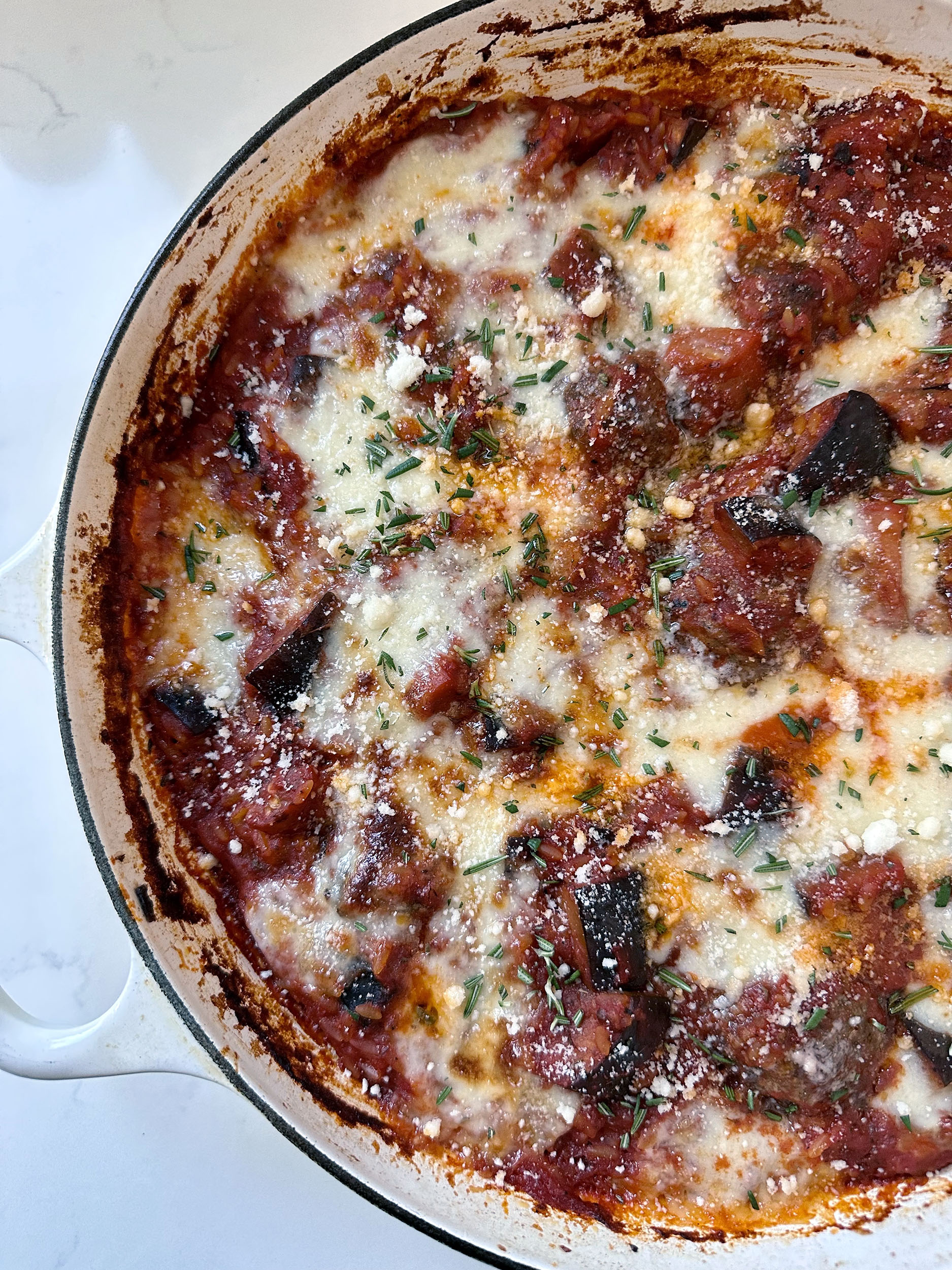 Print Recipe
Meatballs with Orzo and Roasted Red Pepper Sauce
Hearty and delicious, this one pan Meatballs with Orzo and Roasted Red Pepper Sauce is flavorful and satisfying.
Ingredients
1 lb. Ground Lamb or Beef

2 tsp. Kosher Salt

1 tsp. Fresh Ground Black Pepper

1-2 tbsp. Olive Oil

1 16-oz. Jar Roasted Red Peppers, drained

1 14.5-oz. Can Crushed Tomatoes

3 tbsp. Tomato Paste

1 cup Beef Broth

1 Large Shallot, diced

4 Cloves Garlic, minced

1 small Eggplant, cut into 1-inch cubes

Olive Oil, as needed to keep eggplant from sticking

7-8 oz. Uncooked Orzo Pasta

1 tsp. Smoked Paprika

1 tsp. Dried Oregano

1 tsp. Dried Thyme

1 tsp. Dried Basil

1 tsp. Crushed Red Pepper Flakes

6-8 oz. Low Moisture Mozzarella, grated or torn into small pieces

Grated Parmesan, for garnish

Minced Fresh Herb of your choice, for garnish
Instructions
1
Start by preheating the oven to 400 degrees F. Combine 1 pound of ground beef or lamb, 2 teaspoons of Diamond Crystal kosher salt (3/4 tsp. if using table salt) and 1 teaspoon fresh cracked black pepper in a medium bowl. Lightly mix the seasoning into the ground meat and form 12-16 meatballs, about 2 tablespoons of meat per ball.
2
Set the meatballs on a parchment-lined sheet tray and set aside.
3
Add the drained roasted red peppers, broth, tomato paste and crushed tomatoes to a blender and blend to a smooth purée. Set the sauce aside.
4
In a braiser or dutch oven, heat 1-2 tablespoons of olive oil over medium heat. Add the meatballs to the braiser and brown them on all sides, about 2 minutes each side. Use silicone-tipped kitchen tongs to turn the meatballs.
5
Adjust the heat to keep the meatballs sizzling, but not sputtering. We don't need to cook them through now, just brown the exteriors.
6
When the meatballs are browned, transfer them to a sheet tray or a plate and set aside.
7
In the same braiser, Dutch oven or high sided pan, over medium-low heat, add the shallot and the garlic, sauté until slightly translucent. Then add the cubed eggplant.
8
Increase the temperature to medium to sauté the eggplant until it is tender and slightly translucent. Drizzle on more olive oil as needed when the pan gets too dry.
9
Add 7-8 ounces uncooked orzo to the pan, stirring the pasta into the sautéd eggplant. Then add the roasted red pepper/tomato purée.
10
Stir in the roasted red pepper purée and stir in the smoked paprika, dried oregano, dried thyme, dried basil, chili flakes. Add the meatballs back to the pan and bring the sauce up to a light simmer.
11
Then cover and let simmer for about 10 minutes, until the orzo is al dente. When the orzo is al dente, cut the stove heat and top the Meatballs with Orzo and Roasted Red Pepper Sauce with low moisture mozzarella; either grated, or pulled apart in chunks.
12
Place the pan in the preheated oven, uncovered, and bake for 10-15 minutes, until the cheese is melted and begins to turn golden in spots.
13
Top the baked Meatballs with Orzo and Roasted Red Pepper Sauce with grated parmesan cheese and a minced fresh herb of your choice.